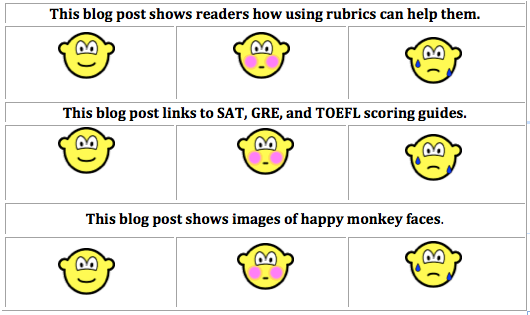 It is possible that I might have one or two of these in my back pocket.....

I have a secret for you, from my years of experience as a SAT verbal tutor in Boston. Lean close, and don't let the teachers and graders know that I'm going to tell you. Here it is: you have access to a key that will grant you an A on every written assignment. It's a rubric.
It's easy to ignore rubrics. You've probably flipped past rubrics in your SAT book, and stuffed them in the back of your binders. In the post, I'll explain how you can harness the wealth of information in a rubric to improve your writing score on the SAT, GRE, and any other assignment.


Why Should I Care about Rubrics?
A well-constructed rubric will tell you exactly how to approach an essay. It will spell out what's most important, what details to include, and how you should style and format your writing. I've been an SAT verbal tutor in Boston (specifically, the MIT and Harvard neighborhood) for a long while, and I've seen a lot of rubrics. (In my education assessment class, I even had a "Rubric for Rubrics" to assess the rubrics I created for my own students!
Understanding a rubric is like having a window into the grader's brain. It tells you what they value in the assignment— for example, that you could earn (or lose) just as many points on the formatting as on the clarity of your phrasing. Rubrics evens the playing field, and gives you, the student, some of the power. That is useful whether it is your middle school Social Studies class, your high school AP U.S. History class, the SAT writing section, your History of Boston class at Harvard, or the GRE writing section.
Read More