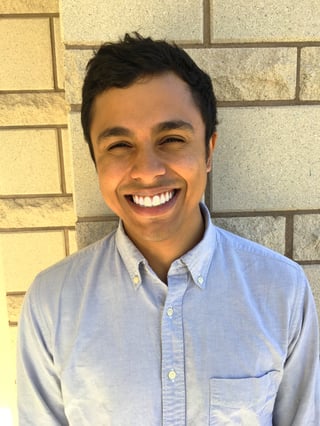 This week, we're spotlighting Ashwin, one of our exceptional test preparation tutors!
Ashwin graduated magna cum laude from New York University in 2011 with a major in Biochemistry and minors in both Mathematics and English. After graduating, he went to one of the poorest and marginalized cities in the East Coast - Camden, NJ - to help failing primary care clinics adjust to the new demands of Obamacare. He then started his MD at the Icahn School of Medicine at Mount Sinai, and is currently a dual degree student at Harvard Kennedy School studying health delivery systems.
Ashwin has previously worked for two professional tutoring companies totaling over 7 years, specializing in standardized tests (e.g., SAT, ACT, GRE, MCAT) as well as admissions coaching to undergraduate & graduate schools. He has instructed close to 150 students one-on-one over his career as a tutor. He specializes in Chemistry, Biology, Physics, Mathematics, Critical Thinking, Essay Writing, and general test preparation. Ashwin has also served on the admissions committee at his medical school & has worked with many students on crafting successful applications.
Let's get started with the basics, Ashwin. Where are you from?
We moved a lot! Grew up in Boston, New Jersey, and India.
What did you decide to study, and why?
For a long time I couldn't decide. Planned on majoring in Physics, Philosophy, Math, Art History, and English along the way. Finally decided on Biochemistry. Then Medicine. Then Political Science and Policy. So... I would say I'm pretty well rounded.
What are you up to now? How did you decide to pursue this?
I worked on the ambulances of NYC throughout college and fell in love with medicine. But, I also wanted to explore how medicine was delivered and ended up working one of the poorest cities in America - Camden, NJ - helping failing primary care clinics. All of this lead to me pursuing an MD at the Icahn School of Medicine at Mount Sinai and a MPP at Harvard Kennedy School.
What do you imagine your life will look like in 5-10 years?
Likely I'll be a surgeon! Hopefully I will be able to take care of patients both as a doctor and as a health policy expert.
What's a lesson you've learned from teaching?
I have come to really admire teachers. The work they do is so much harder than people realize.
Given the choice of anyone in the world, living or dead, which 3 people would you invite to your dinner party? What do you imagine you'd talk about?
Haruki Murakami, Ayn Rand, and Roald Dahl. I imagine we would talk about cats, capitalism, and chocolate.
What are three alternative career/life paths you have considered (even just for fun?)
Sheep farmer, journalist, and CEO of Office Max.
Share 1 weird fact with us about yourself.
I really really dislike it when people talk to each other using mirrors. Like people do in bathrooms or gyms.
Who is one person that has deeply shaped the way you think or behave?
W. Somerset Maugham. I read his books when I was 18 and living in Paris. That book became my companion everywhere - on the trains, parks, apartments. It changed the way I looked at novels.
What would you consider an amazing feat from your field (or any field)?
Being able to take a blow and get back up.
Are you interested in working with Ashwin on the SAT, ACT, GRE, or MCAT. He's a cambridge standardized test preparation tutor, but is also available online!
Want to learn more about our incredible team of tutors? Check out some of our pat tutor spotlights below!