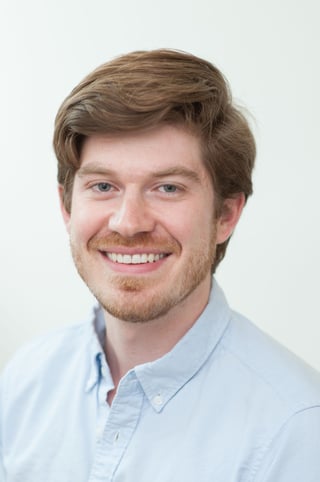 This week, we're spotlighting Ethan, one of our incredible MD strategy and writing coaches!
Ethan tells people he grew up in Portland, OR, but recently passed the tipping point of having spent the majority of his life in Massachusetts. He attended Amherst College, where he majored in anthropology and biology and graduated summa cum laude in 2012. His research on dementia and caregiving received the Donald S. Pitkin Prize for best thesis in anthropology. He is now an MD/PhD student in anthropology at Harvard.
Ethan has extensive tutoring experience with students ranging from middle school to post-college. He has worked in a variety of teaching settings, including the Amherst Biology Department, an Israeli middle school, a community development program in Sierra Leone, and as an independent tutor in Portland, OR. His teaching strengths are in biology, test preparation, and essay writing, including admissions essays for medical and graduate school. He has also worked with many younger students on developing the all-around study skills that will help them thrive as they advance through high school, college, and beyond.
In his free time, Ethan enjoys reading science fiction, powerlifting, and playing with his Yorkie, Garbanzo.
Let's get started with the basics, Ethan. Where are you from?
I grew up in Portland, OR, which now sounds like this cool, trendy place to live, but when we moved there from Eastern Massachusetts in the mid-90s the main benefit was that it had a low cost of living and my mom's brother lived there. And technically, I guess I grew up in unincorporated Washington County, just over the city line from Portland. I remember being scared because I had seen news footage of big floods in Portland the year before we moved, and I was afraid our house would be swept away the next time. It never did flood, though, except when our laundry machine broke. Mostly the world looked green. Portland is blanketed by trees. Besides that, it looks pretty much like any other suburban area of the US, with strip malls and subdivisions and parks.
I went to public school through high school, and was a big nerd. Even as Portland (I think) became a cooler place to be, I mostly hung out in my basement, reading lots of science fiction novels and listening to music. I did do lots of activities—water polo, swim team, Boy Scouts (I'm an Eagle Scout), Hebrew school, marching band—but I wasn't that big into, say, going downtown or attending parties. Or being invited to parties, for that matter. That's not to say I didn't have friends, and I still have a bunch of close ones from high school, but on a given weekend in high school I would probably choose to read instead of initiating plans.
What did you decide to study, and why?
This kind of question makes me wonder if my answer can possibly capture what I was thinking at the time, when I really had no idea what I was getting myself into. As a middle schooler or maybe even younger, I was pretty sure I wanted to be a doctor. Mainly based on the TV show ER, I believe. Then in high school, I read Mountains Beyond Mountains, a biography of Paul Farmer, who's a physician anthropologist. That inspired me to major in anthropology as an undergrad at Amherst College, all the while planning to go to medical school. I ended up double majoring in anthropology and biology. Basically I liked everything about academics, and those two fields—anthropology and biology--seemed to combine the broadest possible sets of skills and knowledge. It also had the benefit of not being stuck in a lab when doing research, and it's a good preparation for medicine, though I just kind of took that on faith at the time.
What are you up to now? How did you decide to pursue this?
I'm in my fourth year of the MD-PhD program in medical anthropology at Harvard, which puts me in the first year of my PhD, having done three years of medical school. While writing my undergraduate thesis in anthropology, I fell in love with the research process, the theory, the writing, the whole shebang, and couldn't really see myself not being involved with the field in the long term. Since I was pretty committed to medicine, too, I thought, why not both? I talked to a bunch of people who had done or were doing MD-PhDs in anthro, and eventually decided to apply to joint programs.
What do you imagine your life will look like in 5-10 years?
Most of that block of time will be my residency. So I will be sleep deprived and beaten down.
What's a lesson you've learned from teaching?
It's one that I'll probably never stop learning – how to ask the right questions and then get out of the way so that the student (or patient, or loved one, or whoever) can figure things out on their own.
Given the choice of anyone in the world, living or dead, which 3 people would you invite to your dinner party? What do you imagine you'd talk about?
My brain is really on politics right now, for obvious reasons. I would probably pick my mom, who is a very effective and pragmatic lobbyist/activist for progressive causes, plus two of the following: Thaddeus Stevens (abolitionist congressman), Antonio Gramsci (Italian political theorist), Martin Luther King Jr. (I hope you're familiar), and Stuart Hall (Jamaican-British sociologist and activist). We would talk about politics.
What daily routines or habits are most important for you to do your work?
Morning espresso, hot shower, afternoon coffee, and a workout. My girlfriend and I try to eat dinner together every night.
Describe your perfect weekend morning.
It starts with our dog sleeping in until at least 9 or so (never happens, but a guy can dream, right?). It's fall, so it's sunny out, but not set to be too hot. We make pancakes for breakfast, and my girlfriend approves of them. Usually she doesn't when I make them, but on an ideal morning, she would. Then we play tennis in the park, clean up, and go to do crossword puzzles in a random coffee shop in a random neighborhood we've never explored before.
What are three alternative career/life paths you have considered (even just for fun?)
- Firefighter. This seemed like the best of all possible careers from age 3 through 6.
- Research scientist. I tried working in a lab one summer. It was not a great success.
- Social worker. This is the most serious one—I love social workers, I think they do amazing things and are incredibly important and underappreciated. The combination of clinical practice with practical knowledge and social justice work, all in one discipline, is super cool.
How do you stay focused and motivated?
By not obsessing about being focused and motivated, mainly. I block out a lot of time to be at my office or the library during the day, but then if I need to take a walk or get a coffee, or go to the gym, I just do that. I find that it helps to clear my mind to do other things besides work or study, and it lets me dive back in more effectively. If I'm especially stressed or need to have more headspace for a certain period, I cut back on podcasts and outside reading as much as I can. Walking to and from school, in particular, can be an almost meditative time for me when I can do some of the processing that's so crucial to learning and thinking.
Are you interested in working with Etham, either in Boston or online?

Want to learn more about our incredible team of tutors? Check out some of our previous tutor spotlights below!