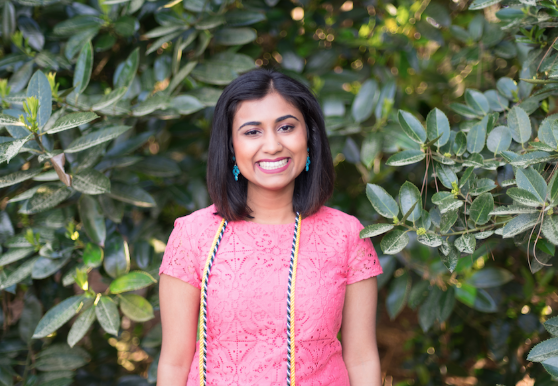 This week, we're spotlighting Mugdha, one of our Harvard Medical School MDs.
When Mugdha was nine years old, she successfully attempted her first surgery—on a beloved teddy bear who desperately needed a re-stuffing. Since then, she hasn't looked back. She is an M.D. candidate at Harvard Medical School (Class of 2022) with a passion for public health and women's health. Mugdha completed both a Bachelor of Science in Neuroscience (Science and Technology Honors) and a Masters of Public Health (concentration in Health Behavior) in 2018 with a GPA of 4.0 in both degrees. She was awarded the Outstanding Woman Award, Outstanding Neuroscience Student Award, and Outstanding Student- College of Arts and Sciences Award at the University of Alabama at Birmingham. She spent three years working in a behavioral neurobiology lab studying circadian rhythms, but also spent an ample amount of time working in health policy advocacy and student government. Mugdha served as the student body president of her undergraduate institution and developed a passion for campus leadership and service.
Tell us about where you grew up, and what your world looked like.
I grew up in Huntsville, Alabama- a slow-moving, suburban Southern town that paradoxically buzzed with energy from a certain Saturn V rocket nearby. My hometown is the site of NASA's Space and Rocket Center, which likely sparked my early interest in science. I was raised by a village comprised of a small community of Indian families that gathered every other weekend to share stories, celebrate Hindu holidays, and hold massive potlucks together.
What did you decide to study, and why?
I knew I wanted to pursue medical school very early in life. (According to my parents, as early as the age of 8 I wandered around the house looking for a sewing kit to surgically restore my stuffed animals to their former glory.) When I got to undergrad, I became very invested in advocacy and social justice. Now, I see medicine through the lens of health justice work and intend to use my career as a means to advocate for my patients.
What are you up to now?
Right now, I am finishing up my first year at Harvard Medical School. While my specialty choice is still up in the air, my background is heavily based in reproductive justice advocacy and I'm strongly considering a career in obstetrics and gynecology. On the side, I still work with a reproductive justice non-profit and continue thinking about politics, policy, and advocacy as they pertain to health.
What's a lesson you've learned from teaching?
I am always surprised at how presenting information a few different ways can make all the difference to students. I've learned that really listening to the questions my students ask can clue me in to how they might be thinking through something, and subsequently inform how I present new information to them.
What are three non-generic things that you're grateful for?
I am grateful for sunny days, good coffee, and the fact that my career of choice lets me learn something new every day.
What is your definition of success?
When you know that you are giving more to the world than you are taking from it.
What advice would you give to someone looking to get where you are now?
Investing in people pays off in dividends. The relationships I formed with mentorships and friends are without a doubt what got me where I am today.
Are you interested in working with Mugdha, either in Boston or online?


Want to learn more about our incredible team of tutors? Check out some of our previous tutor spotlights below!