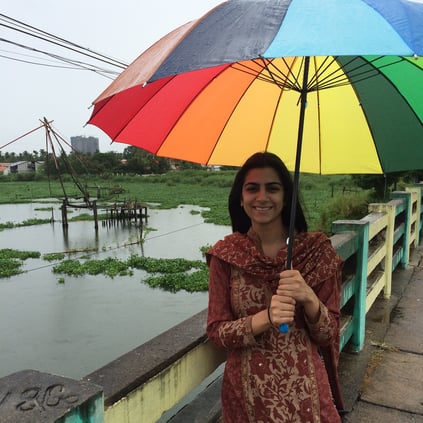 This week we're spotlighting Yilma, a New York-based Columbia graduate who loves teaching physics, mathematics, and test prepatation! Yilma is currently a Business Associate at a tech consulting firm where she is able to learn about technology and its impact in financial markets. She also occasionally blogs about her experience as a 'Millennial in Markets' for the company website. If you are interested in learning more about Yilma, check out her tutoring profile here.
Tell us about where you grew up, and what your world looked like.
I grew up in the Bronx and hence my love for New York runs deep! My world was full of family, fun and diversity. My extended family is huge so I was always around my aunts, uncles and cousins and lived in a joint family until I was about 12. My fondest memory about growing up in the Bronx was being able to run around the park with my brother and cousins and eating coco coquitos after. I lived in a pretty diverse neighborhood and was in ESL class until I was in the first grade or so and got a chance to be around kids who came from various ethnic backgrounds. It was amazing how we all communicated and became friends even though we did not speak the same language.
What did you decide to study, and why?
I studied physics because I enjoyed how tangibly applicable physics is to normal things I see everyday. It is amazing how little we know about our physical reality and exciting that there is more to find out! I will always be a student of physics because the scope of it is endless.
What are you up to now? How did you decide to pursue this?
I am currently working at a tech consulting firm as a business analyst. I decided to pursue this after doing an internship at an environmental consulting firm a year before where I did a lot of contamination data analysis and business consulting. After my internship at the environmental consulting firm I worked at a startup in search engine optimization where I became more interested in the technology domain. Eventually I found my current job where I was able to merge my interest in the sciences and technology as well as consulting.
What do you imagine your life will look like in 5-10 years?
In 5 - 10 years I imagine my life out of New York and in Chicago or even abroad! I am not entirely sure what I will be doing professionally in that time, but I do imagine I will work in other areas of education; perhaps even go back to school for a higher degree.
What's a lesson you've learned from teaching?
You do not know it until you can teach it! I think every time I tutor a topic, whether it is in physics, math, chemistry or anything else, my understanding of it is enriched.
What are 3 non-generic things that you're grateful for?
Pizza, Being a Bangladeshi - American, Books
What's the best gift you've ever received or given?
My name. My uncle gave it to me and it means knowledge in Arabic. It is always a reminder to me of my roots.
If you were to recommend one book, what would it be, and why?
It is hard to recommend just one book because there are so many different books I like for different reasons! For students and young professionals I would recommend Steve Jobs by Walter Isaacson. I think for anyone looking for some inspiration would like this book because it engages the audience to question what their passion is and enables them to see what can happen as a result of inner belief, hard work and dedication.
What advice would you give to someone looking to get where you are now?
Trust in your decisions, work hard and find a mentor! It is easy to doubt yourself, but if you just believe in yourself and work hard the process to your end goal is much easier. Having a mentor is also very encouraging and allows you to track your progress while having someone to reach out for feedback and growth. My mentor was great at pushing and supporting me when I felt unconfident and I am so grateful for him. You are your biggest cheerleader but it always helps to know that someone else is on your side as well.