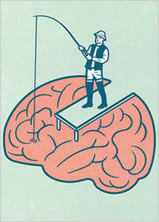 As I am entering into medical school, I have begun to spend more time thinking about the process of learning. As I reflected on my prior study habits, I recognized that I often relied on cramming massive amounts of review before exams in college regardless of my comfort with the material. These study sessions may have helped me regurgitate answers the following morning but rarely did any of this studying seem to stick by those end-of-semester finals. Yet, I continued to rely on this pattern whether by habit or as a response to pre-exam nerves. Coming into medical school, I knew something would need to change. With more material and the need for lifelong retention, these prior learning strategies wouldn't work.
Active Versus Passive Learning
Fortunately, others have already done the hard work for me. Building from the work of researchers such as Peter C. Brown, Henry L. Roediger III, and Mark A. McDaniel (authors of "Make it Stick: The Science of Successful Learning") my professors here at Harvard Medical School have helped me to implement simple changes in my study strategies to promote long term learning. The fundamental change has been transition from passive to active learning. While sounding vague and obscure, this has clear and concrete applications.
How to use recall
Instead of spending hours rewriting information from one page to another or repeating key pathways over and over again, I focus sessions around recall.
1. Write down everything you can remember
I start with writing down everything I can recall on the topic and once I'm finished, I compare what I've recalled to my notes. This may seem like it requires prior knowledge of the material, but this active/passive distinction can be applied to our first exposure to the material.
2. Taking Active Notes
Often we rely on reading and highlighting or reading and taking notes where whole chunks of the reading are copied from one page to another. This does little for our long term learning.Read a section and then at the end write in the margins in your own words the key points without looking back at the text, or better yet write out questions that incorporate these key points. These are just a couple quick but extremely helpful changes.
Now at Cambridge Coaching, I have begun to incorporate these principles during my tutoring sessions and to help my tutees incorporate them into their studying outside of our sessions.
Mark grew up in the quaint countryside of Northeast Tennessee. He attended Duke University for college, where he was a member of Phi Beta Kappa and studied Public Policy Studies with a focus on public health policy and health disparities. He received minors in Chemistry and Biology. Mark graduated magna cum laude and with highest distinction for his honors thesis on access to health care in rural Appalachia. Following Duke, Mark enrolled at Harvard Medical School, where he is currently a student.
Interested in reading more about srudy skills and tips? Check out these awesome blog posts below: