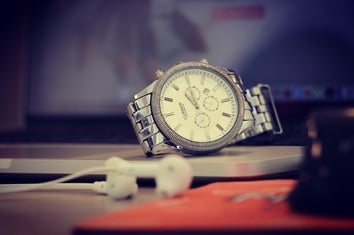 Applying to college in the fall of your senior year of high school is like adding on an extra class: between the Common App, secondary applications, and any remaining test prep, your college application doesn't just reflect your academic abilities—it requires you to really show them off. However, along with demonstrating your writing and test-taking skills, college application season is also a great time to improve your time management practices. If you start the fall semester off with a clear plan for organizing your time to include your college apps, you can feel calm and collected—rather than panicked—as deadlines approach.
1. Make a calendar of deadlines
Your first step is to know your hard deadlines: when is your application due at each school? This means committing to apply to an early action or early decision school and then having a fairly firm idea of what other schools are on your regular decision list. If you haven't made a list of schools to apply to yet, do it now! Then, write down the deadlines for each school's application and put them in calendar order. You'll likely end up with one early application due around November 1 and the rest due in late December or early January. Even if a January 1, 2018, deadline seems far away right now, it's not a reason to put off applying—just like in your high school classes, you want to keep working on the assignments all semester, rather than delaying until the last day before winter break.
2. Work backward in small steps
In order to make sure you don't end up writing all your applications on December 31, your next step is to break up each application into small tasks. Along with the tasks required for the Common App (writing your essay, entering activities, requesting recommendation letters, etc.), each individual school's application will likely ask for more essays of varying lengths. You might also still be doing test prep or preparing a supplementary application portfolio, if you're applying to something like a studio art program. Make a list of each of these individual tasks, along with their deadlines and an estimate of how long they will take. Writing a 100-word response to a supplementary application question, for example, might take you less time than studying for the SAT Math section—unless you love math and hate writing. Try to be honest with yourself about how long each task will take, and then put them in order. Tasks that take a lot of time or have earlier deadlines go at the top of the list; tasks with later deadlines or that you are confident will go quickly can be near the end.
3. Treat your applications like an extra class
Next, you need to figure out when to accomplish each of these discrete tasks. Take a little time to reflect on what time management practices have worked for you so far—do you use a planner your school provides? Do you block off a few hours everyday to deal with homework? Do you make yourself a personalized calendar page every month? If you have a system for organizing and completing homework that works well, try including your college application tasks in that system. Keep in mind that you'll need to balance these application tasks with your other homework—the night before a big physics test is probably not a good time to also draft your Common App essay.
4. Manage your time with technology
If you don't yet have a solid method for organizing your tasks and time, senior year is a good opportunity to experiment with time management resources in preparation for college. I'm a big fan of Google Calendar for big-picture scheduling and TeuxDeux for daily to-do lists, but you can also try out a variety of calendar options for your computer or smartphone, along with some "to do" apps sorted by personality type. (Keep in mind that good time management doesn't have to cost anything—if you're considering paying for software or apps, check in with yourself and your parents about whether this is a good use of funds.) Your high school may also offer online resources to help you stay organized.
5. Find a system that works for you
If you're excited about tackling time management, this blog entry is just the tip of the iceberg—many researchers, artists, and techies have developed elaborate time management systems you can try out. If you're a visual thinker who wants to go low-tech, you can make a personal kanban. If your main goal is staying focused, you could try the Pomodoro Technique. And if you just want to keep all your lists, calendars, notes, hopes, and dreams in one place, you might enjoy bullet journaling.
6. Take breaks and find a balance
Finally, remember that eight hours of time each day should be scheduled for sleep—you won't do well in school or on your applications if you're exhausted. If you're having trouble fitting everything onto your schedule, talk to your parents, teachers, or high school counselor. The more you practice organized, healthy time management now, the more you'll be prepared for organizational success in college. And once you meet that final application deadline, take some well-earned time off!
Are you interested in working with a college coach?