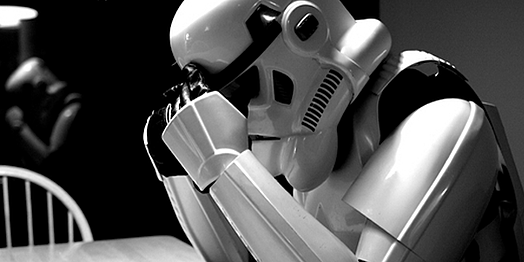 Even stormtroopers struggle with first drafts
I have several clients I'm providing graduate and law school application consulting for, and they are all at the final stages of writing their personal statements. And they are all experiencing the magic that happens in the weeks before you are ready to submit something. With a deadline looming, everything begins to click into place. Every detail has a purpose. The essay makes an argument and tells a story. It sounds like the writer. It works as a whole. Both the client and the tutor can fell this happening, and it is awesome.
But I'm writing today to describe the importance of a much less celebrated part of the personal essay drafting process: the early, messy free-writing and first drafts. These are the pieces of writing that clients will send to me with apologetic notes in their emails and in the track changes of the document itself saying: "I know this is terrible." "I'm sorry you have to read this." Or, memorably, "AHHRGH! What have I written?!?"
I always smile at these words of warning, open the document, and devour this writing right away. I love the raw, messy writing that precedes the first drafts, and I have learned that this writing is the foundation upon which those glorious final weeks when everything is falling into place are built.
As hard as contemplating the blank page is (and it's pretty darn hard: see Rebecca Kastleman's excellent post on Unlocking the Grad School Personal Statement), many of our hardworking graduate and law school application consulting clients have an equally difficult time once the earliest writing is underway. They are smart, overachieving folks, so they know that their free-write is not perfect prose. It may not even be very good prose. It doesn't necessarily feel good to write. And it feels even less good to send off to their tutor.
First, I'll tell you what I find so valuable about this early writing as a tutor and as a reader. And, then, I'll give you some concrete strategies to push through the discouraging moments that may arise during your own free-writing. Hopefully, keeping the usefulness of these documents and the strategies for getting them written in mind, you can navigate the early stage of personal essay writing with more ease.
Why Free-writing is so Important
Early drafts are generative.
After meeting with a client and talking with him about his background, experiences, and goals, I'll send him a set of focused questions to get him started on a free-write. I ask him not to edit himself and to produce as much material as he can. These free-writes are meant to give the client an opportunity to share the full palette of stories and experiences he could use to describe himself in his statement. There will be way too much material to fit in the personal essay, but that's the point. The next step will be to choose the best examples, stories, and arguments.
I read these drafts for what works.
I'm not focused on the bland or the repetitive parts. I'm not focused on the grammar. The repetition and the generic, corny statements that slip into almost everyone's early drafts are there for a reason. People have to write through that stuff in order to get to the compelling detail or story upon which the eventual personal essay will hinge.
In my reading of free-writes, I turn off my editor-brain, suspend judgment, and highlight what works. I look for the moments of clarity, the places where I feel I'm hearing my client's true voice. I circle the vivid details about her research that will stay in my head for days afterward. These are the building blocks for the essay, and I find them in every free-write, no matter how badly a client feels the writing has gone.
Concrete Strategies for Free-writing:
"Getting the first draft finished is like pushing a very dirty peanut across the floor with your nose." –Joyce Carol Oates
Remember that the first draft is a painful, tedious process for even the most experienced and gifted writers. This doesn't feel hard because you are doing it wrong or because you are not a good writer. It feels hard because it is hard. There is no way around it. But once the first draft is there and revising is under way, it does get (a bit) easier.
Because the free-writing and first draft are tough tasks, you may find yourself tempted by all kinds of distractions. Your kitchen will suddenly need cleaning. You will feel compelled to run odd and time-consuming errands to the post office. You will open a blank document to begin your free-write, only to find yourself moving laterally across the internet researching Joyce Carol Oates for half an hour. You'll need a strategy to focus. Two things that have worked well for my clients to keep their head down and complete substantive, fruitful free-writes are:
1) Break the task down into small manageable chunks of time. Set a timer for 20 minutes. Disconnect your computer from the Internet and close your email. Write until the timer ges off. Take a ten minute break. Repeat until you've done 2 or 3 of these sessions and then call it a day.
2) Go old media and do your free-writing with pen and paper. Shut down your computer. Set a timer for 20 minutes and write continuously. If possible, try to keep your pen moving the whole time. Take a break and repeat. Again, do a few sessions with breaks in between and then call it a day.
And while you are writing, try to remember how much your coach loves this early, messy writing. This is writing as thinking, and it's such an important part of the process.