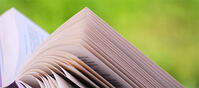 Here at Cambridge Coaching, we have a team of gifted and committed academic tutors who are ready to help you learn everything from physics to essay composition, covering a range of levels--middle school academics, high school academics, and more. With such great tutors on hand to help you master the subject matter and sharpen your study skills, it can be tempting to feel like it is fine to take a back seat and let your tutor take control of the wheel.
But the most successful students are the ones who will approach their learning actively and take the driver's seat, allowing the tutor to act as the driving instructor, providing guidance to make sure you pass your test with flying colors.
Here are a few tips for taking charge of the wheel:
Stay organized
Organization is surprisingly important to learning material. If you are not able to keep track of what you have been learning, then it will be more difficult for you to keep track of what exactly you need to be learning. Keeping your notes organized, either in a notebook or a 3-ring binder, will make it easy for you to go back and review all your material. Good organizational skills will also be useful in keeping track of your homework and any handouts for homework help.
Do your Homework & Review
Many students make the assumption that because they are meeting with their tutor once a week, they can set aside the subject until the next week rolls around. Do not fall into this trap! Review your notes, from both your class and your tutoring session, so that you can refresh your memory mid-week and make sure that you're retaining what you've learned during your session. If your tutor gives you extra practice problems or other homework, make an effort to complete them! Your tutor wants to help you improve your grasp of the subject, so any homework he or she assigns will be geared towards this purpose.
Be an Active Learner
To make the most of your sessions, always come prepared. Your Cambridge Coaching tutor is great resource, but he or she can best help you when you are actively participating in the process. Bring up questions with your tutor so you can get targeted help in areas that are most challenging for you. This means that in class and while doing your reading, you should take notes and flag areas that you do not understand.
Armed with just a few of these tips, you can make your tutoring sessions that much more effective! Remember, you and your tutor both have the same goal—to help you learn and understand the material fully. If you can work with your tutor to push towards this goal, you will most certainly get there.