With summer just beginning, the last thing on most students' minds will be starting a new academic program – but I promise that this can be the best time of year to get gears turning and to take control of the standardized tests that loom in the autumn.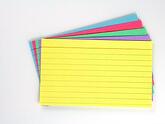 Whether you're looking for online test help with the GRE or for an in-person private SAT tutor in New York or Boston, you should use this time off from your regular high school or college coursework to familiarize yourself with the studying process and to get used to setting aside a little time everyday for your test prep regime. Below you'll find a few of the suggestions that I give to my students in New York at the beginning of our time together – all of these tips will boost your verbal and writing scores, but most importantly they present a really approachable way to getting into the standardized test prep groove.
Pick Up Something Good to Read
You might start out by increasing your reading of classic novels or of articles from high-quality magazines. Maybe read a chapter a day of Moby Dick or of Anna Karenina, or try to sit down for 45 minutes per day with The New Yorker or The Economist. Half the trick here is to practice your active reading – circle and look up words that you don't know, underline in pencil your keywords and facts, and jot little notes to yourself in the margins to keep track of content. But the other half of this project is aimed at getting used to regimenting your time – by strictly budgeting time for some pleasurable reading, you'll be completely used to the idea by the time you're ready to start the actual SAT review.
Start Keeping Lists
While vocabulary can be one of the easiest sections for which you can ensure success in standardized tests, it's also usually one of the most intimidating for my test prep students in New York City. To improve your vocabulary in a lasting, substantive way, it has to be practiced early and often. That's why I tell all my students to start out by keeping lists of unfamiliar words and their definitions. It might seem simple, but that's the point! The list can go anywhere that's convenient – try your cell phone or the back of a date book – and you should add any word that strikes your ear as unfamiliar. Find a reliable definition, force yourself to use it in a sentence, and be sure to return to early entries on the list every now and again. Of course, as your course progresses, you'll want to start focusing more on the prescribed test prep vocab lists, but this is a great way to normalize the process and to get a hard start on it all.
Begin a Daily Journal
In the same way you should be setting aside a few minutes each day for quality reading, you should also begin to give yourself some serious writing time. Your journal can be used for anything from organizing your thoughts about the day to practicing your analytical writing. One exercise that always works for analytical practice involves looking up a list of famous quotes online or opening your Bartlett's to a random page – pick a quote and write an essay on whether you "agree" or "disagree." (This is a common type of exercise on the SAT) The content here isn't too important. What matters is that you become comfortable writing fluidly and on command – this is a technique that's difficult to teach simply and requires some significant practice.
So whether you're thinking about tutoring for the SAT, the PSAT, or the GRE, use the summer to your advantage and try to acclimate yourself to standardized test review with some of these test prep tips. There's no time like the present!