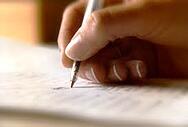 In this series of posts about the business school application process, we've spent a lot of time talking about the aspects of the process that are in your control and that require a lot of effort. Take a look back at some of my recent posts about the application process: on when to apply or on the application narrative.
Among all the tasks involved in putting together your application, there is one task that you get to outsource: your recommendation(s)! Most business schools ask that you submit two professional recommendations. Some ask that you submit a peer recommendation.
We'll start by focusing on the more common recommendations – the professional ones.
What do recommendations add to your application?
Recommenders add a second-party perspective on your work history. They can shed light on your professional strengths and weaknesses, as well as your personality. Recommendations are important because they add color to the information you've provided and also allow the admissions committee to view you through a more objective lens.
What are business schools looking for in a strong recommendation?
Admissions committees look for all different types of things when reviewing recommendations because each applicant is different! In broad strokes, they look for leadership qualities, examples collaboration and teamwork, innovation on the job. The admissions committee will look for evidence to support your resume, essays and work history so that the full picture can come together.
How should you select your recommenders?
When you think about your recommenders, consider picking two individuals that can speak to different aspects of your work experience. You should pick individuals from two different companies, or at least two different departments within a company if you've only worked in one place.
You should also select individuals who have seen you work in distinct capacities. For example, if you are someone who works in marketing, you might select someone that can speak to your external sales skills and someone who can speak to your management/collaboration internally. This will allow more than one of your strengths as an applicant to come through.
Be careful to pick someone that "has your back" for lack of a better expression. Make sure to select people who you trust and who can, without a doubt, provide you a positive review. Also, make sure to pick someone who will follow through and submit a professional and well-written document.
Next, what's the peer recommendation all about?
Some schools ask for a peer recommendation because they like to see what kind of person you are outside of the workplace. The recommendation can come from anyone that you have had significant experience collaborating with: a co-captain for a sports team, a community service partner, a co-board member, a private client. Think about the things that matter to you outside of work and pick the person that can best speak to your passion.
How does the recommendation process work?
When you decide whom you'd like to have write your recommendation, approach him or her formally with a polite and information-rich request. Tell your recommender why you have chosen them to write on your behalf, which schools you are applying to, your short and long-term goals, and how you hope they'll cast you in the application.
Once your recommender has agreed to write on your behalf, log into your target school's application portal to receive instructions. Typically, the school will have an online form for recommenders and a place to upload a letter. However, some schools do ask that recommendations come via snail mail. Make sure you are informed so that you can advise your recommender accurately!
If you need some advice on strategizing who to pick for your recommenders, it's a good idea to get some application consulting help as this will help tighten your entire package!