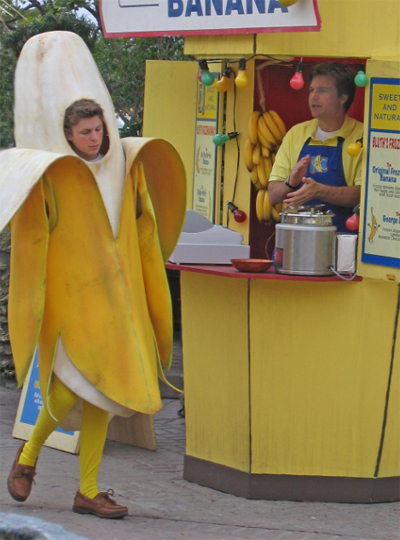 Just because there's money in it doesn't mean it's a good job.
Summer internships? Already?
I know…for those of us on the east coast, the inevitability of winter is becoming clear as the temperature seems to drops closer to zero each day. Don't get me wrong, I love the fall, but I'll acknowledge that it's an odd time to start thinking about the summer all over again!
Whether or not it feels seasonal, now is actually the time to start researching your summer options. There are several generic summer activities that are generally popular with college students:
A corporate internship at a large company (often financial)

A legal internship

A job at summer camp

A part-time job back at home
Just writing that list out is dismal. "Is that all there is?" I hear you cry. But no, that's not all there is! Yes, it might be a little bit harder to come up with something off the beaten path than it is to attend a corporate recruitment event, or to pick up the job you had in high school; with a little legwork, though, you can finding some far more more fun and creative options.
So where do you start?
Visit your career center or browse the website.

Check out the job postings board. You might find job postings on the site that are interesting to you and even better, these postings are from recruiters deliberately targeting students from your school, so your chances of getting the job are high!
Develop a project and pursue a grant! Some schools have money available to students for self-designed internships or trips that would be normally unpaid. For example, as a rising senior at Dartmouth College, I traveled to Argentina to work at a non-profit. I wrote a proposal and a college grant paid for my airfare and living expenses that summer!
* If you're "unsure about what you want to do after college"—a common lament—you might be inspired by choosing this route.
Talk to your professors:

If you are interested in research or labwork and want to pursue an academic opportunity over the summer, think about making an appointment with a professor you get along with, or whose class you've excelled in. Your professors are well-connected academics that may either be able to a) hire you for the summer or b) connect you to another professor or university looking for summer help.
* If you're considering a career in academia, definitely pursue this option, or even a more structured fellowship.
Travel bug? Find a way to go overseas.

Study abroad: One of the easiest ways to get yourself abroad is to sign for a language immersion program. Many colleges offer opportunities to do a university exchange; if not, then there are a lot of companies out there with language programs available to you. If you are studying a more complex language, like Chinese or Arabic, a summer intensive is virtually essential to becoming proficient.

Lead a trip: If you are already confident in your language skills, consider leading one a summer abroad trip for high school students! It's hard work, but it's a free way to see the world!

Volunteer: There are so many projects round the world looking for volunteers. Either think of a region you'd like to travel to, or a cause you'd like to advance, and research the organizations driving the change.
Volunteer in the US. There's a lot of good to be done!

Want to have a positive impact on the world? Check out Idealist.org. This website is a virtual job board for "do-gooder" opportunities. One of the site's best features is that you can filter for all types of criteria, including the focus area, type of work, location, etc.

Save yourself time finding the right opportunity so you can dive in and get your hands dirty!
There are a lot of options out there, but that's why you start researching early. If you're not sure about where to go from here, talk to your college advisor about how the summer could be leveraged to drive your long-term academic and professional goals.