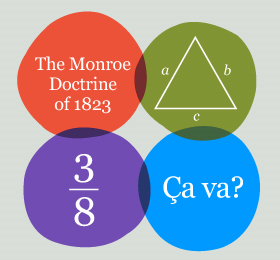 Registration deadlines for the SAT Subject Tests are fast approaching. Here's what you need to know.
What are the SAT subject tests?
SAT subject tests are one-hour multiple-choice tests in specific content areas and, unlike the SAT and ACT, subject tests do test knowledge. SAT subject tests are offered in twenty different academic subjects across history, mathematics, science, English, and foreign languages.
Why should I take SAT subject tests?
Most colleges require SAT subject tests (see below for the number of tests you may need to take), and the tests will be part of your application requirements.

Stand out to colleges! You want your application to stand out in the crowd, and having the test scores to show your strength in certain subjects can help admissions committees to understand your academic interest and abilities.

Demonstrate additional knowledge – if you've participated in academic extracurricular activities, they will likely not be on the transcript that colleges are looking at. If you took summer enrichment programs, worked in a lab, self-studied additional subjects, or extra classes, taking an SAT subject test can confirm that you really benefitted from that training (or if you were just coasting through!)

Get a head start on your college curriculum! Some universities will use the SAT subject tests to determine what courses students are eligible to take.
How many subject tests will I need to take?
While typically one or two SAT subject tests are required for admission to college, most students applying to selective schools take more than two. For instance, for admission to an Ivy League university, a student might take as many as 4 - 6. SAT subject tests provide an opportunity to showcase expertise in a content area; therefore, the "right" number of SAT subject tests very much depends on the particular student and what kinds of aptitude or knowledge she would like to make evident to a college admissions committee. Generally, Cambridge Coaching recommends starting early with one or two subject tests to see how a student fares in these before making a larger testing game plan.
Which subject tests should I take?
Check to see if there are specific subject tests required by the schools you are applying to. If not, consider what academic programs you may be applying to and what tests correlate. For example, if you're planning to study pre-med, the biology subject test would be more relevant than the world history subject test. Most importantly, you want to take subject tests in the areas that you are most knowledgeable in and confident about.
When would I take the subject tests?
If possible, take the subject tests as close as possible to learning the material. The test dates for spring 2014 are coming up: the registration deadline for the May 3 test date is on April 4, and the registration deadline for the June 7 test date is on May 9. Be careful – not all tests are offered on both dates! Check the College Board website for a chart of specific dates for the tests: http://sat.collegeboard.org/register/sat-subject-test-dates
And remember, if you need help, consider reaching out to a tutor. Cambridge Coaching has SAT Subject Test tutors in New York, Boston, and online. Give us a call today!