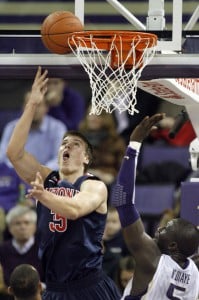 Make sure you hit every lay-up, however easy it seems...
As a GMAT tutor, I frequently hear students say things like, "I only need help with Quant," and "I've got the Verbal part down, no problem." In nearly all cases, statements like that make me cringe: unless a student is scoring north of 45 in the Verbal section, he or she isn't really crushing it. Now, don't get me wrong – prioritizing Quant is a great idea for most students. Especially when preparation time is limited, the focus should always be on the optimal bang for the buck.
But GMAT preparation should never be done in a rushed, out-of-breath sort of way. The business school application timelines are announced well in advance, and test takers can schedule the exam at a time and place of their choosing (unlike, say, the LSAT, which is offered just four times a year).
Therefore, for any test taker who is truly taking his/her preparation seriously (and that ought to be EVERY GMAT student!), each component of the exam should be given proper consideration. When students fail to exercise this due diligence, they leave points on the table, so to speak. Students who are naturally good in the language arts – Humanities majors, writers, avid readers, etc. are most likely to fall into the trap of shirking Verbal preparation altogether, and thereby making it unnecessarily hard for themselves to enter the "sweet spot" on their combined, scaled score.
If you might be at risk of falling into this trap, think about working backwards through OG examples. Because the questions are numbered from easiest to hardest, it stands to reason that you can probably zoom your way through the first several dozen SCs, CRs, and RCs without getting dinged up. But how about the higher-numbered examples? With SCs, for instance, that's where you'll see the tougher verb tense rules, idioms, and usages come into play. With CRs, that's where you'll see tricky, overly wordy setups that distract you from the actual argument being evaluated in the question. On a computer-adapative test such as the GMAT, a strong Verbal student is very likely to encounter these sorts of questions on Test Day.
I like to remind GMAT students that the test is heavily pattern-based. The patterns that emerge on the GMAT are not limited to just the Quant section – in many ways, SCs are just as formulaic as anything that might be encountered in a math problem. Tougher problems present the material in ways that are harder to discern and detect, but the rules that govern SCs are really the same across the board – Modifiers, parallelism, and proper verb tense usage still rule the day. With CRs, the biggest danger is always veering outside the scope of the argument. With RCs, students most frequently err when they fail to address a question with the most literal, direct answer choice. As with all standardized test preparation, every error on every section should be rigorously scrutinized by the student who is serious about maxing out his or her capacity.
The moral of the story? Every GMAT student should approach the Verbal section with the same level of rigor and analysis as he or she applies to the Quant section. If Quant is the area that needs more work, then yes, by all means, spend more time preparing for it – review those Problem Solving and Data Sufficiency flashcards until you can do the problems in your sleep. But do not allow yourself to be lulled into a false sense of confidence on Verbal just because you think you *get it* or because you're naturally skilled at "that sort of stuff."
The difference between a 40V and a 44V might be the difference between sailing past your overall score target and missing it completely. Those extra four points may not come easily, but that's what makes the sweet spot so sweet – very few test-takers make it there, so it's a great way to stand out when you're being reviewed by the adcom of your top-choice b-school. To find your spot in the winner's circle, be sure to cover all your bases during preparation.