Sharing your story in a clear, compelling way is an important skill that will come in handy for the rest of your life, from writing personal statements to presenting yourself in interviews. It's also a skill that's not often emphasized in high school and college English classes, where literary analysis is highly prized. How can you hone this skill?
First, Read
You've heard this before, but I'll reiterate: reading enables you to sharpen your skills as a writer because it will help you train an "ear" for different kinds of sentence structures and provide fodder for how to lay out a story and how to show, not tell. Reading the classics is wonderful, but also read memoirs for examples of how a personal narrative can be woven. Some of my favorites are Refuge by Terry Tempest Williams, The Glass Castle by Jeannette Walls, and Angela's Ashes by Frank McCourt. The profiles in the New Yorker are also an excellent example of how to vividly paint a picture of someone without explicitly telling the reader facts but by illustrating with meaningful details, snippets of dialogue, and quirky vignettes.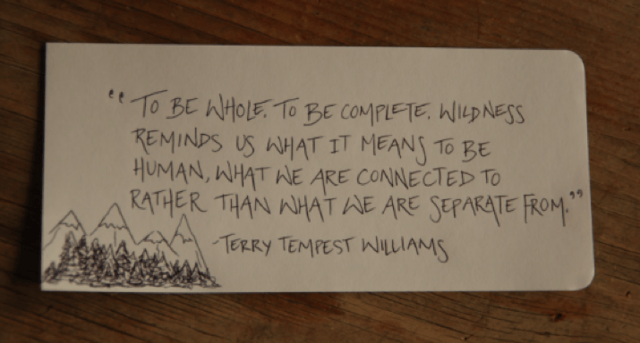 Tackling the Personal Statement
Whether for college applications or for graduate school, the personal statement is the intimidating cherry on top. But keep in mind that the personal statement is always just one facet of your application, so don't stress about needing to pick the perfect story or weave together many different parts of your life. Write about something that feels important to you, even if it might seem like a minor event; if you write for yourself first, you will be able to connect more genuinely with your reader.
I always start with a free association brainstorming process with pen and paper. Sit down with the prompt, and generate as many different ideas or personal stories that feel relevant to the topic without judging or editing. Take a break, and come back to brainstorm some more.

Generate an outline based on one or two stories that speak to you the most. Try to narrow your focus as much as possible because it will be more powerful to dive deep into a circumstance or story with description and reflection rather than skimming the surface of many different events. Once you've generated an outline, you're ready to write a first draft. Again, the first draft can be daunting because you may feel pressure to produce a great essay, but remember that you will have plenty of time to edit and rewrite. Hook your readers at the beginning by placing them in the midst of a story with descriptive language that transports them to your world--then you can zoom out later and give the thesis, or "point," that your essay will make.
Tough Issues
Sometimes students worry about crafting an essay that is "palatable" to admissions officers. Is it too much or too "personal" to discuss a sibling's mental illness? To discuss a traumatic experience? If you feel comfortable sharing these experiences, it can be very poignant to disclose life challenges that most certainly have had a tremendous impact on you and are likely not reflected in your transcript or extracurriculars. Don't be afraid to give it a try, and share with people who you trust to elicit feedback.
Editing
Editing is tedious but rewarding: you can see the light at the end of the tunnel. I would give your essay to a maximum of 3-4 people to read for feedback. A trusted English teacher, a family member, a peer whose writing you admire, a guidance counselor, or a CC coach are all possibilities. But too many editors and you may get frustrated with conflicting feedback and a sense that the individuality of your essay is becoming diluted. It's also okay to listen to and ultimately reject feedback that you receive. Admissions officers want to hear your unique voice and writing style in your essay, so always try to implement the final edits on your own.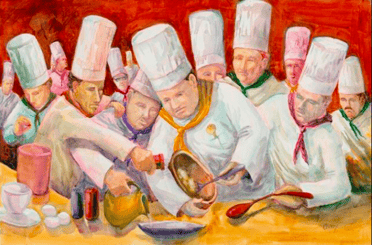 Oral Storytelling
In the interview, you are asked to tell your story on the fly, verbally. For many schools, the interview is also as much an opportunity for you to get to know the school as it is for the school to get to know you. So, the most important piece of wisdom is to be yourself. You can prepare to "be yourself" by brainstorming the most meaningful answers (for you) to common interview questions such as: Describe a time you failed and what you learned from it. What are your strengths and weaknesses? What's something you're most proud of? What are your most important values? What are you interested in studying?
These questions can catch us off guard in the moment, especially if we're feeling nervous., so preparing ahead of time with a quick brainstorm or even practicing a mock interview with a friend or CC coach can make a huge difference. If you tend to be more shy and reserved, you may also try during this mock interview to push yourself to add a few more details to your answer than you normally would. This will help your interviewer get to know you that much better and prevent shyness from being misinterpreted as lack of interest in the school or the interviewer. Lastly, always follow up with a Thank You card or e-mail.
Good luck, and I hope you've enjoyed this mini blog series on staying well and true to ourselves under pressure as much as I have!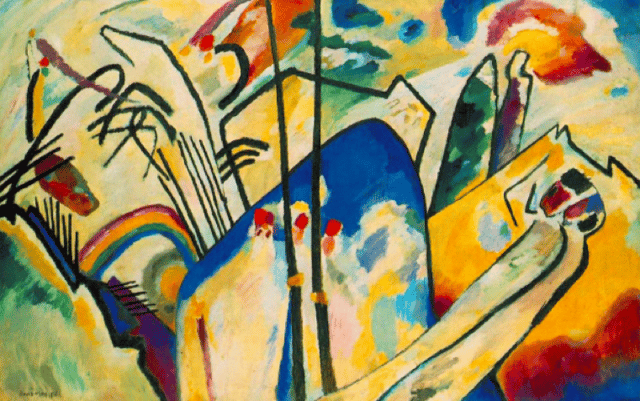 Signing off with something bright and uplifting: Composition IV by Wassily Kadinsky (1911).
Be kind to yourself and each other out there!
Are you interested in connecting with a study skills tutor in Cambridge or Boston?
Would you like to read more of Anna's posts on mental health and wellness?