If you've spent a school year (or ten) in the Boston area, you know that New England winters aren't always fun. On a 10 degree day in February, it takes a lot of motivation for me to venture outside. After several years of school, I know that I study more efficiently when I'm not at my house; when I'm home, it's too easy to succumb to the temptations of chatting with my roommates, rummaging through the kitchen, or taking a nice nap. The problem is that as it gets colder, going somewhere else to study becomes much harder. Here are some places in the Boston/Cambridge area that make it worth the trek – in any weather!
Boston Public Library – Boylston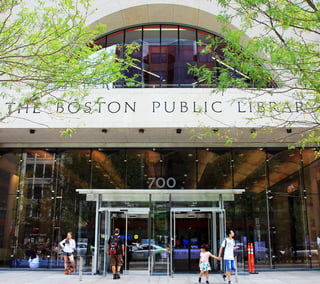 I don't think it's possible to mention study spots in the Boston area without having the BPL at the top of your list. It honestly is everything I could ask for in a study spot, and I could gush about it for hours. For this post, though, I'll try to stick to the highlights. The BPL has different areas for pretty much any kind of study vibe – there's the famous Bates Hall if you're looking for pin-drop silence, the courtyard if you're doing more low-key work, and then various tables in the newly renovated Johnson building if you're studying with a friend or doing some group work. Needless to say, there's free and unlimited Wi-fi throughout the building, and although it's usually busy, I've always been able to find a seat. If you're staying the day, there's a café in the building where you can get food and drink, or if you're in the mood for a longer break, there's a wide array of food within blocks of the library in downtown Boston.
Cambridge Public Library – Broadway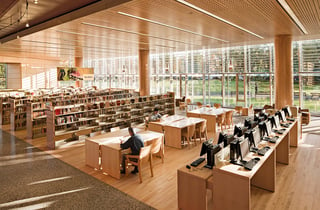 It's no accident that the top two places on my list are public libraries. I think there's something inherently productive about studying at places that are designed for learning. The Cambridge Public Library, while nowhere near the scale of the BPL, is charming in its own right. There are several different floors; the first floor has several large tables for groups – as you go up the seating becomes increasingly individual, which might be a better choice if you're really trying to focus. Although the building is quite large, be warned that there is a high school right next door, so sometimes after school hours the place can get really crowded. If you're staying the day, you're better off bringing your own food. There are vending machines in the building, but it's a bit of a hike if you want to walk to Harvard Square food shops.
Trident Café – Newbury Street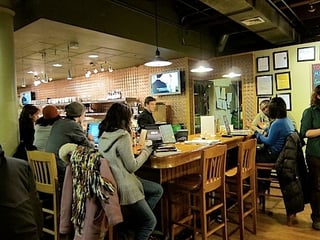 I love the Trident for several reasons. First off, it's a bookshop combined with a delicious restaurant – two of my favorite things. Even better, there's wi-fi and the option to stay the day and study, with any food you might want readily available! This is definitely not the place to go if you enjoy working in silence – it's nearly always bustling with food orders and people browsing the bookshelves, but I've always found it easy to let that fade away into background noise and get some good work done. The food is also amazing – they serve breakfast all day as well as lunch and dinner, and have a broad array of drink options too, from coffee to smoothies. Usually you can sit at a table if you order something, or if you're by yourself the bar is a good option too. Keep in mind that the Trident is a REALLY popular brunch destination, so while I've never seen anyone get kicked out, if you go at 10am on a weekend and plan to stay for 4 hours to study, you'll likely draw the ire of the patrons who are waiting an hour for a table for brunch.
Harvard Coop – Harvard Square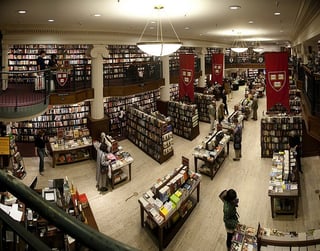 The Harvard Coop is a very well-known building in the Harvard area, mostly for its vast selection of books and Harvard souvenirs. However, I think it's a little bit overlooked as a study spot. The main floor is entirely books, but if you go up to the second and third floors, there's a Starbucks café and several small tables that are great to sit and read. The ambience of the coop is awesome – you're surrounded by books and often secluded (most of the tables will seat only one or two people), and you can bring in or buy whatever food and drink you'd like (unlike in a library). Unfortunately, the tables in the Coop itself often get filled up pretty quickly, especially on the weekends. If you're lucky, though, you can snag one of the cubbies In the front of the Coop that looks over Harvard Square – people-watching is a great study break!
1369 Coffee House – Mass. Ave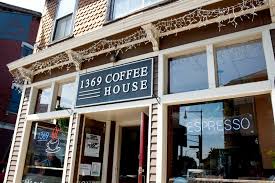 1369 Coffee House is sort of in between Harvard Square and downtown Boston, right in the middle of Central Square. Central is a great place to go if you're looking to leave your campus area but not go too far, and 1369 is one of the best coffee houses around. Their drink menu is a delicious and they always have rotating seasonal specials. I think their food, though, is what sets them apart from all the other cafes nearby. They not only have the typical assortment of baked goods, but they always have some innovative sandwiches, quiches, soups, and fun bagel toppings. It has your typical setup of café tables and bar seats, but you won't feel pressured to leave even if you stay the whole day!
Wired Puppy – Newbury Street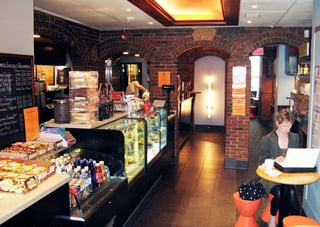 Wired Puppy is a small hole-in-the-wall on the ground level of the Newbury street shops, but it's a great place to get work done. It has a pretty typical café menu, with coffee drinks and some small snacks. There's free internet, which is a perk, and when the weather is nice, they have patio seating which is really nice if you're looking for a chance to study in the sun but still have access to the internet. Once you've gotten your work done for the day, it's easy to reward yourself with some Newbury street shopping and food!
Starbucks – Harvard Square
The quintessential study spot – Starbucks! It's impossible now to go to a Starbucks and not see a legion of students/young professionals tapping away on their laptops, so it's safe to say that any Starbucks you see on the street will likely be a good place to study. The Starbucks in the middle of Harvard Square, though, has a couple of perks that set it apart. The first is no doubt its location. You can practically trip into the building coming out of the T stop, which makes it incredibly easy to get to. It's also close to nearly all of the Harvard dorms and academic buildings, and all of the great food places in Harvard Square. Walking into this particular location can be overwhelming – everything on the first floor is quite crowded and there's usually a really long line. If you can brave that, though, walking up to the second floor rewards you with a much more spacious seating area and great working space. There are tables of all different sizes and nice views of the square if you can grab one by the window. I wouldn't recommend coming to Starbucks with a bigger group of people, but it's usually pretty easy to find a spot for one or two!
There's something about setting a destination for studying that makes it easier to complete the task, and these are some of the places that always help me find my inner productivity (even if it's very, very deep down). They span a broad range, in terms of location, noise level, food options, and group study availability. Check them out next time you're in the area!
Are you in the Boston area and looking for a tutor?
Want to read about the seven best places to study and read in New York City? We have a great sister post on the subject.