Fluent speakers of any language will have intuitions on what word order sounds "natural" or "correct", but languages differ in what order they put words in. Linguists (specifically syntacticians) are interested in figuring out what ways languages can differ in how they organize sentences, as well as how they are similar. In this blogpost I will discuss some word-order differences across languages and how linguists model these differences though Phrase Structure Rules.
First, let's take a look at the English sentence below, and its translation into Japanese, French, and Irish.
English: John sees that black dog

Ignoring the particles in the Japanese example and the article "an" in the Irish example, these sentences all have the same kinds of words: a word for "seeing", a word for "that", and so on, and yet they all put these words in different orders.
At a first glance, it may not be clear if there is a pattern to be seen, but it turns out that there is. In English grammar classes, you may have been taught to identify a subject, verb, and object, and we see all of these in each language. Let's take a look at the English first:

There are two things to notice here. The first is that English has Subject-Verb-Object order, where the subject precedes the verb and the verb precedes the object. We can represent this by saying that English has a Phrase Structure Rule that says that a sentence S consists of a subject, verb, and object in that order.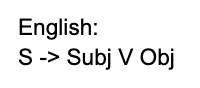 Phrase Structure Rules are composed of an "input", which designates the kind of phrase which you one is building, and an "output", which designates the smaller parts (or constituents) that the "input" consists of, and the order in which those constituents appear.
This rule has the sentence S on the left side, which corresponds to Subj V Obj on the right side. While the Verb is (appropriately called) a verb, the subject and object are both noun phrases, that is, they both contain nouns and optionally other things which modify the noun. So another way of writing this more clearly may be shown below, where we denote the subject and object as noun phrases (NP).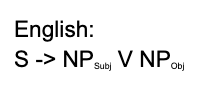 The second thing to notice is that in the example, while the subject "John" and the verb "sees" are both one word, the object "that black dog" is three words, but takes up a single role in the sentence. Groups of words within some phrase which combine together to form a unit are called phrases. So we can say that "that", "black", and "dog" form a phrase separate from "John" or "sees". We already have a name for this kind of phrase, namely a noun phrase (NP).
Let's take a look at the other languages we have to see how they measure up:
French seems similar to English, both have the subject first, followed by the verb, and then the object. We can thus write the rule that we did for English for French:

Japanese has the object placed before the verb, what is typically called SOV order. Many other languages like Turkish, Korean, Hindi, and Burmese. We will write its rule accordingly.

Finally, Irish has the verb placed before the subject: this is typically called VSO order. Other VSO languages include Hawaiian, Classical Arabic, and Mayan. We will also write its rule accordingly.

In all of these languages, the object of this sentence stays as a single unit, even though it may be in different positions within the sentence. This means that across languages, even though word order may be different, it is still restricted to a certain set of word orders, where the main constituents of a phrase are next to each other.
An interesting result of this observation is that we can predict that certain languages can exist while others can't. For example, we can imagine three languages which would translate our English sentence into the following orders:

Language A and Language B could be actual human languages, as "that black dog" stays a single unit (though their word order changes). Language C, however, splits "that black dog" so that "that" appears disconnected from "black dog". The Phrase Structure Rules for a sentence can determine the position of subject, verb, and object, but cannot break the object so that part of it appears before the verb and part of it appears after. Because of this, there is no Phrase Structure Rule to give us Language C, and we predict that no language like that exists.
While languages seem to differ in huge ways in terms of word order, we can use our rewriting rules to condense their differences into simple, easy to read diagrams. While we've only looked at a small subset of the world's languages, and at a fairly simple sentence, we are still able to make predictions about the world's languages and find connections between all languages, simply by using the Phrase Structure Rules. As an extra, try figuring out the Phrase Structure Rules for each of the four languages NPs, given the orders of the words for "dog", "black", and "that" in each language!