You have your paper topic, maybe you even have a thesis statement ready to go. But before you can charge into the depths of the writing process, you've got put together your bibliography. In some cases, this part seems easy: you're already familiar with the scholars who work on the topic; your instructor has given you a list of sources; or you are an expert at navigating your school's library search tools. But for those times when the process seems overwhelming, and you feel cast adrift in a sea of Google search results, uncertain where to begin, here are some tips for getting started.
We can think of the bibliography (or works cited, or sources, or whatever you'd like to call it) as a bit like excavation. You've got to dig, and you're never quite sure what you're going to find. But in doing so, you will lay the groundwork for a solid paper.
For the purposes of this post, let's pretend that we are working on a research paper about the Roman Colosseum.
A Google search reveals 70,000,000+ results, which is a few more than we need.

The first hit is Wikipedia. Most every instructor I've ever met (myself included!) has made it very clear that Wikipedia is not an acceptable source. But, for those times when you are really uncertain where to start, Wikipedia can be a helpful tool for finding a few preliminary sources.
What is an acceptable source? While the safest way to figure this out would be to ask your teacher or professor for clarity on what they are expecting, your best bet is to focus on books published by academic presses and articles in scholarly journals. So with this in mind, let's see what Wikipedia has to offer.
If we click on the page for the Colosseum and scroll down, we find this:

Depending on the page, of course, this list may be longer or shorter. This one, though only three sources, includes a book (published by Harvard University Press, so we know it was published by an academic press) that is available online. And that book is both a source on its own and an additional place to look for even more sources. If we check the table of contents, we'll see that in the "further reading" section, the authors have even organized sources by topic.
So, if we wanted to write about the construction of the Colosseum, we could find the section that will lead us to resources that are more specifically focused on that. Not every book or article will be so helpful, and in many cases, they simply provide an alphabetical list, but even then, these bibliographies are a valuable tool when building your own. It will be up to you to decide which sources are best suited for your needs.
One issue with this method, you might be thinking, is that the sources cited in your books or articles always predate the book or article itself. What if you want the newest material? Or what if you want to see whether other scholars agreed with the arguments made by this author?
Although Google itself cast too wide a net, Google Scholar (scholar.google.com) can be used in a few different ways in order to help continue building our bibliography. First, let's keep using the book we found on Wikipedia.

When we search the title of the book, we find an entry that says, "Cited by 163." This means that Google has indexed 163 additional sources that have used this book in their own bibliographies. Once we click that, we are able to scroll through these sources, and we can see that some are very relevant, and others, not so much.
Another way to use Google Scholar is as a starting point. Let's try a regular search:

27,000 is still way too many results to comb through, but if we narrow our search terms to, for example "roman colosseum construction," we can start to weed out irrelevant results and find ones that are more in line with our topic and interests.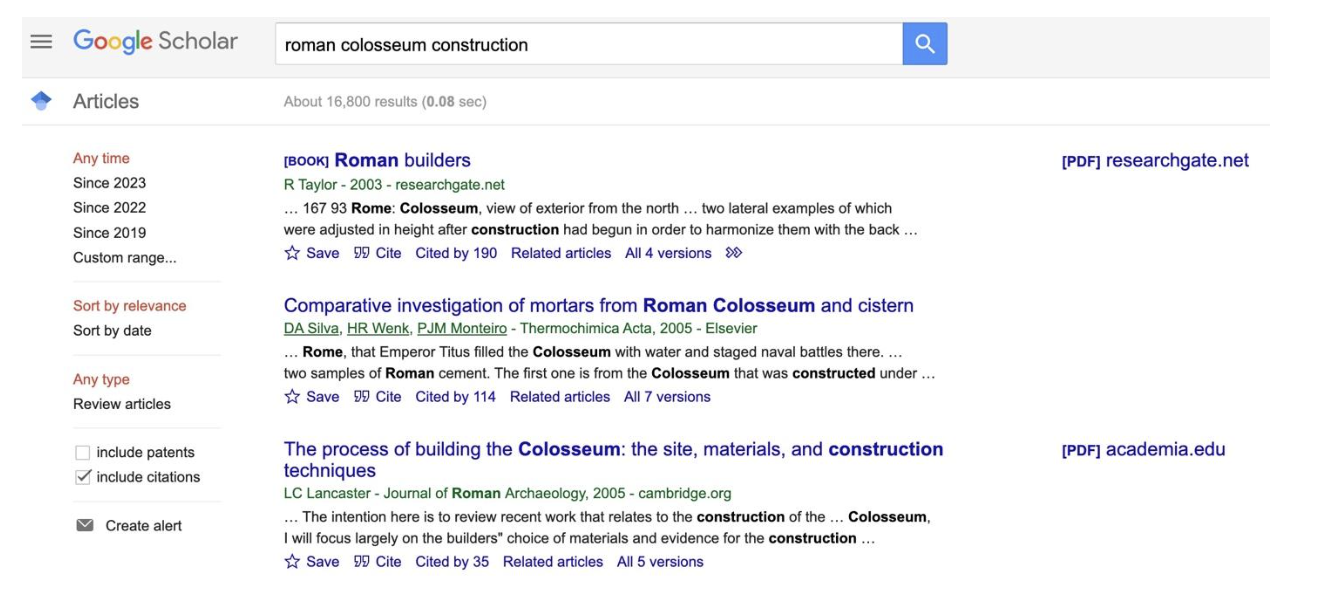 From here, you can continue to narrow and change your searches, to hop from one source to others, and to start to compile your own bibliography. If you get stuck, or you run into a wall, try starting from another book or article, changing the date range, or searching by author, if you've found a scholar who seems to work on your topic. Of course, you can and should always make use of the resources and people available to you: your librarians, teachers, professors, and teaching assistants all want to see you succeed!
Although bibliographies of every size and variety can, at first, feel overwhelming, remember that you only need one source as a starting point, and from there, you can grow your list, vary your authors and the types of materials, and compile a bibliography that will set you up for success.
Happy citing!