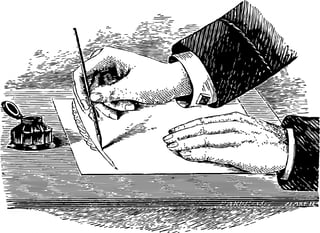 In the olden days of college applications, high school seniors would haul stacks of addressed, stamped envelopes to each of their recommenders, so that those recommenders could send a different hard-copy recommendation letter to every school the student was applying to. So much work! In some ways, submitting recommendation letters for college applications has grown easier: now, you can use the Common Application to invite your recommenders to submit their letters electronically. Once you've added schools to the "My Colleges" section of the app, each school will have a "Recommenders and FERPA" section that lets you click a button to invite your counselors and teachers to submit recommendations on your behalf. Each of your recommenders will be emailed instructions to access their own Common Application accounts, no stamped envelopes needed.
So is that all you have to do to get your rec letters—click a button? Unfortunately, no. While requesting recommendation letters is straightforward, you are still responsible for ensuring your recommenders send in well-informed, timely letters. You can do so by selecting your recommenders carefully, providing them with information about your accomplishments and interests, and setting clear timelines for recommendation deadlines.
Selecting your Recommenders
Many colleges ask you to submit one recommendation from a counselor, one or two from a teacher, and zero to two from an "other recommender," such as a coach or employer. First, you should read any information the school provides about what it wants from recommenders—a school like MIT, for example, requires that one recommendation come from a math or science teacher and one from a teacher in the humanities.
For teachers and other recommenders, choose people with whom you have strong professional and personal relationships: this means both that you have excelled in their subject area and that you get along well. (In the "other recommenders" category, the Common App is now accepting recommendations from family members and peers. I discourage using these options unless a school specifically asks for a family or peer recommendation—these recommenders are much more likely to seem biased than a recommendation from an adult at your extracurricular activity, community service, workplace, or place of worship.) Check out the sample Teacher Evaluation form here to see what questions your recommenders will answer about you.
Look for recommenders who can speak to how you cope with adversity or failure, how you work in a team, how you compare favorably to other students in your classes, or how you pursue intellectual and extracurricular challenges beyond what is required of you. If you are worried about a problem area on your application, you might choose a recommender who can address that issue in an honest but positive light. Finally, aim for balance—if your teacher recommendation is from a music teacher, you might choose an "other recommender" who leads your science club or coaches your volleyball team, rather than your orchestra conductor.
Informing your Recommenders
If you go to a large school, your recommenders will likely be writing letters for many students, and even if you're at a smaller school, recommendations will not be the only thing on your teachers' minds. Therefore, it is up to you to remind your recommenders of your accomplishments and interests in an organized manner! Write a brief cover letter to each recommender, including the following information: which schools you are applying to; what major(s) you might pursue; any information about you you're hoping they can highlight in their letter; and a reminder of how they should submit their letters (through the Common App or any other application programs your prospective colleges use). And of course you want to set deadlines—ask for your letters to be submitted at least a week before the application is actually due, to give you some wiggle room if your recommenders are behind schedule.
Attach a resume to jog your recommenders' memories about your grades, activities, and achievements. Even if your high school asks all students to fill out a "brag sheet" or something similar to help recommenders, it is a good idea to follow up with more personalized information. Additionally, if you are an international applicant and English is not your recommenders' first language, let them know they can write their recommendation in any language, and you can have it translated. And be sure to end the information packet with a quick thank you!
Contacting and Following Up with your Recommenders
Although the Common App lets you invite recommenders electronically, I strongly recommend you speak to each of your potential recommenders in person before you invite them online. You want your recommenders to have a clear memory of you when they're writing, and that is best achieved by stopping by their classrooms before or after school or during their office hours with your packet of information already prepared. Most importantly, do this well in advance of your deadlines—at least a month before the application is due, and preferably within the first week or two of the school year.
You might say something like, "Hi, Ms. Pierce. I'm applying for colleges this year, and I was hoping you might write me a recommendation letter because [I really loved your class, or you coached my project at the science fair, or you taught one of my most challenging classes, etc.]. Do you feel like you could write me a strong letter of recommendation?". If your recommender says yes, you can give them the packet of information and stay to answer any questions they have.
Then comes the tricky part—making sure your recommenders submit their recommendations on time. Although you might feel like a pest, most recommenders will appreciate a polite, brief reminder of submission deadlines when they are two weeks and then one week away. If you are only a day or two out from the deadline, this is a good time to enlist your college counselor to help you. Ask your counselor if she can speak with the teacher, or if she can call the admissions offices at the schools where you are applying to let them know one of your recommendations might be a bit late.
If a Recommender Says No…
If a recommender says no, you should take that response seriously and move on to asking a different person. Try not to take it personally—many teachers are overworked, and if they are honest enough to tell you they aren't able to write a strong recommendation for you, that is definitely better than getting an unenthusiastic or hastily-written letter.
Asking for recommendations is another one of those skills that you might practice for the first time when you apply to colleges but that you will use throughout your adult life, when you need references for graduate school, jobs, and sometimes even apartment rentals. The vast majority of teachers and other school employees want students to go to their dream colleges—they will be happy to write for you. And, of course, once the process is done, be sure to send thank you notes letting your recommenders know how much you appreciate their letters and how excited you are for college.
Are you interested in working with a college coach?
Want to read more on the subject?