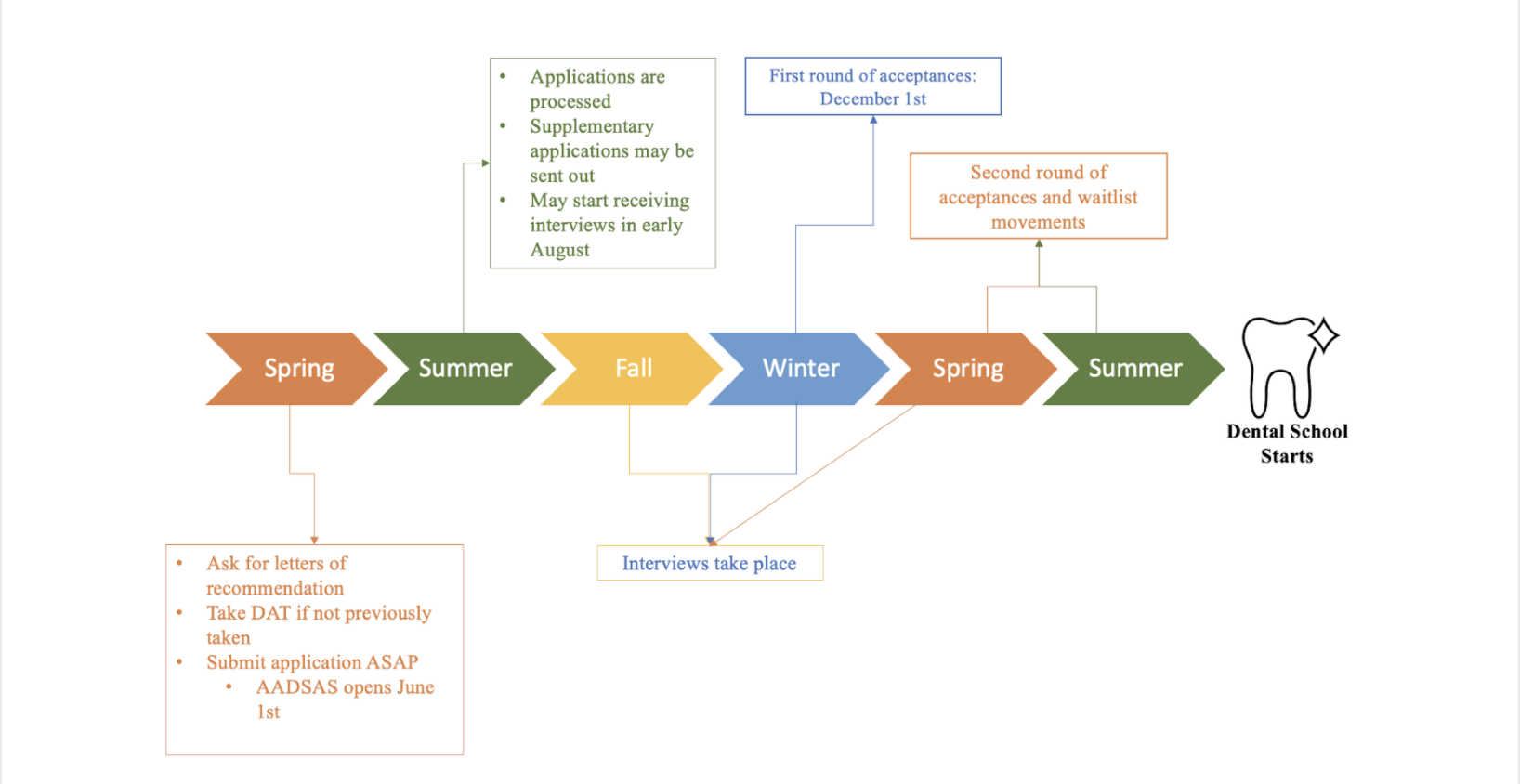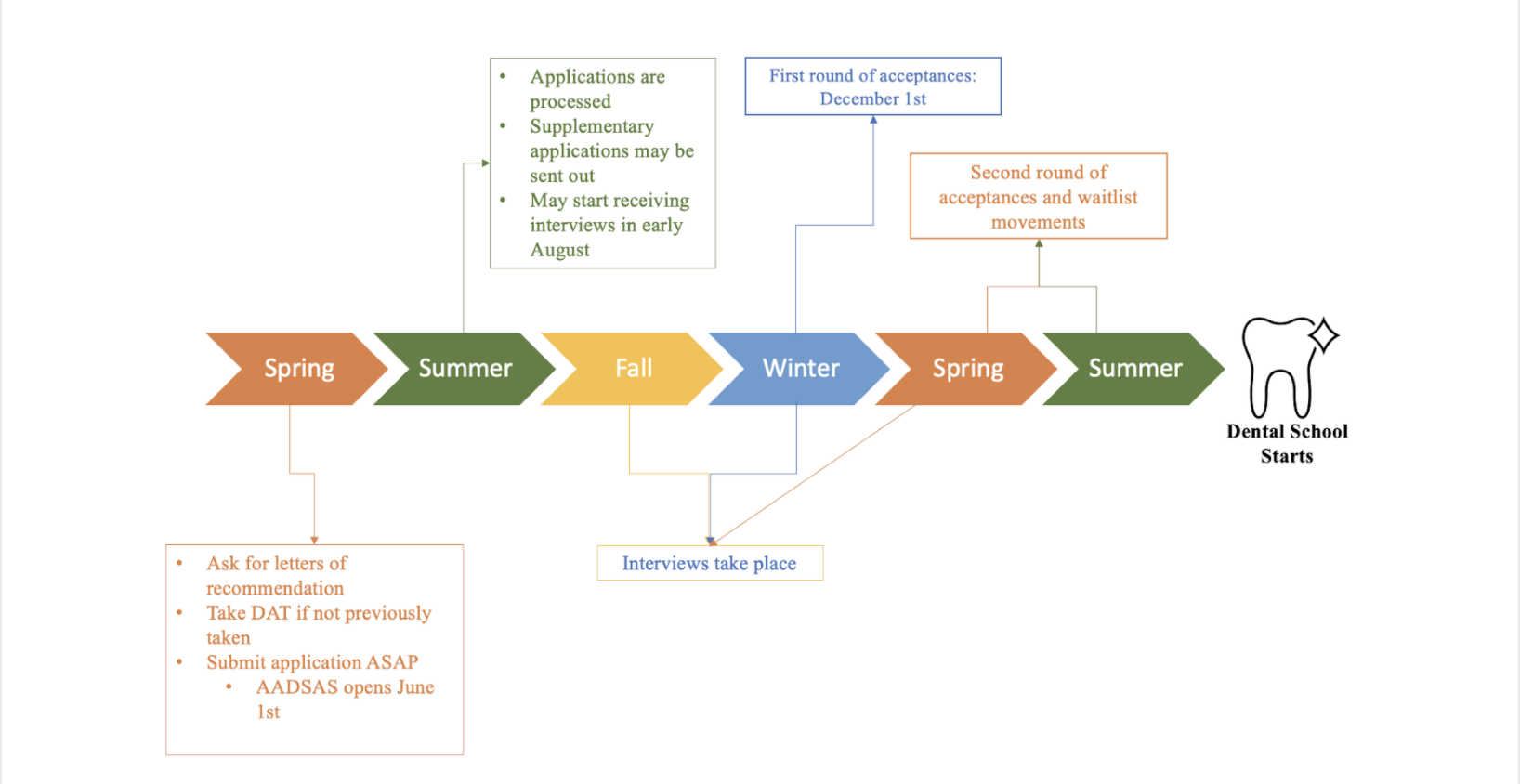 The DMD/DDS admissions process is long, and it begins even before you officially apply to dental school school. During your junior and senior year as a pre-dental student, be sure to stay on top of completing all of your academic requirements, reaching out to recommenders, and (increasingly) studying for the DAT. This timeline assumes that you hope to matriculate immediately following your undergraduate degree.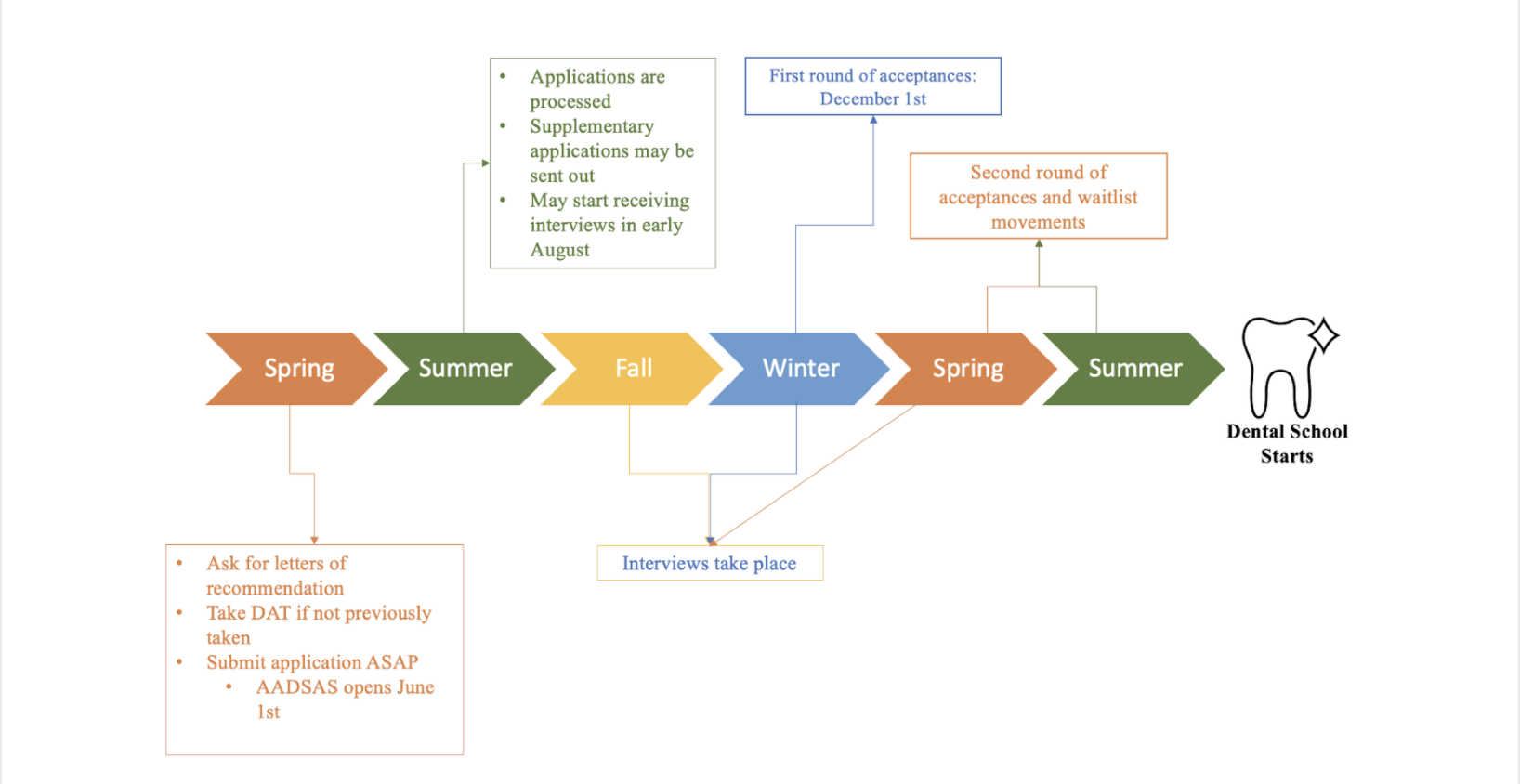 Junior Year, Spring Semester: Letters of Recommendation and the DAT
If you have completed your pre-dental coursework, it is possible for you to begin the application process by your junior spring. Make sure you reach out to recommenders early in your second semester junior year so that they have time to write and submit your letters on time. Furthermore, this spring semester is the ideal time for you to sit for the DAT, as an applicant should have their DAT score in hand by the time they submit their AADSAS application. To play it safe, this means you should take the DAT early enough to receive your scores by the time application submissions open in June. Registering for the DAT at the beginning of the year will afford you plenty of time and also give you the opportunity to retake the test before applying if you're not happy with your score.
MAY: COMPLETE ALL SECTIONS OF YOUR AADSAS APPLICATION
Dental
applicants
' outcomes improve drastically if they
have their materials ready the
first day
the AADSAS primary applications allow submission.
While the application technically opens in
the beginning of June,
you can physically log into the portal and begin working on the application in May. Complete your application, which includes your personal statement, throughout May so that you can press submit as soon as the application officially opens.
JUNE: FILE Primary APPLICATIONS
It's very important to file your primary application as soon as the application opens. Not only is the dental school application process incredibly competitive, it is a rolling admissions process. As such, your chance for admission improves drastically the earlier you submit your materials.
JULY - September: FILE Supplementary APPLICATIONS
Supplementary applications are triggered once you've submitted your primary application. These applications are school-specific, and you'll have to tailor your essay responses to individual schools.
September - February: PREPARE FOR AND ATTEND INTERVIEWS
Interview requests are sent out on a rolling basis. Note that your preparation should be thorough and appropriately designed for the variety of interviews you'll encounter
. During this period of time, some applicants may even receive acceptances as early as December 1st, when schools send out their first round of acceptances.
April onward: Second round of acceptances and waitlist movement
The second round of acceptances happens on a rolling basis in the spring through the summer. During this time, applicants on the waitlist may see movement off of the list. Be sure to send update letters and letters of intention appropriately and in a timely manner.
SEPTEMBER: MATRICULATE!
Congratulations on a job well done and an outcome hard earned!
Please note that this timeline spans roughly two years. While not all applicants must follow this exact timeline, it is important that applicants give themselves plenty of time to prepare for the rigorous demands of this application process.