Ok, so we all recognize that the phrase "college is the best four years of your life" sounds absolutely ridiculous… it is. In fact, everyone at Bowdoin laughs at this phrase; however, don't let this discourage you from using Bowdoin's unique supplement prompt to showcase your thoughtfulness and your ability to reflect, synthesize and EMBRACE the liberal arts. Let's take a look at the prompt below: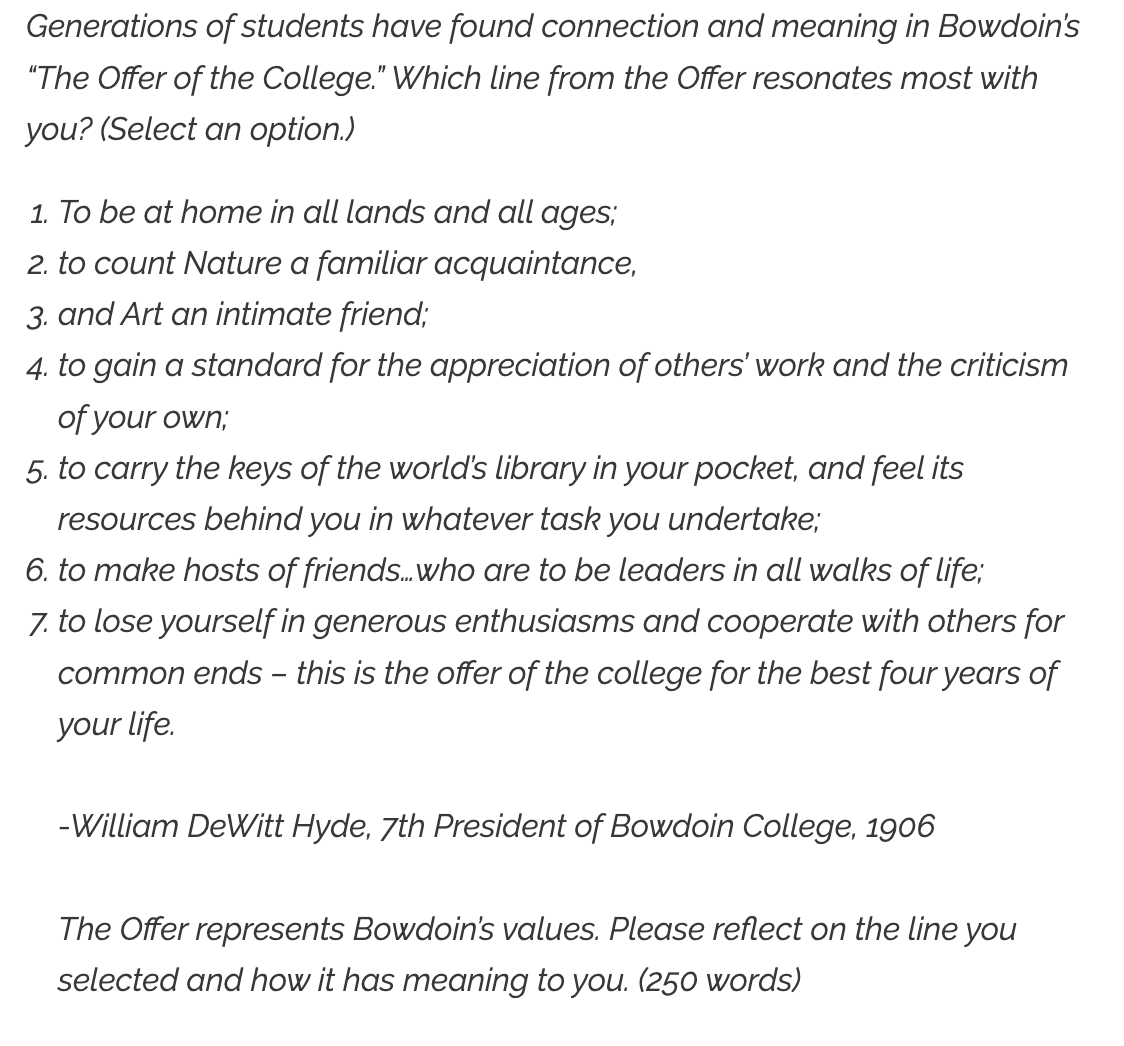 This prompt is all about identifying fit. That is, how well your personal attributes match with the offer of the college, and thus the college's ability to support your interests beyond high school. This does not mean that you need to paint yourself as a crunchy, Birkenstock-wearing, frisbee-playing marine biologist. Instead, this is an important opportunity to reflect on your own passions and experiences, and how they relate to the college's mission. The admission committee's goal is to select students who uniquely fit their offer, and whose passions they can support through their educational model, extracurricular opportunities, and alumni connections.
So how does one approach this prompt? How can you possibly feel at home "in all lands and all ages?" What does that even mean? These are great questions. Let's break it down!
"The Offer of the College"
1. To be at home in all lands and all ages
This section is asking you to reflect on your ability to adapt to new environments with diverse populations. Bowdoin prides itself on creating well rounded individuals, who like to learn a little bit about everything. You can use this prompt as a jumping off point to discuss your ability to thrive in unfamiliar environments with new people.

2. To count nature a familiar acquaintance
Put simply, do you appreciate the outdoors? There is a huge community of outdoor enthusiasts at Bowdoin. The Bowdoin outing club is perhaps the largest club on campus, and is used by virtually all students, even those who don't hike or own ten pairs of Chacos. As such, this prompt could be a great place for you to reflect on your relationship with the environment.
3. And art an intimate friend
Do you appreciate art? Bowdoin has a visual arts center, dance programs, and multiple music groups. Over the summer they host the International Bowdoin music festival, which turns the campus into a summer conservatory… it's pretty cool. That said, this could be a great opportunity to expand on an experience that you've had in the arts.
4. To gain a standard for the appreciation of others' work and the criticism of your own
Center to the liberal arts is working in a collaborative environment. As such, this prompt is asking you to reflect on a time that you may have needed to use your interpersonal skills to work through a problem and grow from the feedback of others throughout the process.
5. To carry the keys of the world's library in your pocket, and feel its resources behind you in whatever task you undertake
This prompt is a little vague. In simple terms, it is asking if you like knowledge for the sake of having knowledge (i.e. to appreciate the liberal arts mentality of knowing a little bit about everything). This prompt is asking you to reflect on the process of learning, and wielding knowledge to accomplish your goals. It could also be asking about the process of learning from others and growing empathy towards those people and cultures that you may know less about.
6. To make hosts of friends…who are leaders in all walks of life
This is another good opportunity to speak to your desire to work in a collaborative environment and create lifelong relationships.
7. To lose yourself in generous enthusiasms and cooperate with others for common ends
This prompt is speaking to community service. Bowdoin has a very large community service center that virtually all the students are a part of. They frequently push their value of "the common good" which, effectively speaks to providing service to a community without need for reciprocation. This would be a great way of integrating any of your prior experiences with service into your application.
How to tackle this prompt
Now that we are all on the same page, the next task is to productively use these prompts to communicate your brilliance. Bowdoin's mission is to help shape well-rounded, inquisitive students with a commitment to the common good. Remember your 5th grade English class – show don't tell. Try to convey a picture of yourself that is consistent with the values of the college as written above. For example, you do not need to explicitly mention your love of community service, but rather, you could speak to a formative experience you had providing service to a community. Walk through that experience - speak to your process of providing service, how it impacted you and how it made you feel. Were you drawn closer to those that you served or did your experience challenge your own understanding of your place in your community? Finally, show that you've grown from that experience without saying that you've grown. Demonstrate emotional maturity in speaking to deeper dynamics within a service project that was not evident in the beginning. The admissions officers want to see you think deeply, just how you will in your small classes, debating a breadth of topics with your classmates.
In choosing a prompt to reflect on, try to also identify an experience or topic that warrants a thoughtful analysis. That is, one which speaks to a unique tension that you've worked through or a group dynamic that genuinely challenged you. You also do NOT need to stick to one of these prompts strictly. While you may be responding to one prompt, you can also knock off a few others in the process. Remember, this essay is about showing your fit for the school, and the more you align yourself with the values, the easier it is for them to see you at the school. Since many of these prompts speak to the importance of working within a diverse environment and appreciating the process of acquiring knowledge in community with others, I would try to incorporate these themes into your essay even if you focus on the prompt regarding the environment or art. Again, show these values through the way you speak about a topic and not through direct reference. You want the admissions officers to come to the conclusion that you are a fit on their own, without you feeding them stock sentences that describe a crunchy empathic community dweller.
For example...
Say you are speaking about an experience doing a community service project rebuilding a trail network in your local community land preserve. Instead of writing, "I grew from this experience because it showed me the value of working within a community," focus your writing on the part of working on a team that stood out to you. This could be an interaction you had rebuilding a fence with a colleague, or a struggle you had with a problem along the way. Write about your process working through that problem. Be honest about how you felt and how these emotions influenced your role in the project. Try to apply this experience by reflecting over broader themes of working on a team, admitting your shortcomings, and growing from the input from those around you.
Final thoughts
There are many ways to answer these prompts, but the most important thing is conveying your potential to think deeply, reflect, and contribute to a team. Admissions officers will be very impressed if you give them a window into your mind and how you think. This makes your application more personable, allows them to relate to you, and demonstrates how you are an obviously a good fit for the college.
Good luck with this essay!