Acid-base chemistry is a fundamental unit in orgo that provides a platform for many of the other reactions you'll learn about throughout the semester. Not only that, it'll follow you to many other classes (like biochem and inorganic chem). If you're still puzzling over what acids and bases even are, let's take a minute to get everything straight. You'll thank yourself later!
So, what is an acid? What is a base? Though both categories have the same general properties throughout, the definition will vary depending on which type you are taking about.
Arrhenius acids/bases
This definition is the least commonly referenced, but it is still useful to know. An Arrhenius acid is defined as any species that has a tendency to donate protons (H+ ions), and an Arrhenius base is a species that has the tendency to donate hydroxide ions (OH-). An example for each would be hydrochloric acid (HCl) and sodium hydroxide (NaOH), respectively.

Brønsted-Lowry (a.k.a Brønsted) acids/bases
This definition is more commonly used than Arrhenius acids/bases, but is quite similar in some respects: a Brønsted acid is a species that has a tendency to donate protons (identical to an Arrhenius acid), but a Brønsted base has a tendency to accept protons (rather than donate hydroxide ions). This basically expands the idea of what a base can be, but still results in the same general trend/rules as an Arrhenius acid. For example, HCl is still considered a Brønsted acid as it readily donates its proton, and the hydroxide ion (OH-) from NaOH can be considered a Brønsted base because it readily accepts a proton to form water.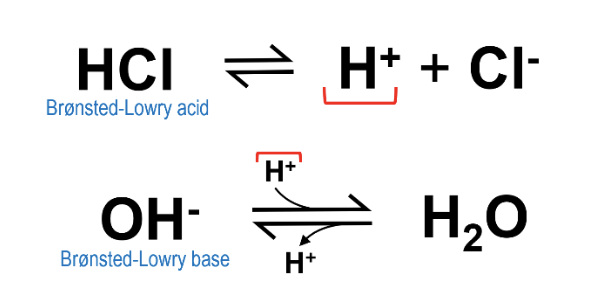 Lewis acids/bases
This definition further expands on the Brønsted-Lowry definition by focusing on electrons rather than protons. However, it still follows the same general trend: a Lewis acid as the tendency to accept electrons, and a Lewis base has the tendency to donate electrons. By this definition, the proton that readily dissociates from HCl would still be considered the acid, and hydroxide ion would still be considered a base. Here, the proton accepts electrons from an electron donor (for example, hydroxide), and a lone pair of electrons on OH- is being donated to a free proton to make water.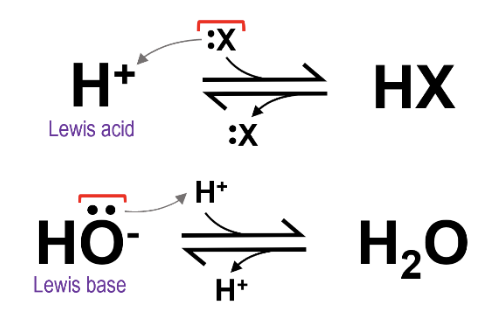 So, in general, we can think of these definitions as getting more broad as you move from the definition of Arrhenius acids/bases to Lewis acids/bases, but they all follow the same trend. In other words, all Brønsted bases are Lewis bases, but not all Lewis bases are Brønsted bases. For most purposes in organic chemistry, we are concerned about where the electrons are. This makes the Lewis definition the most useful, but the Brønsted definition is also highly utilized, especially in the case of determining pH.
Acid/base strength and pH
In almost all contexts of acid-base chemistry, the strength of each species is highly relevant, as we can use this to predict its reactivity in various contexts. For either acids or bases, strength can be defined as the propensity for the species to donate or accept their protons/hydroxide ions/electrons as per the definition. For example, a strong Lewis base would have a high propensity to donate electrons (for example, an un-stabilized lone pair). A strong Brønsted acid would have a high propensity to donate a proton.
For Brønsted acids, this is often represented by the extent to which it will dissociate in solution. For example, hydrochloric acid is a strong acid, and it dissociates almost completely in solution:

This just means that if you looked at the molecular level of a solution of hydrochloric acid, you would find mostly H+ and Cl- ions, and very few HCl molecules. This becomes important when thinking about pH, which is a scale that can be used to compare the relative strength of an acid or base.
The pH scale ranges from about 1-14, with the strongest acids around 1 and the strongest bases around 14 (though some very strong, concentrated acids and bases can exceed this 1-14 scale). In fact, pH is really just an abbreviation where "p" stands for "the negative log of", making the pH equation:
where the concentration of H+ is always in molar. As you can probably guess from this equation, this metric for measuring acid strength relies mainly on the Brønsted definition, where stronger acids will have a higher concentration of free proton (H+) in solution, and weak bases will have almost none. This equation relies heavily on water solubility of the acid or base you are measuring, as water itself can be considered both a (very) weak acid and a (very) weak base:

Water sits at a pH of 7—right at the middle of the pH spectrum. From this, we can calculate that the concentration of proton in pure water is 10-7 M. Water is not necessarily important because it's a particularly strong acid or base, but more so because it illustrates an important point about acidity and basicity.
Let's go back to our example of hydrochloric acid. You'll recall that HCl is a strong acid and dissociates almost completely into H+ and Cl- ions in solution. Say we have a 1M solution of 1L of HCl. Assuming that, since this is a strong acid, the reaction goes to completion, we can calculate that we will have 1 mol of H+ ions in solution, and therefore 1M H+. Using the pH equation:

This would give us a pH of 0 for this solution (one of the uncommon cases outside of the typical 1-14 pH range).
Now, let's think of a slightly more complicated example. Ammonia (NH3) is a common weak base used in organic chemistry. It can be considered both a Brønsted and Lewis base because it accepts a proton to form ammonium (NH4+) by donating the lone pair of electrons on nitrogen to that proton. So, how do we calculate the pH of ammonia? This is where water comes into play. Ammonia itself does not dissociate to give any free protons in solution, but rather abstracts them—from the water it's solubilized in. In other words:
This will significantly decrease the number of free protons in the ammonia-water solution, effectively increasing the pH. However, since ammonia is a weak base (hence the double-headed arrow in the above equation), we don't know the how many of these protons ammonia abstracts from water and mostly rely on calculated and available values. From some online sleuthing, we can see that the pH of a 1M solution of ammonia is 12.12—on the higher range of the pH scale, because it is a base. From this, we can see figure out many protons it abstracts from water:

So, where water has a concentration of 10-7 M H+, a solution of 1M ammonia has 7.6 * 10-13 M H+. This means that the solution of water has about 100,000x as many free H+ ions as a solution of 1M ammonia.
From these examples, we can see that pH provides a measure of acid/base strength by determining the relative concentrations of H+ ions.
In Summary
We learned here that there are three main definitions of an acid or base:
Arrhenius acids donate H+, Arrhenius bases donate OH-
Brønsted acids donate H+, Brønsted bases accept H+
Lewis acids accept electrons, Lewis bases donate electrons
Though these separate definitions exist, acids and bases each follow the same general chemical rules.
In addition, we learned that pH is used as a measure of acid or base strength and represents the concentration of free H+ ions.
This information has been summarized in the table below for easy reference.