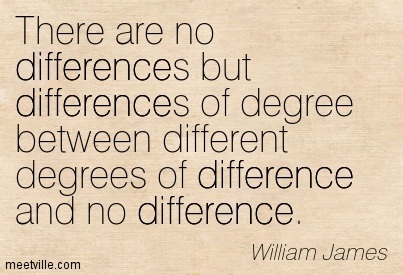 And you may need all different kinds of degree to figure out what he's talking about.
These days, a graduate degree is virtually essential to anyone considering a career in psychology. The question then becomes, "which type of psychology degree is right for me?" As a psychology tutor and application consulting tutor in Boston, I get this question a lot. There are four major programs that students of psychology consider when they want to get an advanced degree. They are:
M.A. in Psychology
Psy.D.
Ph.D. in Clinical Psychology
Ph.D. in Psychology (experimental)
Before you decide which program is best for you, you need to decide what kind of career you'd like. For any fresh-faced 22-year old, this is a daunting question. How could you possibly know what you'll want to be doing in your 30s, 40s and 50s now?
Unfortunately, doctoral programs are designed to prep you for specific careers, so admissions committees are looking for people who are committed to that career.
Ph.D. programs are best for people who would like to be academics – tenure-track professors, research associates, teachers at the university level, etc. If you do not like scientific research or working with data, these programs are not for you. "How about PhD programs in clinical psychology?" - you might ask. "Don't people with clinical PhDs go on to practice therapy, rather than do research?" Sure, they might, but the purpose of clinical PhD programs is not to prepare you to do therapy, and many top clinical PhD programs actually look down upon students who are just looking to be therapists. It's unsurprising that clinical PhD programs are the most competitive psychology programs out there, because people like to have options.
If it feels like a good idea to get clinical training and scientific training at the same time, but if you only plan on using one of those primarily, then I'd advise that you choose either a Ph.D. in experimental psychology or a PsyD. PsyD programs focus on clinical and nonclinical practice (disclaimer: as a PhD student, I don't know much about PsyD programs or their requirements – just their general purpose). Getting a clinical PhD is kind of like getting an MD/PhD. Both of these kinds of programs are very competitive, and they're both free. But they're going to overwhelm you unless you're absolutely dedicated to both the clinical and research sides.
Okay, so to review – PsyD if you want to be a therapist, PhD if you want to do non-clinical research, clinical PhD if you want to do clinical research.
So when does one go get a master's degree in psychology? If you would like to work in industry or business, then sometimes an M.A. is all you need (for example, it might be helpful for some human resources jobs). The M.A. is also a good idea if you're interested in getting a PhD, but you have very little or no research experience (it's usually easier for master's students to get positions in labs than it is if you are not a student at the university). But keep in mind that you earn your M.A. on your way to getting a PhD in most PhD programs. So if you do an M.A. and a Ph.D., you're actually getting two master's degrees. So if you can get the research experience you need in college, or on a volunteer or paid basis, then consider doing that and then applying to PhD programs.
I hope that's somewhat helpful. If you want to know more about my own thought process in deciding to get a PhD in experimental psychology, feel free to contact me! And if you're looking for application consulting or psychology tutoring, give Cambridge Coaching a call. We can help you with every stage of the application, from the personal statement to the interviews. Give us a call to see what we can do for you!