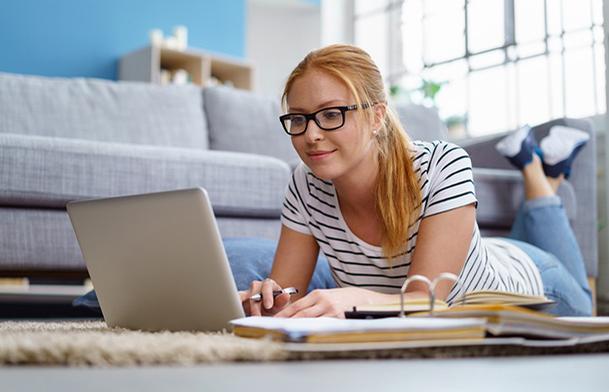 By now, most of us are dealing with the reality that we cannot go to school. We may have school content posted online or packets of work to complete, but we are most likely not allowed to physically be at school with our teachers and classmates. We are now, essentially, homeschooling.
Homeschooling? You mean the very thing I begged my parents for all those early mornings? This is a dream come true right?!! Well…yes and no. Yes, homeschooling means that there is no early bus to catch to school, no sweaty gym class, and bully placed next to us on the seating chart. But homeschooling doesn't mean we still don't have work to do, and it just may make it harder for us to get things done.
Studying at home can be a challenge. Here are 5 tips for getting work done in the comfort of your own home.
Prepare like you would if you were going to school
Depending on the way your school has transitioned to virtual learning, your deadlines may look very different. It is tempting to put off completing readings and assignments because who's going to know anyway? It may feel like you're getting away with something while you neglect homework, but at some point, you will still be tested on the material you are supposed to be learning. You could end up confused and frustrated without a teacher to help if you have avoided your work leading up to the test. Take a look at the schedule your school has (hopefully) sent out and do your best to complete each assignment by its due date.
Additionally, resist the urge to stay in your pajamas all day! You wouldn't wear those holey sweats to school, right? Brush your teeth each morning, put on deodorant, do all the things you would normally do before heading to school. It will jumpstart your productivity.
Don't isolate yourself
If you were in school, you would see and interact with lots of people like teachers and friends. You might not realize how much you need that human interaction until you don't have it. Most of us aren't meant to sit alone in a room and study for hours and hours every day-and you don't have to! There are lots of ways to interact with others, even while we are practicing social distancing and staying inside. Your friends and classmates are working on the same subjects you are, consider reaching out to them for study sessions, to quiz each other, or to debate about a class novel. Platforms like Skype, Google Hangouts, and Zoom allow multiple people to chat at a time if you want to get a larger group together.
Remember, this isn't the same thing as texting constantly with friends throughout the day. It's good to check in, but leave this for your breaks and try to stay focused on your work while you are studying. When you do contact friends about schoolwork, try not to be distracted from the task at hand.
Don't study in bed
For me, this is the hardest tip to follow. There may be multiple people cooped up at home and not a lot of space to work, so bringing your study materials to the most comfortable place of all can be hard to resist. I speak from experience, however, when I say that quality work is much harder to achieve in bed. The temptation to be horizontal quickly leads to browsing Netflix instead of completing homework.
Instead, find a place in your house that you can set up as a designated study space. This could be a desk, a coffee table, the kitchen table, whatever works for you. Pull together everything you'll need for your study sessions -- all books, notebooks, highlighters, pens, and electronics. While you are working, you want to be able to avoid distractions like getting up repeatedly for things you've forgotten. When you're in this space, your brain and body will know it is time to work.
Keep a schedule
At school, you have a schedule; why not when you're studying at home too? The best part is that you get to set up your schedule in a way that works for you. If you usually have math last and by that point your brain is fried, why not complete math work first thing since you have control? It is important to create a schedule that you will stick to. Set yourself alarms so that you wake up at a reasonable hour and block out time throughout the day to complete all of your responsibilities. This may feel like it takes the "fun" out of homeschooling, but it actually protects your free time. The last thing you want to do is be working late in the evening because you did not get things done earlier in the day you needed to.
Take breaks
You can't study all day. At school, you would get breaks between classes, a break for lunch, maybe even a study hall at some point. At home you can set aside break time in your schedule. I recommend that for every hour you work, you take a ten minute break. This will keep your mind fresh and focused each time you return to studying. If you've been sitting and typing a paper, do something different on your break (don't just switch over to Facebook or YouTube). Some great break activities include walking around the house, going into the yard to soak up some sun, playing with a pet, and calling to check in with friends.
We don't know right now how long we will be homeschooling. Life (and school) must go on, even if we are stuck inside. These tips will help you make the best of the situation and continue to be successful even though you are studying at home. Best of luck!
All of our tutors are available to work with any student with broadband Internet access, no matter where you are.
Online tutoring has some distinct advantages:
Stay at Home:
Students and tutors are able to work across geographies without wasting time commuting. All of our tutors are available online.
A Shared Interface:
Our platform allows students to view and share the same online whiteboard while communicating via an adjacent video Skype window.
Sophisticated Tools:
Our online whiteboard includes all of the functions required to tutor any subject, including sophisticated graphing and drawing functionality for math, and the ability to upload and mark up text-based files for the the humanities.
Stored Lessons:
All of the whiteboards associated with a tutoring session are saved and archived, allowing students to review an organized, archived set of notes whenever they like.
Coaching When You Need it:
Have a question that needs to be answered quickly? Connect with your tutor for as short or as long as you want. Many of our students use online coaching as a supplement for in-person sessions.
Parental Access:
Parents can be as involved in the tutoring process as they want to be. Our system allows parents to schedule sessions and review notes and whiteboards from previous sessions. Billing and payment are both conducted through our platform via a secure PayPal connection.
Want to learn more about keeping up with your school work during the COVID-19 crisis? Read more below: