Picking your course schedule in college might seem daunting. Chances are, your college offers hundreds of classes each term, and you have all sorts of major requirements and general education requirements to satisfy. Picking a course schedule involves answering questions like: Which classes will help you learn the most? Which classes fit best in your schedule? Which classes are best taught?
Here are 7 tips for picking your college course schedule, so you can make the most of your college years.
Tip 1: Be organized
I recommend making a table to keep track of all of the courses you have taken and plan to take. It can look something like this:

This way you can see which classes you have taken so far and which ones you might like to take going forward all in one place.
Think ahead! Is there a term where you will be especially busy with non-academic responsibilities? Make sure your course plan accommodates for a lighter load that term.
Tip 2: Keep track of course requirements
Check your college's website or course catalog for information on major requirements and general education requirements. I like to make a checklist so it's easy to see which requirements I've satisfied and which ones I still need to fit in: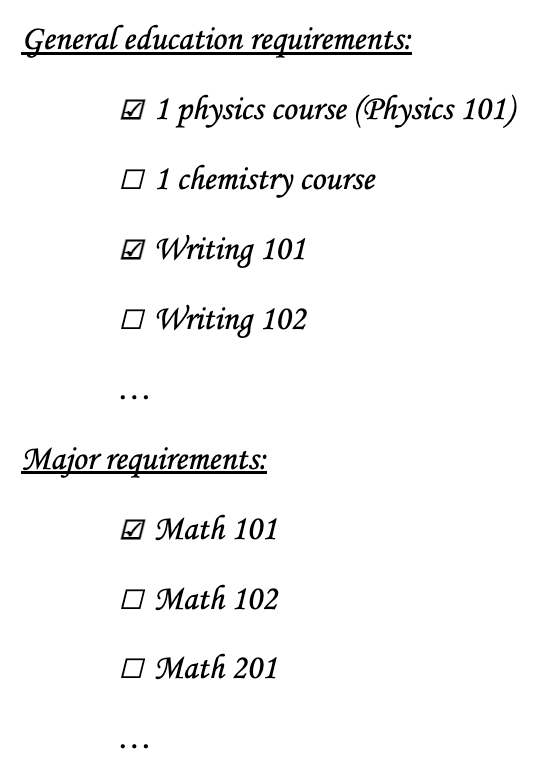 If you are confused about the specifics of any course requirements, feel free to get help from your academic advisor or an experienced peer.
Not sure which major to pick? One way to decide which major is right for you is to look through the course requirements for different majors. Which courses look most interesting to you?
Tip 3: Get a full sense of your options
Take a look through your college's course catalog. I don't just mean quickly scrolling through—actually set aside some time to read through all of the course offerings in your major, or any other areas which interest you. Chances are, there are lots of exciting courses there which you have never even heard about! Keep a list of the courses which are most interesting to you, and try to fit them in your schedule—even if they're not required by your major.
Watch out for limited enrollment courses, or courses offered very infrequently. When keeping track of which courses you wish to take, make sure to plan around the possibility that you might not get into a class on your first (or second) try, or that the course is only offered every few years.
Tip 4: Look at course evaluations
How many hours per week of work will a course require? What is the professor's teaching style? How tough is the exam? Is attending class in-person necessary? Does the content taught in the course differ significantly from the description in the catalog? You can often find answers to all of these questions, and more, by looking at your college's internal course evaluations. This information can help you craft a sensible course schedule with a balanced workload.
Tip 5: Keep in mind your work habits
When planning out your schedule, make sure it fits in with how you work best. How many courses can you manage at once? Do you prefer to have all of your classes on a few busy days, or class times spread throughout the week? Are you actually going to be able to wake up for that 8am class?
Sometimes suboptimal scheduling is unavoidable. But, as much as you can, you can work to make your learning more effective by planning ahead and knowing your limits.
Tip 6: Be flexible
You've followed all of the above advice, and now you've devised the perfect schedule. Except...maybe you decide to study abroad. Or, maybe you change your major. It's fine to change up your old plan, as long as you replace it with a new, better plan, which more accurately reflects your current interests.
If you think you're going to change plans a lot, try and make your preliminary plans with plenty of flexibility in mind. For example: you might want to get requirements out of the way early which will help you graduate no matter which major you choose.
Tip 7: Keep your goals in mind
Why are you here at college? What are you hoping to learn? What are you hoping to do after college? Which major(s) and courses will help you best achieve your long-term goals?
Don't just go through college on autopilot. Really think about why you are attending college, and what decisions you can make now which will help you achieve your goals later.