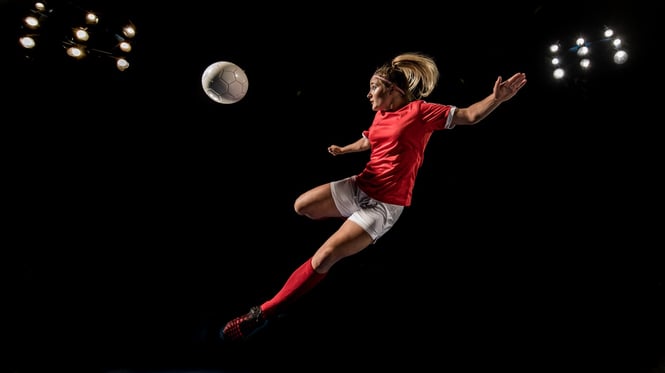 Whether you are a high school senior trying to decide whether to play sports in college, or a collegiate athlete beginning to fill out your medical school application, this post is for you.
When it comes down to it, admissions committees make their selections based off traits that they recognize tend to help students thrive through school and beyond. From the perspective of a four-year collegiate athlete, there are four big ways in which your athletic career will simultaneously help you get into and thrive in medical school, and four ways to apply them to your application.
How to stand out as an athlete on your medical school application
1. Ability to handle medical school
Briefly, athletes spend up to 20 hours a week honing their craft, and even more time recovering, both physically and mentally, from their exertions! Through all of this, they demonstrate dedication to a cause, hard work, and discipline. Admissions committees understand this, and most adults (myself included after only two years after retirement) marvel at how athletes make time for it all! That is 20 hours that could have been spent, for example, studying to boost one's GPA. Thus, there is a degree of forgiveness for a bit of a lowered GPA. Additionally, committees can be confident that an athlete possesses the ability not only to handle the demands of intense studying and stressful clinical responsibilities, but to do so in stride. Athletes must have demonstrated resiliency to have weathered the demands of sports on top of school, and that resiliency will prove useful in medical school and as a doctor.
Applicant Takeaway: Somewhere in your medical school application, remind med schools of the difficulties you have overcome, and how you are going to apply that in your medical education and career!
2. Team-oriented and communication skills
Medicine is increasingly becoming a team "sport." The wealth of knowledge in any given field has grown such that many of today's medical innovations require input from an interdisciplinary team of specialized experts. What kind of skills are needed for a team to function? Interpersonal relations, communication, empathy, and humility. Athletes are trained for this! They are accustomed to learning what makes each of their teammates tick, how to motivate them, and what kinds of support they need. Simultaneously, they know how to receive, interpret, filter, and apply different forms of feedback both from a variety of sources. Doctors and med students need these interpersonal skills to understand and support their patients as well as to synergize with their peers who often have very different outlooks, opinions, or skillsets. Additionally, feedback will become harder and harder to come by as you advance in your medical career, and you will need to take advantage of it when you can get it!
Applicant Takeaway: In your medical school application, be sure to include examples of instances you had to work as a team, make compromises, or go the extra mile to understand your teammate before you were able to conquer a challenge together.
3. Achievement oriented
Aristotle said, "we are what we repeatedly do. Excellence, then is not an act but a habit." An elite swimmer will have a spectacular flip-turn but will continue to practice them hundreds of times a day in an effort to shave a mere tenth of a second off their race time. They practice excellence, and that is what is expected of medical students and doctors. There is not enough time in the day to perfect a flip turn, or to learn everything in medical textbooks, but that is not to say you are not expected to make your best effort. By their commitment and dedication, athletes show they have the ability, motivation, and passion to achieve. What is left for applicants is to prove that this passion is transferable to healthcare.
Applicant Takeaway: Draw a connection between your passion for your sport and your passion to improve your patient's lives or advance the field of medicine – the more specific, the better.
4. Mental and Physical health
Physician burnout (as compared to the general population) is a major, rising concern, and student/physician wellness is a growing priority. Thus, medical schools, residency programs, and hospitals invest a lot into their class or physician workforce and have great incentive to insure a high retention rate. While the ability to make time for regular stress-relieving activities (whether that be exercise or otherwise) is certainly not the only way to maintain mental health in the face of a demanding workload, athletes are accustomed to doing so and may have an easier time building that time into their schedule. Additionally, exercise has been shown to increase mental performance that can only help in medicine. Finally, physicians should be role models for their patients, and maintaining mental and physical status is paramount to anyone's health!
Applicant Takeaway: While it is imperative to demonstrate your passion for learning and for healthcare on your medical school application, it is also important to show how you value making time for yourself to recharge and stay fresh: that you are in it for the long-haul.
Are you applying to medical school and feeling lost about your application? Connect with one of our MD/PhDs today to recieve expert guidance through the process!
Are you interested in learning more about getting your medical school application in shape? Read some of our previous blog posts, below!