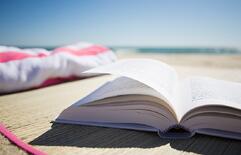 You are finally on summer break. Perhaps, you have summer school or internship, trips planned, or a job, hoping to make a little bit of pocket change.
Now the operative question is this: Do you have any plans to use part of this summer to get a head start on some ACT standardized test preparation?
Your answer may be yes and that is great! If it is, I highly recommend that you create a schedule of study for yourself and determine the best books to use with an ACT tutor or college readiness coach.
The benefit of having some guidance from an expert is s/he will understand what it will take for you to accrue the improvements for which you hope. For example, at Cambridge Coaching we always recommend that our students start off their course of study and test preparation by taking a diagnostic. That way, tutors have a tool through which they can assess what your strengths and weaknesses are. It also helps the tutor determine how much time you will need to dedicate each week to studying and what content you will need to cover to have the best chance of getting the score improvement you seek.
Now, if you did not have a plan to prepare for the ACT in your near future (aka this summer), think again.
If you just finished your sophomore year and are heading into your junior year and you have not begun preparing for exams such as the ACT or even the SAT, there should be no:
'I will start preparing in 'x' months'
You need to start now. Why? How you perform academically in your junior year (in addition to your sophomore year) is extremely important for college admissions. It is really your last big chance to shine in terms of grades and extracurricular hobbies.
Now if you decide to start studying in the midst of all of that rather than mining the free time you have now, you will not be a happy camper. I am not saying it cannot be done; I myself was guilty of such behavior in my high school years. However, as the saying goes, 'if you knew better, you would've done better."
Well, now you know better. So, here's the deal: there are two ACT exams offered at the beginning of the next school year – one in September and one in October. If you to dedicate at least 4-6 weeks of your summer preparing for the September exam, then you can get at least on ACT exam under your belt before the school year becomes too hectic. If you are not where you want to be, you can make minor adjustments in what you are studying and how you are studying and then go for the October exam.
If you are an athlete, debater, etc., that requires you to compete on many weekends, you will also need to start now. Many of the ACT and SAT students I have tutored in the past have found that due to their extracurricular activities they are not available to take all of the exams that they wish they could have taken.
So, my parting words of advice are these: make a commitment to study for the ACT this summer. It does not have to be the whole summer, but it should be organized and focused. Figure out if you can take the September and/or the October administrations of the ACT.
Sign up now, and then start working towards improving in all of the subject areas tested on the ACT. I promise you will be happy that you read this, and you took the leap!