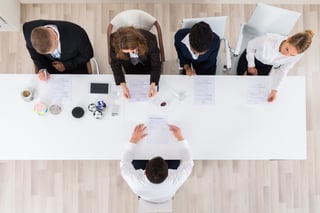 If you read my previous post, "What to expect during interview weekend for PhD Biomedical programs" you know exactly what you are in for during interview weekend. Now the question is, how do you prepare? You have two goals during interview weekend: 1) Convince the graduate students and faculty members that you would be an excellent fit for their program, and 2) Making sure that the program is actually an excellent fit for you. Remember that this is an important decision for you too! Don't be distracted by number of Nobel laureates or big names, make sure that the program meets your needs, and is a place where you see yourself supported and doing some of your best research.
How to prepare before interviews:
1.
Know your biomedical science research project from all angles
This is important, and shows your level of involvement in the project and your skills as a scientist. You should know even seemingly nominal details about your project such as why specific assays were used over others, or whether there was calcium in a buffer that you used, and why. Biomedical science PhD work is about working well independently, and collaboratively, so you want to make sure it comes across that you managed your own experiments, but also had no problem collaborating with scientists in your lab or others, even if it was simply to discuss results and receive more input. On a related note, frame your project as a story. What was the main question? What did you find? What did that tell you? Knowing your project inside and out will give you a boost of confidence during the inrerviews.
2.
Have a practice interview with your advisor
Quite frankly, this was a bit more intimidating than some of my interviews because my advisor knew so much more about my work than I did, but I found this incredibly helpful. Interviews can vary and some faculty members will really try and put you on the hot seat (e.g. ask you to propose new experiments, ask you to go to the white board and present your project), so make sure your advisor asks some tough questions to get you feeling comfortable in that environment. Your advisor can also help you craft 'your research story,' and you'll realize by the end of interview season that you can recite that story in your sleep.
3. Look up interviewers
At least go on the lab website to check out what he/she works on, and maybe check out some abstracts from recent publications. If you have time, you can read one of their recent studies, but I did not find this to be completely necessary. Websites and publication records do not always reflect current biomedical science research in the lab, but reading older papers can give you some background on the lab's research.
During interview weekend:
1. Have a good interview
This goes without saying, but here are some tips for acing the interview:
- Be confident, but not overly so. You have worked hard on your project, and are excited to embark on a PhD. Let that shine through!
- Ask follow-up questions when faculty members are discussing their work. This is a good opportunity to show that you can think critically, and are paying attention to what they are saying. If something is unclear, make sure to ask questions about that too. It won't make you seem unintelligent, but interested.
- Be prepared to propose follow up experiments. This sounds challenging, but if you are paying attention, and the faculty member asks "what experiment would you do next?" or "what results would you expect?" you should be able to think out loud even if you cannot arrive to an exact answer.
- If the interview is going well, and you would like to work in this principal investigator's lab, ask if he/she is taking students for rotations.
2. Present yourself as a good fit for the program
If you have been selected to interview there is already an investment on the part of the program. The in-person interview weekend is, among other things, a way to see whether the glowing application matches who they meet, and whether you would be a good fit for the program. What makes a good fit? A student who is creative, thinks critically, is collaborative (projects often involve multiple collaborations between lab members or other labs), hardworking, and importantly, whose biomedical science research interests align with that of the program. To this end, you want to want to go into interview weekend with an idea of what you want to work on, but some flexibility, especially if you are keen on working on something that not many labs work on.
3. Make sure the program is a good fit for you
This was good advice that I got from a current biomedical science graduate student during interview weekend. Instead of worrying about whether you are impressing people, focus on whether the program is actually a good fit for you. I cannot stress how much of a commitment a PhD is, and how important quality of life is during those years. Here are a few questions to keep in mind:
- What is the average graduation time for this program?
- Do students seem genuinely happy?
- What is the lab culture like at this institution? Competitive? Respect for work-life balance?
- Is this city affordable with my stipend?
- How much support is provided by the directors and administrators of this program?
- What are the classes and teaching requirements?
- Are there a few labs where I could see myself doing my PhD?
I suggest chatting with as many graduate student as you can to get a better sense for whether the PhD program is a good fit for you.
4. Keep it professional
There will be many social events throughout interview weekend, and the evening events usually involve alcohol and are off campus, which might make it easy to forget that you are still interviewing. Depending on the program, graduate student input can weigh into admission decisions. If all of the current graduate students report that you were acting pompous, disrespectful or discriminatory, this might be enough to sway the minds of some faculty members on the admission's committee. Have fun, and unwind after a stressful day of interviewing, but don't get sloppy.
5. Have fun!
Although interview weekends can be stressful and draining, they are also incredibly fun. You get to meet all kinds of prospective graduate students, often the same ones at multiple interview weekends, who are just as brilliant and passionate about science as you are. Even the interviews themselves are quite fun, as it's a chance to talk to the top scientists in your field, some of whom might even be Nobel laureates. Finally, it's a chance to be wine and dined at fantastic restaurants and explore different cities.
You've made it this far. You are going to find a PhD program that is perfect for you. Good luck!
Need to connect with a graduate school application coach in Boston or New York, or online anywhere in the world?
Are you interested in reading more on applying to graduate school?