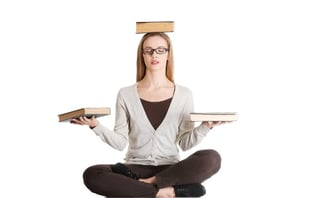 Are you ready for the four most essential MCAT resources, ranked by our expert MCAT tutor Weike? Read on to get the essential list!
#1 Berkley Review Books
The Berkley Review produces a great series of books. They are challenging, thorough, in depth, albeit they are not the most colorful nor are they the only MCAT books students can study. Scoring well on the MCAT requires that you see as many hard and challenging and 'out there' passages as possible. It is up to you to tackle hard passages and select passages that target your weaknesses. The Berkley Review books allow for this.
#2 AAMC self-assessment packets (SAP)
These packets are affectionately abbreviated SAP. You can buy them online (get the computer version) or find PDF versions online. There are packages for each subject (physics, chemistry, biology, orgo). There are about 100 questions in each packet, divided into passages and discrete questions. These, by no means, are the hardest questions AAMC has ever written but they do serve as good review material. Usually, it is useful to do the packets after you've finished content review for each subject.
#3 Examkrackers
The best books from this company in terms of practice are the 1001 questions books. This series can be repetitive in terms of the kind of questions that they ask but this actually can be great for students who really just need practice. The books are divided up into specific topics such as pulleys or balancing redox reactions or the GI track, so that you can do targeted practice. The questions range in difficulty from easy to moderate; very few are very hard. Nevertheless, these questions can be a good way to assess the your early understanding and foundational knowledge.
# 4 Princeton Review
The Princeton Review biology book is recommended by CC and it is a great biology text, well organized and informative (the practice passages in the back, however, are not terribly useful).
The Princeton Review does offer another series, a hyper-learning series that includes a verbal workbook and a science workbook. The verbal workbook is considered the holy grail of verbal MCAT practice. There are 43 passages in addition to 4 practice verbal tests in the back. The questions are challenging, a bit more so than the Examkracker 101 verbal passages, and can help top students get to top scores or just provide students with additional verbal practice.
The science workbook is almost 1000 pages of science practice, in the order of physics, general chemistry, biology, and orgo. Each subject has 100-300 discrete questions and almost 100 passages. Some passages are also labeled as advanced and are indeed advanced. It is unwise, and perhaps mind numbing to do all of these passages. Pick ones that target your weak areas. The down side of the hyper-learning books is that they are incredibly hard to get. You can buy them on amazon but they usually go for 100-200 dollars.
Are you interested in working with a tutor to learn more about ways you can use these resources?
Want to hear more Cambridge Coaching advice on how best to approach the MCAT? Read on below!