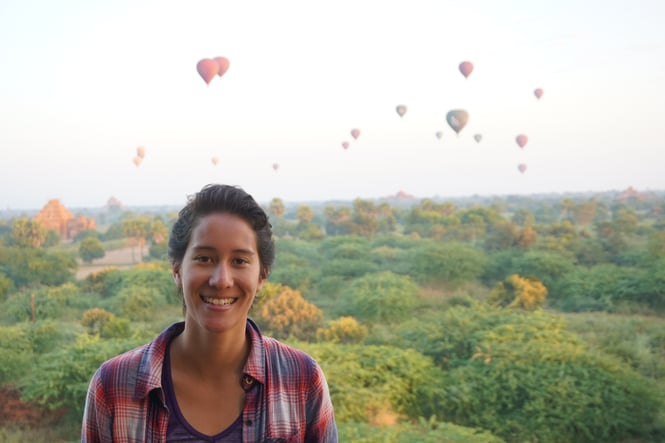 This week, we're spotlighting Caroline, one of our wonderful test preparation tutors!
Caroline grew up in London and moved to Connecticut for high school. Although she's lived in the US for close to 14 years now, people still question her unique transatlantic accent. Caroline attended Washington University in St. Louis and graduated Magna Cum Laude with her M.S. in Mechanical Engineering. Somehow she managed to get through engineering coursework (with a 3.93/4.0 GPA!) while being a four year Varsity Swimmer and Senior Year Captain. After college, Caroline moved to Houston, Texas to work for ExxonMobil at a refinery. There she donned attractive coveralls and steel toed boots, and spent her days solving mechanical engineering problems in the field. After four years working for ExxonMobil, Caroline decided to take a change in her life course and embarked on a journey of a lifetime backpacking through Asia. She is now pursuing her MBA at MIT's Sloan School of Management.
Caroline has worked as a tutor and teacher since college in a variety of capacities. Her major strengths include mathematics, physics, engineering, chemistry for high school and college students, and test preparation for the SAT and the GMAT. Caroline enjoys helping her students work through complex ideas to finally reach understanding. As an engineer, she's had a fair number of those "aha!" moments and loves when her students get there.
In her free time, Caroline loves to travel. She is always looking for her next peak to summit or mountain to ski. You may also find her training for her next running race or at the yoga studio.
Let's get started with the basics, Caroline. Where are you from?
I spent my childhood in London and moved to Connecticut when I was 13. I went to 8th grade and high school in Greenwich, Connecticut, which is a beautiful (somewhat far away) suburb of New York City. Many people ask if it was difficult to move from England to the US, and perhaps it was. But the way I normally describe my first couple of years in the US is- it felt like Summer Camp. Everything was so new and interesting, and it was fun to make new friends and start new activities!
What did you decide to study, and why?
I decided to study Mechanical Engineering. From the middle of high school, I knew that I was going to study engineering, though I guess I didn't know which one. Engineering made sense to me because I was good at science and math. I was good at other subjects, they just didn't come as easily or as naturally to me. I really enjoyed taking calculus in high school and I knew that engineering would be a good fit. I guess I didn't know much about the types of engineering at first, so mechanical engineering seemed the easiest to understand and the one that fit my skill set (I liked physics more than biology and chemistry).
What are you up to now? How did you decide to pursue this?
I am currently pursuing my MBA at MIT Sloan. I worked for close to 4 years in oil and gas in Houston, Texas, but I knew that it wasn't the right career for me. I didn't want to stay in Houston forever, and I wasn't particular passionate about the oil and gas industry. That is why I decided to get my MBA, to see what else is out there and give me the opportunity to pursue a different career path.
What do you imagine your life will look like in 5-10 years?
I don't have any hard career goals for myself, but I would like to be working in a job that is fulfilling, challenging and does something useful for the world. I hope to have a family, and live someone where I can be very close to outdoor activities!
What's a lesson you've learned from teaching?
I feel like I've learned a lot of lessons from teaching. I think the most important one though is learning to be patient. Teaching requires huge amounts of patience, it's a quality that I have to continue refining and developing every day.
What's the most memorable thing a student has ever said to you?
One of my students told me that I am their "GMAT Dalai Lama". Needless to say, I was pretty amused and touched. Although, to compare me and the Dalai Lama in any way is absurd and a gross oversight.
What daily routines or habits are most important for you to do your work?
Yoga, >8 hours of sleep, and English breakfast tea with milk
Describe your perfect weekend morning.
Wake up early, work out and eat a overly indulgent breakfast.
What are three alternative career/life paths you have considered (even just for fun?)
Yoga teacher, owner of a bed and breakfast and life coach.
What advice would you give to someone looking to get where you are now?
Sometimes it seems like a continual struggle of hard work with no breaks, but keep working towards your goals. No matter where you end up, you can be satisfied with the results if you know you gave it your best.
Are you interested in working with Caroline, either in Boston or online?

Want to learn more about our incredible team of tutors? Check out some of our previous tutor spotlights below!