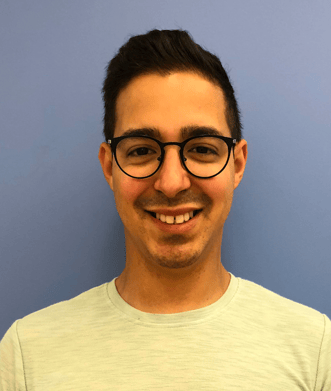 This week, we're spotlighting Héctor, one of our incredible postdoctoral fellows at MIT.
Héctor pursued a bachelor's degree in Molecular & Cellular Biology at the University of Puerto Rico where he was honored with the best undergraduate researcher award in biology for his research in a neuroscience lab. For his graduate studies, Héctor's research focused on neuropharmacology; specifically, he studied a compound capable of protecting neurons from dying. He was awarded a PhD in 2015 from the University of Texas-Southwestern. Héctor is now a postdoctoral fellow at MIT, where he is trying to facilitate neuronal strengthening in the brain, with the ultimate goal of enhancing learning and memory.
Let's get started with the basics, Héctor. Where are you from?
I grew up in Bayamón, Puerto Rico. Even though Bayamón is in the metropolitan area, I lived in a neighborhood in the "rural" part of town where everyone knew each other. That made my afternoons after school super fun and full of adventures. My passion growing up was baseball and even though I don't play anymore, I still apply the discipline I learned playing to my science experiments.
What did you decide to study, and why?
I decided to study Biology in college and then Neuroscience in graduate school. My love for research in Biology started when I participated in a science fair in my school. That year my dad was drinking an extract from a plant to manage his type 2 diabetes. I wanted to know what ingredient from the plant (Bitter Melon) had hypoglycemic effects in order to isolate it and give it more pure to my dad and perhaps other people. After many months performing experiments in a lab at a University near my house, I found that that there was no unique ingredient having that effect, but rather the combination of multiple ingredients acting together. This experience exposed me at an early age to the scientific method and other important aspects of research, including intensive lab work, scientific techniques and collaboration.
I realized that I loved scientific research and this quickly emerged as my career goal. After graduating from high school, I pursued a bachelor's degree in Molecular & Cell Biology at the University of Puerto Rico-Rio Piedras (UPRRP), the premier university in Puerto Rico for basic research. In my sophomore year I decided to join Dr. Vegas lab to study proteomic changes associated with an Alzheimer'd disease mouse model. This is when I fell in love with neuroscience research, due to all the unanswered questions and the potential to help people with this devastating disease. For Graduate school I decided to join Dr Pieper's lab in order to use pharmacological approaches that were able to decrease neurodegeneration.Specifically, I used a compound, P7C3, to show that this was possible in multiple mouse models including Parkinson's disease, traumatic brain injury and autism. For my postdoctoral work, I'm focusing on trying to understand how to manipulate plasticity, the capacity of brain cells to increase or decrease their activity, in order to improve memory. Combining my high school, undergraduate, graduate and postdoctoral experiences, I hope I can apply a multi level approach to find ways to alleviate neurodegenerative disorders in humans.
What are you up to now? How did you decide to pursue this?
Right now I'm a fourth year postdoctoral fellow at the Picower Institute for learning and memory at MIT. Here, I'm using pharmacological and genetic approaches to improve visual cortical plasticity. I decided to pursue this to complement my earlier research work where I learned biochemistry and pharmacology but wasn't able to understand the electrical properties of brain cells and that's my focus now.
What do you imagine your life will look like in 5-10 years?
I want to become a principal investigator of a lab at a good university where I can continue doing work on the neurodegeneration field. Hopefully I can find a treatment capable of helping people with these disorders.
What's a lesson you've learned from teaching?
I've learned from teaching that there's so much I don't know or forgot. Is incredible how I keep learning when preparing for teaching, since the biology field is constantly evolving and challenging paradigms.
What's the most memorable thing a student has ever said to you?
The most memorable thing a student told me was that I was "awesome at teaching" and that she had tried other tutors and I she liked me the most. She also mentioned that if I wanted to explore the private sector, instead of professorship, she would introduce me to mentors that could help me explore that area. That was very humbling as my biggest accomplishment when teaching is to know that the student is not only learning, but also enjoying our interactions, since science is hard and having fun is always a big plus.
What's something you've changed your mind about?
Ohh this is a good one. I've changed my mind a lot, especially in lab -- you think you have the answer to a question and then an experiment(s) results show you were very wrong and that you need to rethink your hypothesis. This has made even if something sounds really true conceptually, you have to test it in order to be sure of the conclusion and that is something that took me a while to understand.
What advice would you give to someone looking to get where you are now?
I would say to find mentors that care about you to create a support system that helps you when things get difficult. Life is better when you collaborate and creating a support system helps you keep focused and accountable. Don't be afraid to reaching out and ask for help.
Are you interested in working with Héctor, either in Boston or online?

Want to learn more about our incredible team of tutors? Check out some of our previous tutor spotlights below!