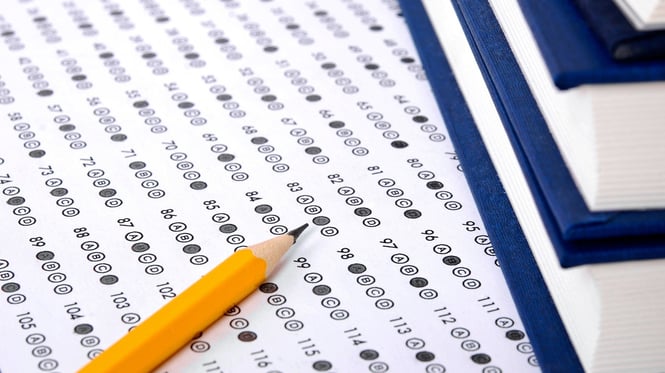 There's nothing like studying with the right materials to scaffold your learning; conversely, there is nothing like studying with wrong materials to leave you without the payoff you expect. Here is some hard-earned insight into which materials to use -- and which to avoid.
SAT
The SAT market is the largest and most competitive of any test, so it's easy to find accurate and substantive materials to prepare for this test. I'm a fan of the books from the larger test companies such as Kaplan and Princeton Review. There are other, more specialized books for advanced math students, for example, but the main publishers offer a good foundation. Khan Academy has also partnered with the college board itself to create a suite of online prep materials. The KA diagnostic test plugs you into their suite of materials, but these materials have some limitations. While these are presented in the video-based, bite-size approach for which KA is known, the content actually goes a bit beyond what the SAT offers, particularly in their trigonometry. The amount of coverage that each topic gets is also not quite proportional to its presence on the test; small or obscure topics get more than their fair share, making it challenging for students to prioritize their time.
SSAT
The SSAT and ISEE market is smaller, and your two primary resources should be Christa Abbott's series and the materials from the test makers. Abbott has a separate book for each test and level (lower, middle, and upper), the ISEE publishes a free practice test, and the SSAT publishes a pricey but accurate guide book for each level that also includes a practice test. Abbott and the test makers are the only sources for leveled materials, believe it or not. Ivy Global has a nice writing section, which even includes very thoughtful supports for writing the optional short story, but their math materials, like Kaplan and Princeton Review's books, are much too easy in the content coverage and practice tests.
GRE
The GRE market is bigger than that for the prep school exams but smaller than the college prep market, to be sure. ETS (the testmaker) has the most accurate guide on the market, but for a focus on strategy as well as content, Manhattan Prep's 8-book set is the best by far, and their tests are pretty accurate. Their 5-pound book, published after they were bought by Kaplan, offers a terrific selection of sample essays, but the book's math and verbal problems skew toward the easier problems on the real test. NOVA's GRE Math Course is a good supplementary math text: Its distribution of coverage isn't quite as proportional to the real test as Manhattan's math books, and a few of its problems need editing, but it's a rich and thoughtful text overall. As with the prep school exams, the Kaplan and Princeton Review books teach to the bottom 50 percent of scorers only. Surprisingly, these companies' free online practice tests are as accurate as Manhattan Prep's. Magoosh has great materials, although the volume of practice problems is small -- more useful for demonstrating strategies than for independent practice.
A note: Barrons books for all tests are always hard in the wrong ways. Stay away from these materials!
Are you interested in connecting with one of our Boston or New York standardized test preparation tutors?
Want to read more on how to slam your exam? Check out some of our previous blog posts below: