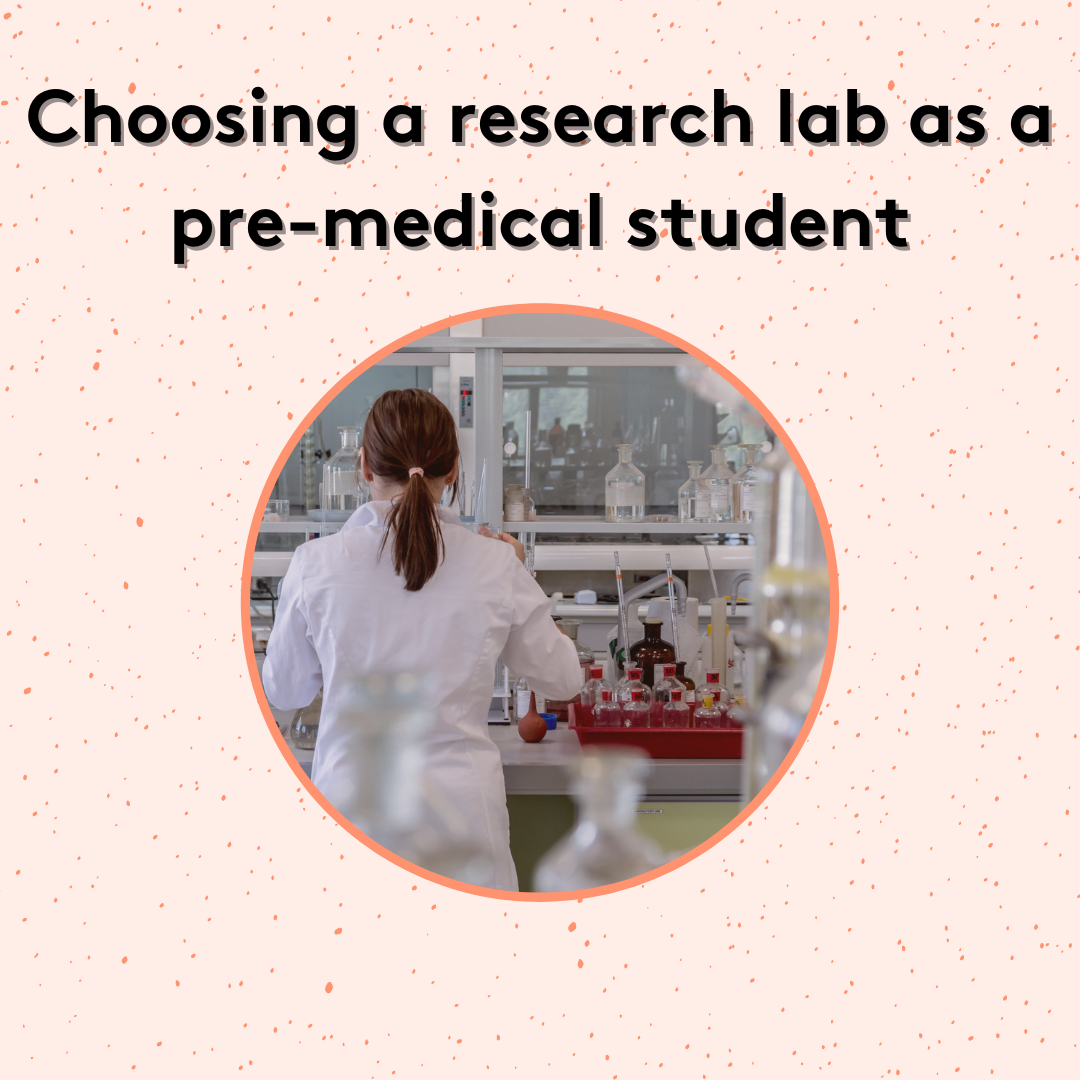 So you're a premed student trying to choose a first research laboratory. You might have done your research on how to approach mentors, and why research is important for your application, but how about how to choose a lab? Well, look no further – here are three important qualities to keep in mind when considering a number of different labs:
Choose a lab where you can see yourself committing several hours
Research is never easy. It is often time-consuming and can be frustrating. You should make sure to choose a lab where you can see yourself committing several hours per week. This includes being in a friendly environment with people whom you enjoy spending time with, as well as being within a reasonable distance from where you live in case you need to go there at awkward times, like over the weekend.
Find a lab that investigates a topic which is personally relevant to you and which you are passionate about
Again, I cannot stress this enough, but research can be grueling! So, if you're going to research a topic, try to find one that you deeply care about; otherwise, you might lose interest quickly or begin to dislike what you are doing. Determining your research interests is something that you will have done probably before even looking at labs, but take a look at each lab's specific goals and ask yourself – can I see myself devoting several hours a week to studying this? In addition, when writing a medical school application, you're weaving a story and this research should be a part of that story. If this topic then ties into some aspect of your background, you could weave it into a story as part of your application.
Find a lab which will appreciate and acknowledge your contributions to their research
As an undergraduate, it's easy to contribute a lot of work to a project with little recognition. A good lab will recognize all of the members of the team who contribute to a project, including undergraduates, and a good PI will know who you are and what you have been contributing. I would recommend taking a bit of time before joining a lab and talking to previous members of the lab – undergraduates, if you can, and asking about their experiences – if they had face-to-face time with the PI, if they were able to present on research or co-authored any papers. Likewise, ask the PI if they would be open to regularly scheduled meetings, so they can get to know you.
One note is that these tips presume you have a list of labs that you are considering (for more information on how to find labs and reach out to them, see Alice's blog post). Likewise, this is by no means a comprehensive list of tips. There are many other factors that others might consider and choosing a lab is only the first step on the road of pursuing science. But, by choosing a good, supportive lab you will set yourself up for success and a fulfilling research career!