The MCAT is a tough test. But, there are tools available to help you make the most of your studying. If I were to recommend just one thing to anyone studying for the MCAT, my advice is to use Anki.
Here is why Anki is the best tool for tackling the MCAT:
Active Recall
Physicians utilize evidence-based treatments. Why shouldn't we do the same to maximize the effectiveness and efficiency of our studying? One of the most applicable concepts we learn in the behavioral science section is the utility of active recall. One study showed that testing oneself just once was more useful than rereading a chapter four times.1 Along with practice questions, flashcards are perhaps the most straightforward way to incorporate this concept into our studying.
Spaced Repetition
Another psych/soc term, I know, but bear with me. Spaced repetition is the practice of repeatedly reviewing material at varied intervals. Each time we do so, we reset the 'forgetting curve,' increasing our retention over the long-term. Because most people study for the MCAT in a period of months and not days, this process is essential to memorizing massive amounts of material and keeping it ordered in our minds. Anki's algorithm does this for us by scheduling flashcards at increasingly greater intervals every time we get them right.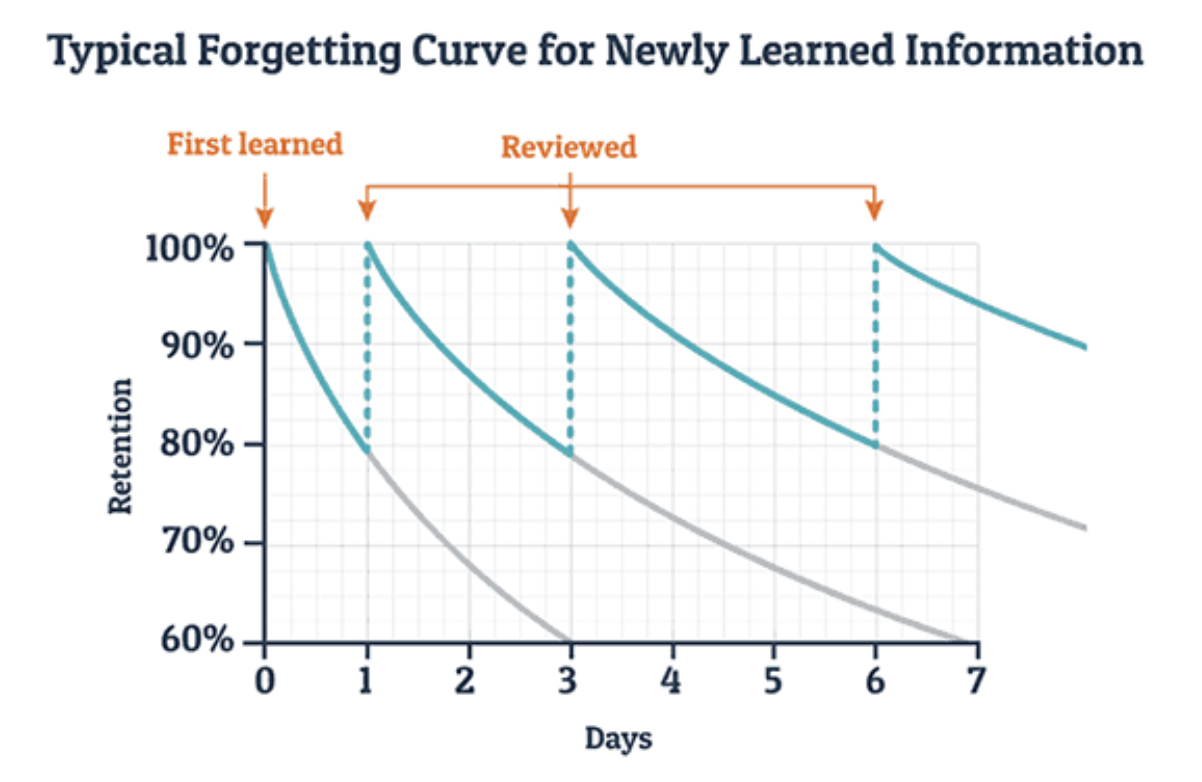 Great. So, we've established that active recall and spaced repetition are scientifically proven methods of studying that we should incorporate and that Anki is a great tool for doing so.
Here are some of the most helpful tips I've accumulated in years of helping others to adopt Anki:
Use a Pre-made Deck
This link gives a breakdown of some of the most popular pre-made decks. I would not advocate someone making their own Anki deck in the interest of efficiency—however, I always encourage my students to edit existing cards and to add new cards that reflect your understanding of the material. Personally, I recommend Jacksparrow for those students that want to master even the most minute details of content, and AnKing for just about everyone else.
Do all your reviews every single day
An important principle of Anki is consistency. Press the gear icon next to any of your decks and change the maximum reviews/day setting to 9999. Depending on the day, you'll have an amalgam of Anki 'reviews.' These are flashcards that you have learned and are set for review today. We don't want any review cards to accumulate for two reasons. One, we want to ensure we're actively resetting the forgetting curve for these cards at the appropriate time. Two, any review cards we don't do on a given day will be left for the next day where they will be joined by new review cards. Skipping a day's review cards is a surefire way to end up swamped with hundreds of reviews.
Memorize your understanding
Anki is great but, like all tools, it is only as good as its user. The most prevalent problem I see is when students merely memorize a fill-in-the-blank without any understanding of the underlying concept. For example, we have the following card: 1+1=? For a student learning math, we want to use this card to memorize the understanding of why 1+1 is 2 and how to arrive at that number, not that the blank is 2 for this given card.
Get Comfortable With 'Browse'
Browse is a powerful tool. As the name suggests, it allows you to search through all your Anki cards which is indispensable. One way to replace passive note-taking for Anki is to search your Anki deck to see if there is a card on a given concept. If there is, great! Just check the card and make sure it solidifies your understanding and make edits as needed. If not, simply add a card that does. This way, rather than taking notes you will never look at, you are ensuring that piece of information will be presented to you in flashcard form and subsequently committed to memory.
Keep Learning!
Because of its importance in medical school, residency, and beyond, the more effort you put into learning how to use Anki, the more you will get out of it down the line. I encourage you to watch videos like these to continue learning how you can best incorporate Anki into your studying.
1https://www.science.org/doi/full/10.1126/science.1199327