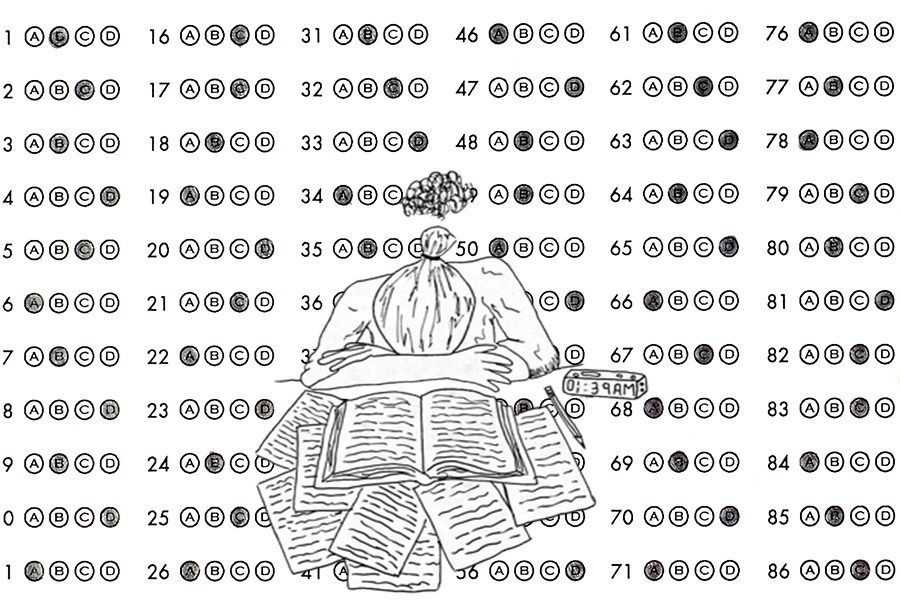 So you got your score back, and you're not thrilled. What now?
First of all, take a deep breath and don't panic. It is likely not as bad as it feels right this moment. Take a few days to recover and try to think about things other than the test. Then, when you've had some time to restore and rejuvenate, you can revisit the issue of whether to take the test again with a fresh perspective. Here are some areas to consider:
1) Numbers. The obvious one. Maybe it wasn't the score you were hoping for in order to blow your dream schools away. But maybe it actually is good enough. Make sure to look at the average GRE, MCAT[1], LSAT, or GMAT score ranges for each of the schools you want to go to and see where your score and percentile falls in relation. Remember that these ranges are averages, and schools accept candidates outside both the upper and the lower end of that range. Chances are if you're within the range, even on the lower end of the range, you may not need to re-test unless you have other large gaps in or concerns about your application. Even if you are outside of the range, being very strong in other areas such as GPA, leadership experience, work experience, or unique life circumstances can often make up for it. Although you should consider this piece, I implore you to not let the numbers be the only factor in your decision on whether to take the test again. Read on for other key considerations.
2) Practice test scores. I think this element is one of the most important factors in your decision whether to re-test. Had you consistently been getting higher scores on your practice tests? Was there a set of formulas or type of math problem that you forgot to study or review altogether? Did you know how to solve all the problems but just ran out of time? Were you overly nervous or anxious? Was there an extenuating circumstance that made taking the test on that particular day difficult for you? (One of my clients got caught in a rainstorm on her way to the GRE and was instructed to remove all outerwear during the test, so she was shivering and freezing the entire time). In short, could this test score have been a fluke? Could you have addressed the challenges with a bit more studying, on a different day, or by being in a different headspace? If so, you may want to consider retesting. If, however, you have been consistently getting around the same scores (or lower) on your practice tests, the value of re-testing may be limited unless you have a significant amount of time to commit to study. Which brings me to the next factor.
3) Time and motivation to study. Ask yourself honestly – how much time can I commit to studying for this standardized test in the next few weeks or months? Consider other factors in your life, such as work pressures or changes in your professional role, personal considerations such as upcoming holidays or family visits, and other community or leadership commitments you have made. Do you have the resources to get help with studying and take a class or hire a tutor? If you are actually going to be able to commit a good amount of time to studying (perhaps around 10 hrs/week, although it can vary), then it may be worth re-testing. (One of my clients started a new consulting project the week after he took the GMAT that put him on a long plane ride on Sunday nights. He was actually able to use those several hours a week on the plane without other distractions to dedicate to studying). Make sure you consider all aspects of your situation and honestly assess your dedication, willingness, and motivation to take the test again. If you think you can do better, have the time to commit to studying, and feel good about trying again, then perhaps do it. Otherwise, you will likely carry around a lot of anxiety around your upcoming re-test but not be able to make much headway on your scores given your physical and mental energy levels and other commitments.
4) Timing in the application cycle. Consider where you are in the application process and how much time you have before you need to submit your applications. Many people choose to take their standardized test before starting to write essays and tackle recommendations, since it can be quite difficult and time consuming to focus on both studying for the test and crafting narratives at the same time. Do you have enough leeway to dedicate more time to just studying for the test? If you believe you will need to start writing applications as well during that time period, assess how much time you can truly make to study and how it may impact the quality of your actual applications. Although not the case with everyone, I find that most people are the most successful at creating compelling applications when they are able to focus on it fully without having to switch back and forth from test prep.
5) Age and work experience. In general, the more work experience you have and the further out you are from undergrad, the less important your standardized test scores are. Note that this is usually not the case for medical or law school, but quite typical for graduate programs requiring the GRE or GMAT. So if you are 22 and applying to business school for a 2+2 program, or are 24 with 2 years of retail experience, your test scores are going to be a fairly important component of your application. Candidates with 4-6 years of work experience are going to naturally have other ways to demonstrate their qualitative and quantitative skills, as well as develop teamwork, leadership, critical thinking, and problem-solving skills that graduate programs want to see. For example, one of my clients had a weaker GMAT math test score and had only non-profit work experience, but I helped him craft essays and develop talking points for his recommendations that highlighted the analytical and quantitative nature of his work. He got into his top choice MBA program. Additionally, you should also consider the nature of your work and how it lends itself to the program you're applying to. Maybe you're applying to public policy school as an international candidate and scored poorly on the verbal section since English is your second language, but you have plenty of work experience demonstrating proficiency in writing policy papers and briefs that show your language abilities. Or you have a low quantitative score but have worked in consulting or finance and can demonstrate understanding of core concepts in a business school program. In other words, consider how important your test score is going to be in your overall application and whether you have other elements of your candidacy that can speak to those areas.
6) Rest of your application. Graduate programs (in particular, programs requiring the GRE or GMAT), generally consider five broad factors in your candidacy. In no particular order, they are: Undergraduate transcript and GPA, professional experience and accomplishments, leadership and extra-curricular experience, personal and unique circumstances or experiences, and test scores. If you feel you are very strong in most of the other areas of your application, you may be okay with a lower standardized test score. If you are a rare candidate (e.g. female army pilot) or have done something exceptional in your career or life, you can play up those aspects of your candidacy instead. If you've lived in multiple continents or started your own successful company, you can play up those elements. If you have a 3.8 GPA or higher from a top undergraduate institution with several years of work experience, a lower test score may not hurt you as much as you think. Remember that your application should paint a holistic picture of who you are and what you can bring to campus. Test scores are only one component of it.[2]
Alternatives. Consider other ways in which you can boost areas of your application that may be weaker. Many of my clients take finance or accounting courses to demonstrate their quantitative abilities before applying to business schools, especially if their quant scores were weaker on the GRE or GMAT. Consider a data analytics or statistics course if you're applying for a social science or policy degree. Take a writing, communications, or language course if you're struggling in the verbal section. There are a number of online or in-person courses that can fit to your schedule, and these courses can be much more helpful in preparing you for graduate school than a standardized test. Most schools do not require you to complete the course before you apply – you can just highlight that you've signed up or showcase your progress or your grades to-date. There are also other ways to strengthen your application if you think your test scores are weak and if you really do not want to take the test again. You can take on an internship in a related field or get involved in your local community through volunteer work. You can seek out extra opportunities at work, such as business development, recruiting, or other firm initiatives that showcase your initiative and leadership. In summary, there are always alternatives if you don't have time to re-test or don't want to.
Hopefully, this post provided some helpful guidance on the key factors to consider as you decide whether to re-test. Remember that a lower score is not necessarily an indication of your natural test-taking ability. You can raise your score with an investment of time and maybe some resources. However, at the end of the day, listen to your gut as you consider these areas above. If it doesn't make sense for you to re-test or if you just genuinely don't want to take the test again, you still have options. Graduate programs know that test scores are not always a major indicator of how well you will perform academically – rather, it is a reflection of how well prepared you were to take that particular test on that particular day. There are always options or alternatives to beef up your application – and everyone will have weaknesses in their applications. Remember that you are a whole person, not just a score, and most schools will evaluate your candidacy holistically.
[1] Note that for the MCAT, a lower score may knock you out of the running given the limited number of medical school programs and the depth and breadth of competition.

[2] Note that for some international MBA programs, test scores are more important than other components of your application.

Rahima graduated summa cum laude from the University of Pennsylvania, where she studied global health, healthcare management, South Asian Studies, and Asian American Studies. Rahima worked at PwC Advisory in New York as a healthcare and public sector strategy consultant after undergrad, where she earned an early promotion and the firm's MVP award. After three years in management consulting, Rahima moved to Malawi, in Southern Africa, with the Clinton Health Access Initiative (CHAI) to assist the Ministry of Health with global health programs. She initially worked to accelerate the introduction of new vaccines into Malawi, and then managed a team to increase access to HIV and TB diagnostics. Rahima also lived in Myanmar, helping CHAI to launch its offices in Yangon and Nay Pi Daw.
Rahima earned an MBA from the Harvard Business School and an MPH in global health from the Harvard School of Public Health, where she was a Zuckerman Fellow through the Harvard University Center for Public Leadership. After graduate school, Rahima worked in Boston as a social impact consultant at FSG. She currently works for the United States Agency for International Development in D.C., where she is a Market Access Advisor at the Center for Accelerating Innovation and Impact within USAID's Global Health Bureau.
Rahima has been doing college and graduate admissions coaching and career coaching for over ten years. She has helped students gain admission into all the leading medical schools, public health schools, US and international top business schools, and a number of leading programs for public policy, public administration, science, education, engineering, healthcare administration, and other masters programs. In addition, her students have received admission to all of the Ivy League colleges and many other undergraduate colleges throughout the US and Canada. Rahima also provides strategic guidance, presentation preparation, essay edits, and project reviews for students in undergraduate and graduate programs, as well as targeted feedback, coaching, mentoring, and preparation for career transitions, scholarship applications, and job applications, including interview preparation, resume edits, and cover letter drafts. Rahima deeply enjoys helping students build their narratives, find their voice, help their stories stand out, and craft personal, meaningful essays.
Intersted in reading more about standardized test preparation? Check out some of our other blog posts below!
A comprehensive guide to MCAT resources
7 Essential Tips for ANY Standardized Test
The Universal Standardized Test Taking Strategy: Know the Policy