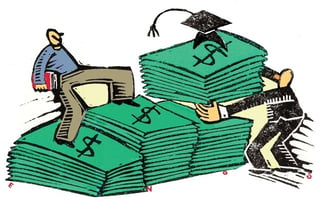 We've all been there. After months of anticipation, we get the letter, either digitally or via "snail mail", that will dictate the course of our lives for the next 1,2, 4 or in some cases (e.g. doctoral programs) 10 years. Sure, getting through all the applications, soliciting letters of recommendation, and polishing our statements of purpose like our lives depended on them was nerve-wracking enough. And now, everything has come to a head: "We are pleased to inform you that you have been accepted…"
After you recover from the dopamine-induced rush from reading your acceptance letter, you begin to pray that your Financial Aid Package is as cheer-worthy. As is increasingly the case, however, "graduate students have much higher average debt levels than undergraduate students" (College Board), and you soon learn that the only "aid" you will receive comes in the form of high interest government loans. Now, after recovering from this cringe-worthy information, reality sets in: how do you live out your dream of getting a graduate degree without incurring so much debt that your postgrad dream is eclipsed by this financial ball-and-chain?
While your student loans may seem like a career death sentence, they don't have to be. This is where adding value to the financial aid hustle comes in…
1. Embrace the business mindset:
You may have heard this before, but I can't stress it enough. As a graduate student, you ought to be thinking about yourself as a business. Indeed, your "job" is to be a student, where the health of your business (i.e. yourself) exists to the extent that you maximize profits (scholarships, grants, work-study, etc.) and minimize losses (loans, expenses, other debts). To do so requires that you…
2. Develop social capital by adding value to strategic faculty partnerships:
With this business concept in mind, develop social capital with faculty of high repute (see the Harvard Kennedy School's social capital building toolkit for useful tips). Get into their good graces by enrolling in and contributing thoughtfully to their seminars. Propose courses for independent study. Demonstrate your willingness to contribute to and learn from their research. Read up on their prominent publications and, if you haven't done so before entering your program, reach out to them. Make it worth their time to work with you on research, projects, etc. Then, when grants, scholarships, or unused "slush funds" become available, you will stand out as a probable candidate. They may even offer you part-time work. All you have to do is show up, do your best, and ask. Concurrently, you MUST…
3. Get to know the Director of Financial Aid:
Once you've developed your faculty network--and in the best cases also co-authored a paper and/or helped out in their lab--schedule a meeting with the Director of Financial Aid. (I recommend going straight to the Director since those in middle management often don't have the final say on issuing financial awards. So, save your time and theirs by going straight to the top of the chain of command). Explain what you've been up to and the faculty with whom you're working. Oftentimes, if you're working with faculty of high repute, the Director of Financial Aid will know him or her. Demonstrate how your presence at the university is adding value, how you're the kind of student the university ought to fund (e.g. mention your 3.8 or 4.0 GPA, the paper you're co-authoring, the important research your supporting, etc.). In addition to the letters of recommendation faculty wrote for your grad school application, ask your current faculty advisor/sponsor to write a letter of recommendation to the Director of Financial Aid (general tips for securing these are available from C. Davis). Seriously, leverage your hard work. Universities want to invest in students who are making an impact outside the classroom and it speaks volumes to have a faculty member vouch for you.
4. Show gratitude, follow up, and continue the conversation:
It's important to schedule meetings with the Director of Financial Aid at the beginning, middle, and end of the semester. Why? The answer is quite simple: scholarships, grants, and other funds are not always fully dispersed at the beginning of the semester, so making yourself known at the beginning of the term and then following up in the middle and end could prove lucrative. You may find yourself positioned to gain anywhere from $100 to $10,000.00. Either way, that's a fantastic Return of Investment for 15 to 30 minutes of conversation! And, whether or not the latter scenario comes to pass, make sure to write a thank you card (yes, by hand!) to the Director thanking him or her for his or her time (the New York Times has a fun read on the importance of hand-written thank you notes). This thoughtful gesture will not go unnoticed.
5. And finally, here's one Final Financial Aid Hustle anyone can use:
If you're reading this post and the above tips have not yet panned out, don't give up, this last hustle applies to everyone! This tip has the potential to save you thousands over the lifetime of your loan, so it's well worth your attention. Hypothetically, let's say you're a master's level graduate student who was only awarded unsubsidized Federal Direct PLUS Loans with an interest rate of 7.5% at the beginning of the academic year. Let's also say the loan amount was $20,000.00 and, since these loans are unsubsidized, they began to accrue interest from the date of their disbursement. Sound all too familiar? Here's the tip:
Set up a meeting with the Director of Financial Aid.
Ask if there are any loans available at the beginning, middle, and end of the term at lower interest rates (e.g. 5.0%).
If lower interest rate loans are available, confirm whether or not these funds have to be applied exclusively to cover tuition credits. If you used the initial 7.5% PLUS loan for tuition, then take out the 5.0% loan and pay off the 7.5% loan.
If you can use the funds for things other than course credits, then definitely take out the lower interest loan, pay off as much of the higher interest loan as you can, and then use the remaining funds as necessary.
Bringing it all together:
While we'd all like to ignore the financial aspects of our educations and suppress the sense of doom we feel by passively accepting the terms our Financial Aid letters, it is crucial not to fall into a passive role. If you follow the tips in this post (think of yourself as a business, connect with faculty, add value in and outside the classroom, make yourself know to the Director of Financial Aid, and inquire about funding opportunities at the beginning, middle, and end of each semester) in the very least you will have developed social capital that will serve you during and after your studies. I can't overstate the importance of being in the good graces of faculty when it comes to postgraduate work. Social capital is as crucial if not more crucial than the monetary capital of your "business." And, in the best case scenario, you might surprise yourself when you're awarded funds in the middle of the semester that lighten your financial obligation by $5,000.00, $10,000.00, or $15,000.00. That's a massive gain that only requires a small investment of your time. With returns that good, don't you think it's time to act?
Are you interested in connecting with one of our graduate school coaches to help you with the admissions process in New York, Cambridge, or online?
Are you craving more on the topic of graduate school admissions? Read some of our other blog posts below!