Stereochemistry definitely made me question my ability to do well in my first organic chemistry class. I would turn my head round and round, or turn my paper round and round until I could finally visualize what the stereochemistry would be in 3D space. This is time consuming, and will take away time from other questions on your MCAT. But what if I told you there was an easier way?
It's a common misconception that getting stereochemistry questions right requires superb spatial reasoning and visualization skills. I'm going to show you how to figure out the stereochemistry of any molecule, requiring no visualization. I can guarantee you that this method will work every single time, and will save you some precious time on your MCAT.
Step 1: Assign Priority to each of your atoms in the molecule using the Cahn-Ingold Prelog Method.
Something that sounds super complicated becomes really simple if you follow some basic rules
Rule #1: Identify the central carbon in your molecule. the one that you are trying to figure out the stereochemistry of.
Since we are trying to find the stereochemistry of this carbon atom, this central carbon should be attached to 4 different groups.
Let's take the molecule below as an example. Carbon #2 is the chiral carbon, since it is attached to 4 different groups (a methyl group to the left, an ethyl group to the right, a wedge hydroxyl group, and dash hydrogen group):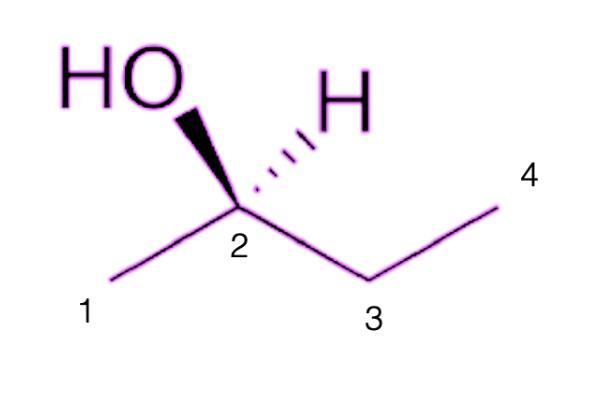 Rule #2: The atom attached to your chiral carbon that has the highest atomic weight will be assigned priority 1.
In this example, it's carbon #2. Here, the O of the OH group has the highest priority, hence the OH, or hydroxyl group, will have priority 1.
Next, we come to the two carbon atoms attached to both the right (carbon #3) and left (carbon #1) of carbon #2. Since both have the same atomic weight, we move on to the next atom attached to each of these carbons. For the carbon on the right of carbon #3, we have carbon #4 attached to it. For the carbon #1, we only have a hydrogen group attached to it. We now compare the atomic weights of carbon #4 and the hydrogen on carbon #1. Since carbon #4 has a higher atomic weight than the hydrogen on carbon #1, the entire ethyl group on the right will receive a priority of 2. The methyl group on the left gets a priority of 3. Lastly, the hydrogen group on top gets a priority value of 4. See the priorities, in green, below.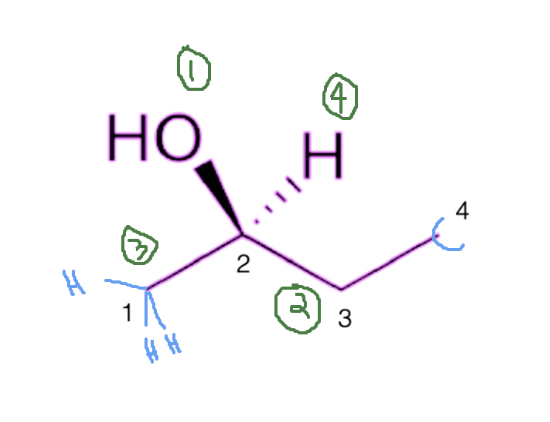 Step 2: Stereochemistry
Scenario #1
Now that you have assigned priority to each of your atoms, you simply create a circle from 1 to 3. In this case, I am creating a clockwise circle, in which case, my molecule has the R configuration. If I was going in a counterclockwise circle, I would assign it as an S.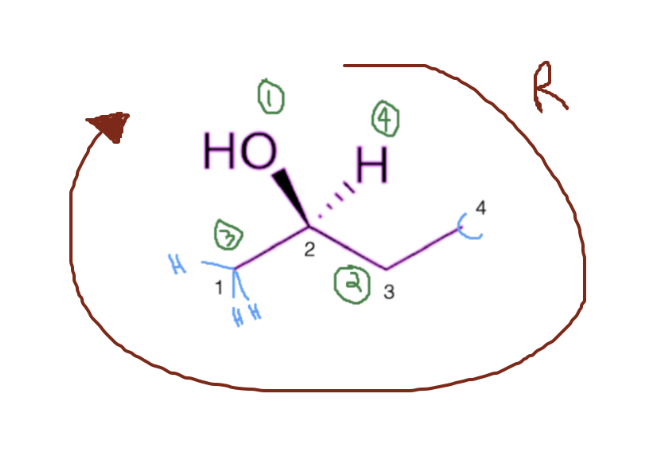 Scenario #2
But there are cases where my atom with the least priority does NOT have a dashed line projecting from it, instead if it has a wedge line projecting from it. Here you simply follow the same circle procedure, but you switch the stereochemistry. In that case, even though I am going clockwise, it would be an S configuration instead of R.
Assign priority → circle → switch!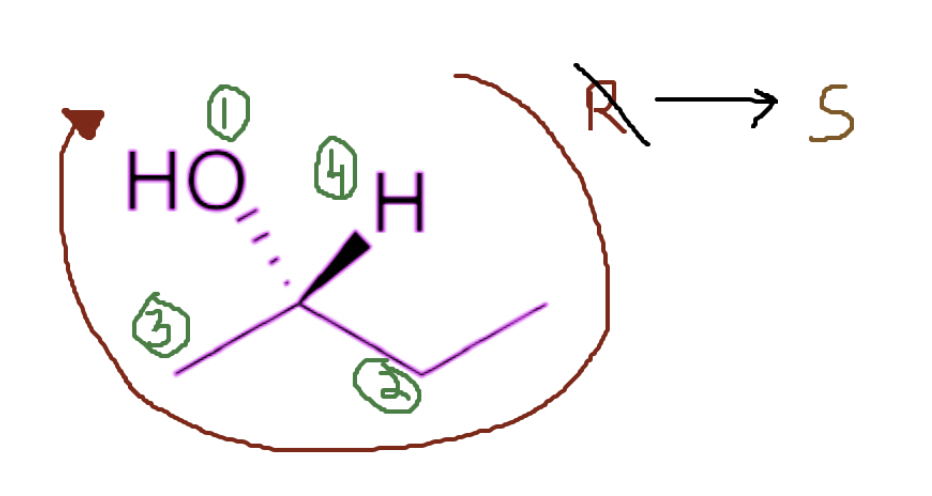 Scenario #3
Lastly, what if my atom with the least priority does not have a wedge or a dash projecting from it? What if there is just a line?
In that case, simply assign priority as usual, swap the first priority and the fourth priority for each other, and then do your circle. Then, whatever you get from your circle has to be switched. For example, after swapping if I am going clockwise, that would be an R, but then I'd have to switch it to an S.
Assign priority → swap 1 and 4 → circle → switch!

That's it!
Those are the three possible scenarios you could be faced with when trying to assign stereochemistry to a line drawing. There was no head spinning or visualization involved - right? I hope that this saves you some time on your MCAT. It really is very efficient once you get the hang of it!