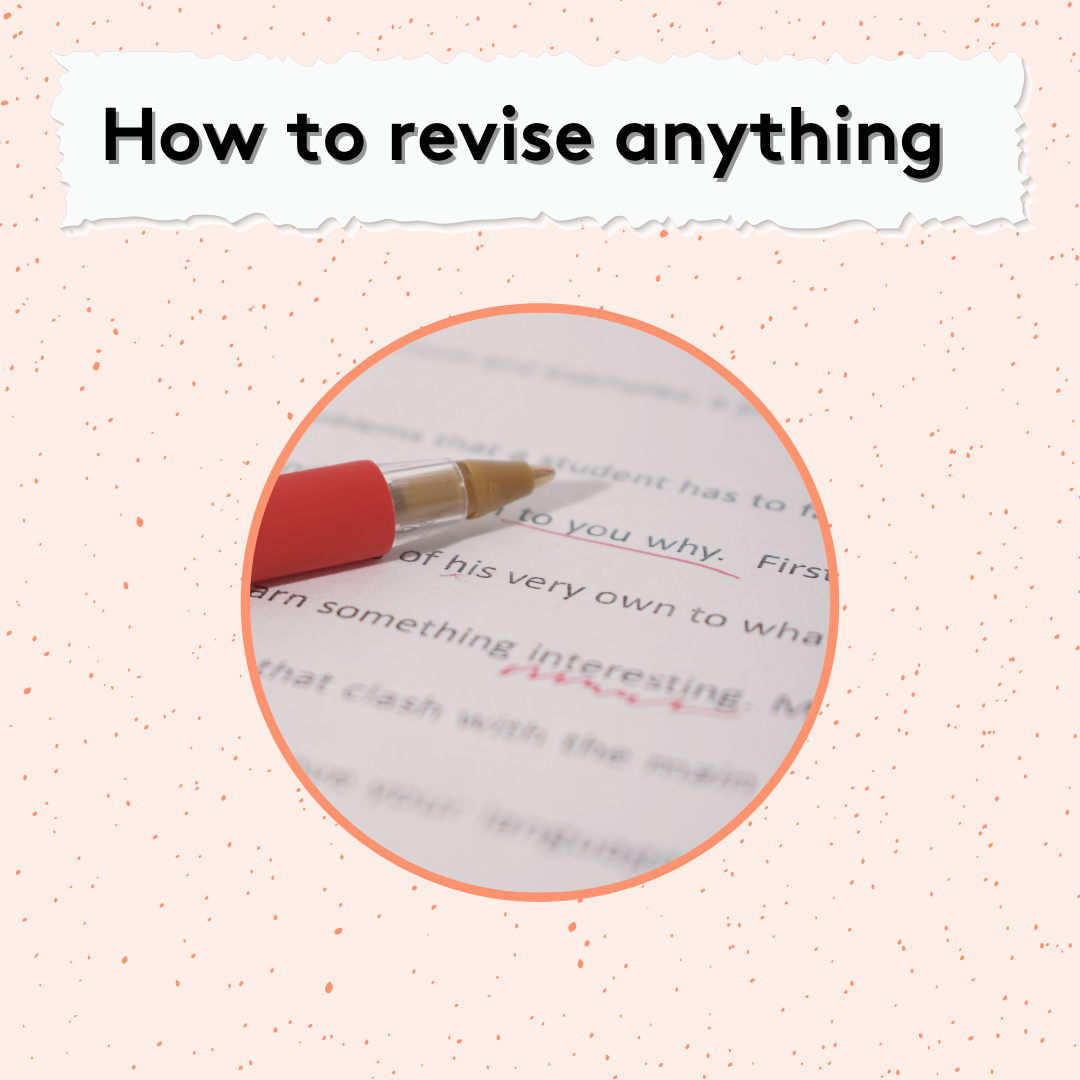 The most important part of writing is rewriting. Whether you're working on a term paper, a personal statement, or a lab report, getting words on the page is just the first step. Even if you're writing from an outline, the process of writing inevitably leads you to unexpected and interesting places. That's part of the joy of writing, but it's also why revision—literally, looking again—is all the more important. If the first part of writing is a mix of planning and inspiration, revision is where writing becomes craft. Through editing, a bunch of good ideas turns into a structured argument; a passionate statement of purpose, or a first-person essay, becomes a work of art.
So, what's the best way to revise? Start with these 3 steps:
1. Identify the key points.
Ask yourself: what am I trying to say? Don't let the simplicity of this question fool you: it's often quite difficult to answer. Try to state in one or two sentences what you are trying to communicate in your essay. Then, write down that statement. It doesn't need to be the most eloquent thing ever written, but take time to make sure it captures the scope (whether narrow or wide) of your paper, and reflects, even if very generally, the movement of your argument or narrative.
2. Make sure each paragraph fulfills its function.
Go through each paragraph and try to identify its function in your argument or narrative. You can even try to give it a title: i.e., introduction, analysis paragraph, transition from section one to two, etc. Often it helps to identify and mark the most important sentence in a paragraph.
3. Create a reverse outline of the paper.
The easiest way to do this is to take your one- or two-sentence summary, and put it at the top of a new document. Then, copy the most important sentence from each paragraph. You can use additional formatting, if you like, to indicate sections.
You've now x-rayed your paper. Does everything look like it's in its place? If not, rearrange your paragraphs so that the logic flows smoothly.
Now, replicate the same process on the level of the paragraph.
1. Position your topic sentences. You've already identified the most important sentence/thought in each paragraph. Make sure that that sentence occupies a prominent position, usually at the beginning or the end of the paragraph. Paragraphs should only really make one point, so if you have several sentences, break up the paragraph and repeat.
2. Ruthlessly get rid of unnecessary sentences. Go through each sentence in the paragraph and ask how it relates to the function of that paragraph. Often, we keep sentences because they are interesting or well-written. But, sometimes they don't actually have that much to do with what we're talking about: they're like stowaways from earlier drafts, or little trinkets that we just can't bear to throw away. If something is interesting but irrelevant (if a sentence seems too cumbersome or introduces information that requires too much explanation), copy and paste it into another document, or copy it into a notebook, so that you can return to it in another project.
3. Mind the transitions. Finally, make sure your transitions between paragraphs are clear.
You can repeat this process as many times as necessary. You will know that you have finished when you can account for every section, every paragraph, every sentence, and even every word in your piece, and explain what it's doing there. Don't go crazy—or do. Ultimately, see what works and what doesn't; develop your own techniques for revision. We often talk about developing a personal voice as a writer. But, just as important is developing an editor's eye and ear.
Cambridge Coaching was founded by doctoral candidates in English, and instruction in reading and writing is one of our particular strengths. Our tutors are published authors, as well as Ph.D candidates from the top English graduate programs in America, with most hailing from Harvard or the prestigious Iowa Writers' Workshop--or both.
We have a long history of helping high school, college, and graduate students become more astute critical readers and writers capable of producing their own polished academic essays. Many of our students come to us looking for help with basic composition or reading comprehension, but our expert tutors have coached our clients through everything from business English to doctoral dissertations. Whether you need to learn how to tell a participle from a pronoun, or need help making sense of Shakespeare, we can design a syllabus to suit your specific goal.
Check out some other blog posts regarding writing below!: