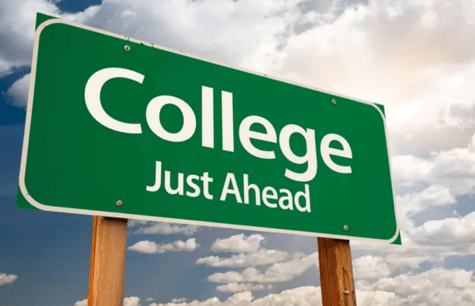 Welcome back! If you are keeping up with my series on finding your perfect college fit, you'll remember that my last post covered my favorite podcasts on this topic. If you are just now tuning in, I highly recommend that you check out the previous post, especially if you are app savvy. The podcasts I mentioned are great for the whole family to listen to, so don't shy away from listening together! While yes, you will be the one to flit off to college to begin adulting, don't feel as if you must isolate yourself in the college search and application process. Your counselor, your parents, and yes, maybe even your siblings, can each give you a point of view to consider because they all know you in unique ways. Make this search a group effort (with you at the helm of course) to avoid the overwhelm.
Up next in the series is an exploration into my favorite online sites for college searches. You may have heard of some, if not all, of these resources, but as always, I'll give my thoughts on each site, including opinionated pros and cons. What is the big difference between these online sites and the podcasts I mentioned last week? Well, for one, they tend to be a bit more interactive by allowing you access to diversified student reviews and/or by gathering a bit of information from you that they can use to generate a broad college list for you. In any case, add these resources to your search process; don't just use them instead of the podcasts or other resources. Trust me, you'll want all the tools you can get your hands on in order to help you make the most informed college decision tailored to all of your needs and wants.
Ready? Let's take a look!
If you've prepped for, taken, or simply registered for the SAT (or an AP) test, you have definitely come across the College Board website. The organization that administers the SAT, the PSAT, and the AP tests, the College Board is a massive hub for standardized test information. However, did you know that the College Board website has a specific interactive subsection available to aid in your college search? It does, and it's awesome.
Enter Big Future.
Big Future is a planning site that allows you to search for colleges by major, location, school type, or simply by school name and then to see an in-depth assessment of the colleges that result from your search. The assessments share details about everything from admission rates, financial aid programs, test requirements, popular majors, facilities unique to the school, to (gasp!) factors that the school considers during admission. Whether you need to add more schools to your list or to compare your colleges of interest in a side-by-side assessment, this tool is extremely helpful and comprehensive.
Special bonus(es): The statistics that the search tool offers on things like financial aid, graduation rate, and breakdown of graduates per major are up-to-date, transparent, and thorough. For instance, if you or your parents are curious about cost (as many families are), you can compare not just the "sticker price" of the school, but also the average first year financial aid package compared to both in-state and out-of-state fees.
Minor drawback: Student reviews of the on-campus experience for each college are not available. Also, while the database may pull up the website for an international school, it only provides in-depth analysis for US schools.
Unigo is where college search takes on the voice of the student. Not only will the search database give you a list of college suggestions based on a personalized profile you fill out, but it will also link you with other former or existing students through the review section! If you are looking for a way to talk to someone who has experience with the school outside of the university employees in the admissions office, this is a great resource!
For each college in the database, Unigo offers easy-to-find and organized reviews in response to identical survey questions that the website poses to each reviewer. Also, there are polls available on topics you won't necessary find in a college's brochure, such as political activism, alcohol use, arts culture, and intellectual life.
Special bonus(es): Unigo is also a great place to look for scholarships to fund your college experience! It has an extensive directory of scholarship applications to help you pay for each year of college.
Minor drawback: The college search options are limited to US schools.
Looking for even more reviews? CollegeTimes has a database of uncensored reviews for the largest collection of institutions anywhere on the web, from Boise to Bangladesh! Current college attendees or alumni can go on this website to truly report the nitty gritty of their experience, without any filter or policing. You will get different reviews both in content and in tone on this particular site, so be sure to use it in tandem with Unigo.
CollegeTimes also offers a college search tool with a few specialized areas, like funding types (non-profit & for-profit) and sect/religion. And, once you click on a school to research, you'll get ratings from on-campus to off-campus things, such as the safety and quality of the area around campus and even networking opportunities!
Special bonus(es): While the site doesn't curate student reviews, it has a rigid system for finding and removing inauthentic reviews, so you will definitely see reports from real students or alumni, not scammers. Also, just to reiterate, this database covers international schools!
Minor drawback: This is a bit obvious, but because the reviews are un-censored, you might come across some questionable language or content. You may want to have a parents scroll through the reviews with you or even look through the reviews first based on the sensibilities of your specific family.
Similar to the Big Future section on the College Board website, College Navigator is a college information database specifically updated by the U.S. government's National Center for Education Statistics. To avoid redundancy, I won't go over the things that both Big Future and College Navigator report on. Instead, I will focus on what makes College Navigator unique: in-depth financial reporting.
To start off, this site takes a special look at estimated cost of living per semester. "Cost of living" is what I call the extra cost of each semester outside of the tuition price tag. You're going to need books, right? What about other supplies to get through the semester? Those elements are important when it comes to calculating the entire cost of your college experience.
Furthermore, this website goes much more into detail about financial aid packages per income bracket. Many families appreciate that for each college, there is a "net price" tab that shows the approximate price a family paid per semester for multiple years based on their annual reported income. If there is anything your parents will be extremely interested in knowing, it is this specific fact!
Special bonuses: There are a few aspects of college life reported on College Navigator that are not on Big Future, such as the presence of campus security, tuition policies for veterans and service members, and campus-wide accreditation history.
Minor drawback: Again, you won't find any student college reviews or international school reviews here.
———————————————————————————————————————
I truly hope these online resources will help you in creating your college list. Look out for my final post in this series coming soon! I'll be covering my favorite book resources that will complete your college search tool arsenal.
Need help with your college applications? Fret not. We have a full team of Harvard, Columbia, and MIT grads who can help you prepare for college.