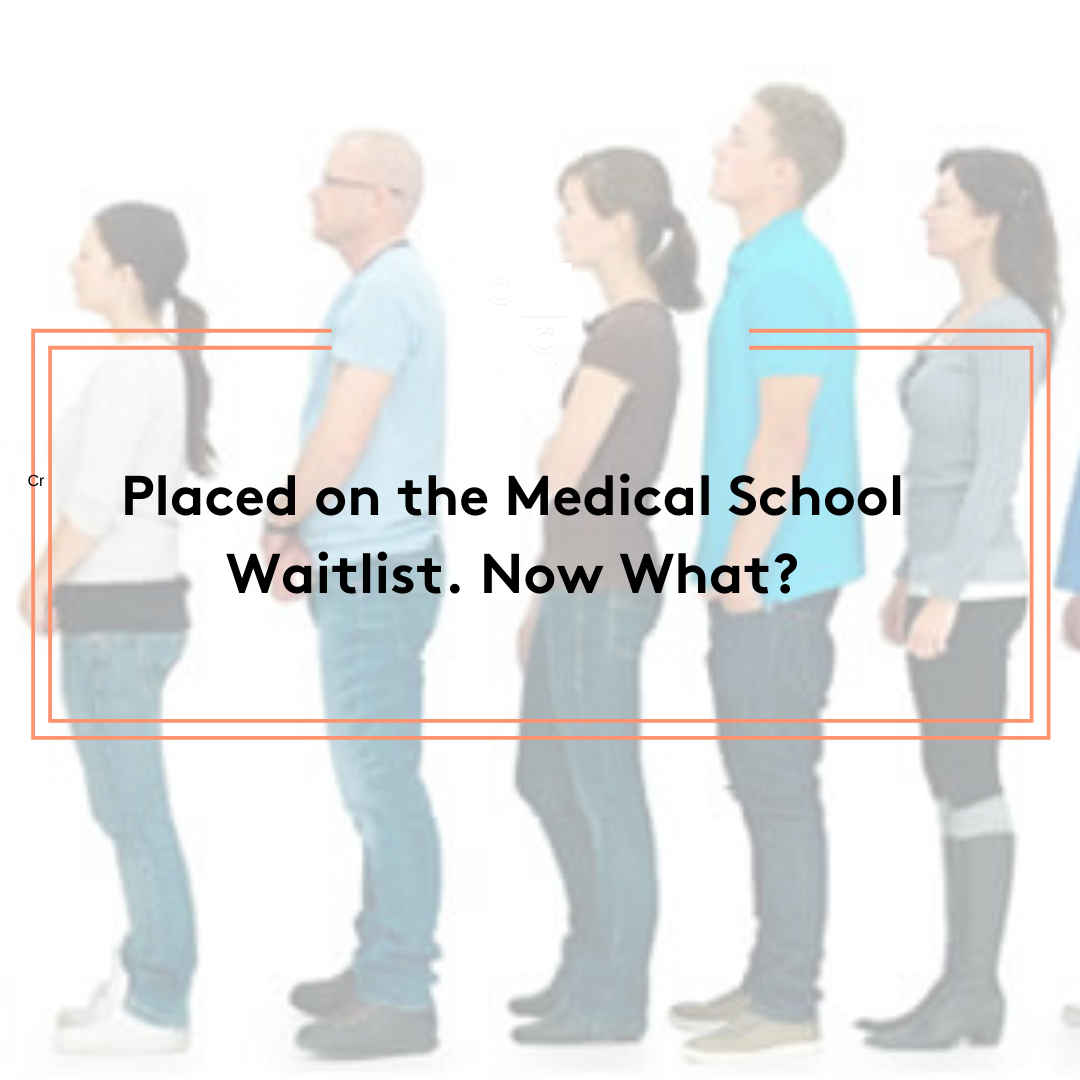 Getting waitlisted at one of your top choice medical schools can be disheartening. After making sacrifices as an undergraduate, acing the MCAT, and putting your best foot forward at the interview, a waitlist decision may leave you feeling like you fell just short. But, it is important to recognize that a waitlist is still an open door, and what you do in the days or weeks following your placement on the waitlist can make a major impact on whether you are ultimately admitted at the school of your choice.
Here are some tips and recommendations to best position yourself on the waitlist for an acceptance:
1. Accept your position on the waitlist.
While this may seem obvious, it is imperative you formally acknowledge and accept your waitlist position on the school's application portal by whatever means the school requires! Don't let any feelings of discouragement let you delay doing so, as some waitlists are ranked, and some schools may begin offering acceptances to waitlisted candidates earlier in the cycle than others.
2. Send impactful updates.
Though each school's application update policy is different, generally an update letter is accepted, and a well-crafted update letter can give you an edge. There are various sources available for how to construct an update letter, but here are some general recommendations:
Reaffirm your interest in the school and express your gratitude for their thoughtful consideration of your application. Consider writing your update as a Letter of Intent explicitly stating you will accept a position in the class if accepted (but only if you are certain about this commitment).
Focus on fit. Concisely reiterate the two or three most important reasons why you believe you will be a valuable member to the student body at the given school, being as specific as possible.
Interweave any personal and professional updates. Use this letter as an opportunity to show the admissions committee how impactful you have been in the months since submitting your application. Significant updates include publications, scholarships or fellowships earned, new jobs started, any fundraisers or events you have organized, and coursework completed.
Keep it to one page, but not at the expense of cutting out essential updates.
Upload your update to the application portal, and also send a copy to the school's admissions email to ensure your letter is noticed.
Have an additional strong Letter of Recommendation sent on your behalf. This is especially relevant if you have begun working a new job or completed additional coursework and have a new supervisor or professor who can expound on your strengths and advocate for you. While less commonly suggested, having an additional letter of recommendation to supplement your application can be the most important tool to lift your application from the waitlist pool when the admissions committee looks to offer a limited set of acceptances.
Send any additional updated transcripts. If you are limited in the number of updates you may send or want to be cautious, this is the one to leave out. But in certain circumstances, such as if you have graduated since submitting your application and have a new Magna cum Laude designation on your final transcript or if your transcript now includes grades in upper division coursework that would significantly raise your GPA, sending this information will likely be advantageous.
3. Complete financial aid paperwork.
This will expedite the process of receiving your financial aid award if and when you are accepted.
4. Practice patience.
A waitlist extends your application cycle and creates a longer period of uncertainty, which can be a source of increased stress and anxiety. Be sure to practice self-care and trust that after following the recommendations above, the rest is out of your control.
Remember to keep a positive attitude – think of getting placed on the waitlist as being granted a conditional acceptance, provided that another spot in the class opens up! By communicating with your school and following the suggestions above, you can maximize your chances of earning that spot and enjoying your long awaited acceptance.
About the author: Dylan Cahill was initially placed on the waitlist at Harvard Medical School, where he is now a first-year medical student.
Applying to medical schools is tough. Which makes a certain amount of sense: if it were easy, everyone would do it. It involves a primary application, a round of secondary applications (or supplemental materials), and interviews at schools that are considering your candidacy more closely. The process is arduous largely because it takes, start to finish, at least several months, and because it is very writing-intensive, involving not just your AMCAS personal statement but multiple secondary essays as well. And this is where a lot of applicants get tripped up: after years of stuffing every square inch of your brain with molecules and formulae, it can be a shock to discover that your dreams hinge upon your ability to express with clarity (and maybe a little poetry) why you want to be a doctor.
This is where Cambridge Coaching comes in: we are the most qualified team of medical school writing coaches available anywhere. Our team is composed of MD, MD-PhDs, and professional writers because we understand that the best coach is going to help you produce a dazzling AMCAS essay, as well as a suite of supplementary materials that provides a persuasive, integrated argument for why you belong in medical school.
The challenge of the medical school application process isn't just due to the workload, either. It has to do with the sheer competitiveness of the system. You can't take anything for granted; every aspect of your application has to be solid - your GPA, your MCAT, your recommendations, your interviews, your activities, and your personal statement. That's why we go beyond the usual options and offer coaching that covers the entire application, not just your personal statement. While we are happy to work with clients on a single essay or drafts, we find that we achieve the best results with clients who work with us throughout their application process - from the MCAT through to the admissions deadlines.
Thinking about applying to medical school? Check out some other helpful blog posts below!:
Applying to medical school with a low MCAT score
How to choose the right medical school for you
Tips for creating your medical school application school list