In my high school and undergraduate career, I often learned about amino acids based on their chemical properties; that is, on the basis of their polarity, acidity, or basicity. Those classifications, while important, don't capture the full story. For the MCAT, I've found it helpful to think about some of the different functional properties of amino acids, which you'll find are commonly tested on the C/P and B/B sections of the test.
Aromatic Amino Acids
There are 3 aromatic amino acids: phenylalanine (Phe, F), tryptophan (Trp, W), and tyrosine (Tyr, Y). Due to their aromaticity, these amino acids are able to absorb UV light. Tryptophan, which has a max absorption of 280 nm, is responsible for most of the UV-light absorbing properties of proteins. Peptides and amino acids can be quantified by measuring their UV absorption at 280 nm (remember Beer's law, which connects light absorption to concentration).

Phosphomimetics
A phosphomimetic amino acid is an amino acid that "mimics" the properties of a negatively-charged phosphate group. On the MCAT, you will often see the term "phosphomimetic" come up in studies examining the effects of mutations or constitutive phosphorylation on protein function. For example, if one wants to study the effect of constitutive phosphorylation of a residue on the function of a protein, you could replace the normally phosphorylated amino acid (such as serine) with a phosphomimetic amino acid. The two phosphomimetic acids are aspartic acid (Asp, D) and Glutamic Acid (Glu, E), which are both negatively charged at physiologic pH.
Note that aspartic acid and glutamic acid amino acids would be negatively charged at physiologic pH of 7.4.
Phosphorylated Amino Acids
Phosphorylation of an amino acids most commonly occurs when a nucleophilic hydroxyl group attacks an electrophilic phosphorus atom found in a phosphate group (often the terminal phosphate group in ATP, the gamma phosphate). Three hydroxyl-containing amino acids are commonly phosphorylated: tyrosine (Tyr, Y), serine (Ser, S), and threonine (Thr, T). Specific kinases (serine/threonine and tyrosine kinases) phosphorylate these residues.

Secondary Structure Breakers
Certain amino acids, namely proline (Pro, P) and glycine (Gly, G) cannot be found within an alpha helix and/or beta pleated sheet. Proline has a pyrrolidine ring R group that confers increased rigidity to the amino acid. Within a polypeptide, proline's pyrrolidine ring limits backbone hydrogen bonding and thus secondary structure formation. Glycine, which has a hydrogen as an R group, is generally too structurally flexible for incorporation into an alpha helix and beta sheet. Note that either amino acid can be found in the turns between secondary structures.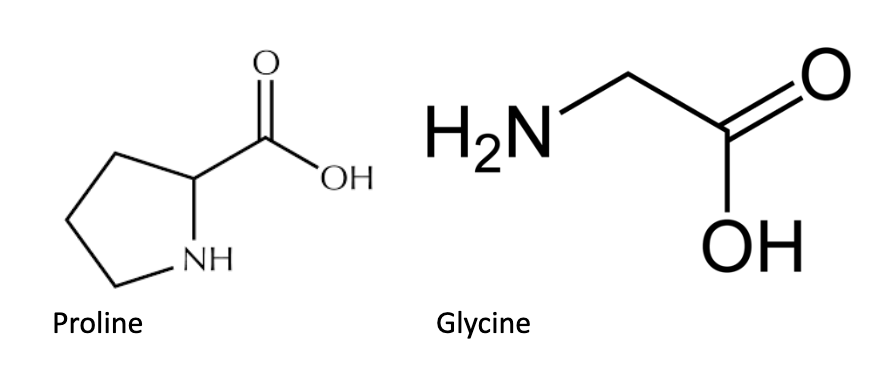 Disulfide Bond Forming Amino Acids
Finally, cysteine (Cys, C) is the only amino acid that can form a covalent disulfide bond with another cysteine amino acid. Cysteine's sulfhydryl (thiol) group can be oxidized in certain environments to form a disulfide bond. Disulfide bonds can be reduced to re-form the individual sulfhydryl groups on each cysteine. Experimentally, we often use reducing agents such as dithiothreitol or 2-mercaptoethanol to break disulfide bonds within or between polypeptide chains.