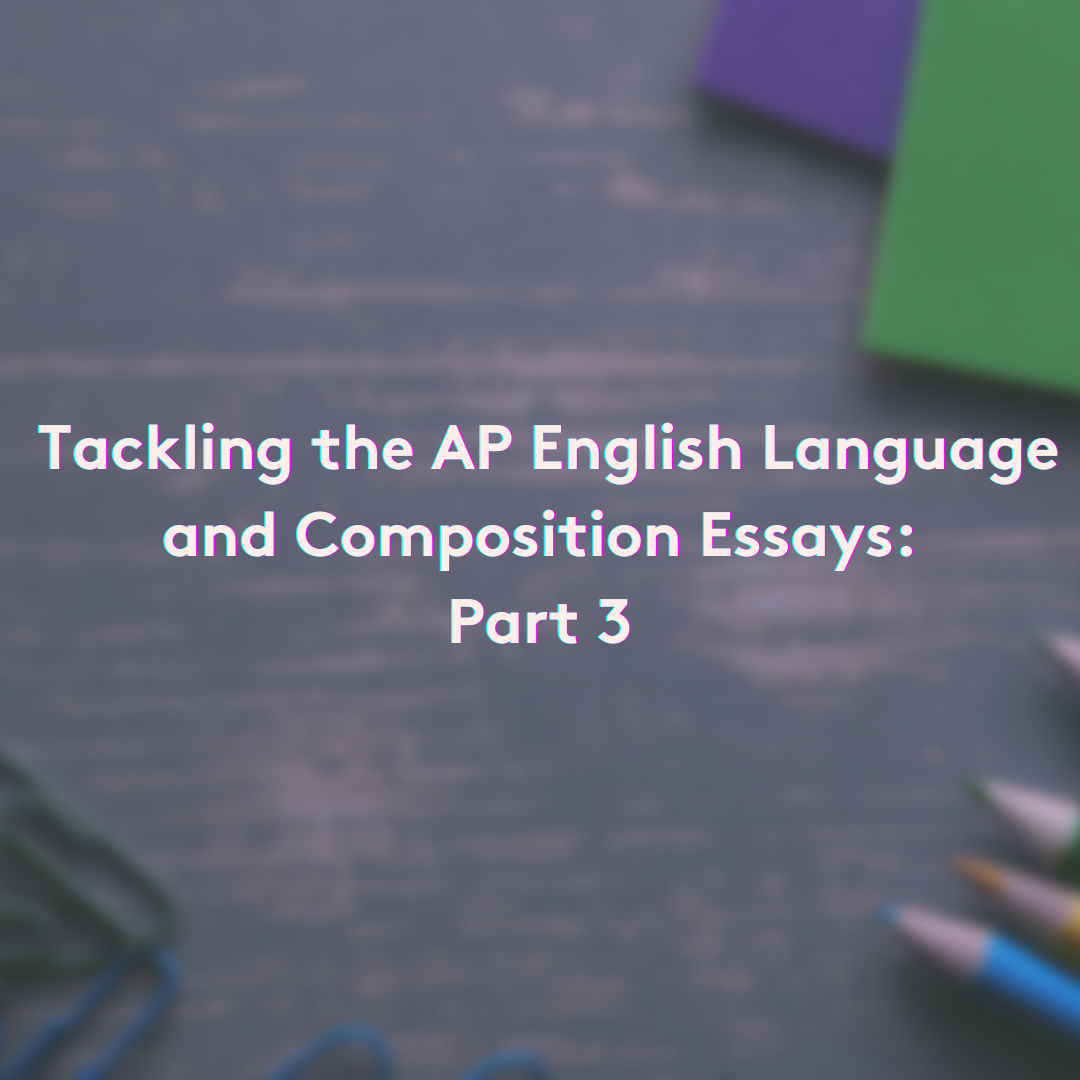 In Parts 1 and 2 of this series, I covered the basics of the three AP Lang Essays (Synthesis, Rhetoric, and Argument), how to generally approach them, and the six steps of writing a successful essay on test day, focusing on the Rhetoric Essay. Now, we'll look at the Synthesis and Argument Essays: how they differ from the Rhetoric Essay and how to apply the "six steps" to succeeding on them.
As you may recall from Part 1, the Synthesis and Argument essays require that you take an argumentative position on a topic. In the Synthesis Essay, you are given a topic or question (e.g., is the death penalty just?) and six sources addressing that topic or question. You will then be asked to take an argumentative position, citing at least three of the sources. In the Argument Essay, you are given a topic or idea typically in the form of an author's quote: for example, a quote from a famous writer saying that, in modern society, it's necessary to be a little bit unethical to succeed. You are then asked to take an argumentative position on this topic or idea. This time, though, there will be no sources for you to cite. All of your thinking about the topic must come from your own head.
We've already discussed the Rhetoric Essay, and how to go through the process of writing a good one. Much of the same advice still applies to these two essays! Here are the things that, when it comes the Synthesis and Argument Essay, remain the same:
The grading rubric for the Synthesis and Argument Essays is the same as that for the Rhetoric Essay, awarding one point for thesis, four for evidence and analysis, and one for "sophistication."
For all three essays, you must make a clear argument, supply sufficient evidence, and explain that evidence well.
The six step process will also be the same for all three essays. Remember that the six steps are: (1) Organizing Your Time, (2) Reading and Annotating, (3) Outlining the thesis (4) Outlining the structure (5) Writing [paragraphs, evidence, analysis] (6) Writing [sentences].
But, lots of things are different, too. So, you need to go through the six steps of the process in a slightly different way for each essay...
The Synthesis Essay: Six Steps
1. Organizing your Time
As discussed in Part 1, the first 45 minutes of the essay section (including both the "reading" and "writing" periods) should be devoted to the Synthesis Essay. During the first 15 minutes, which are the designated "reading period," you should read the question and six sources, and begin to brainstorm and outline your essay. As the "writing period" opens—the first thirty minutes of which you will now devote to the Synthesis Essay—you should be finishing your outline, and beginning to write. You should then write for about 25, reserving 5 minutes to proofread.
2. Reading and Annotating
As you read the six sources, keep a running list of the pro or con arguments that you encounter, and the corresponding evidence. I suggest you take a piece of paper and divide it into two columns, pro and con. As you read through the sources, you can use the columns to keep track of arguments and evidence. At the same time, you should underline particularly compelling pieces of evidence supplied for the arguments you're recording, like statistics or particularly persuasive turns of phrase.
As you proceed, you may start to feel like you know which side you want to defend. Great! At that point, I would start paying closer attention to the evidence supplied for arguments for that side, carefully noting which quotes or details you might cite. That being said, I would not stop recording the arguments for the other side. These are going to be the types of counter-positions you will need to answer in your essay.
By the time you're done taking notes, you should have a good list of the arguments available for defending each side, as well as some evidence for those arguments. Now, you can use that material to make an outline.
3. Outlining Part 1: Thesis
Go look at the AP Lang test grading rubric (printed at the very end of this guide), and look at the sample excellent theses that graders are given as models for earning the 1 thesis point. They all clearly take a stance on one side or another of the issue. This isn't the time to be wishy-washy or even-handed. It's a time to be decisive, and clearly take a side. Your thesis may address both sides of the issue, but only in the process of clearly deciding on one of those sides. It may for example, read something like: "Though use of public libraries will, in the digital age, no doubt dwindle, they remain essential to the future of our nation, and should be maintained." It should not read like this: "Use of public libraries will start to dwindle in the digital age, but they do still seem in many ways essential." In the first case, you acknowledge both sides, but it's clear which side you stand on: this is the best strategy to use for this essay.
4. Outlining Part 2: Structure
Many different types of structures have earned perfect scores for the Synthesis Essay. That being said, there are a few guidelines to follow.
First, you need to have multiple body paragraphs (aim for three, though two can be ok if they are robust). Each of those paragraphs needs to make one clear point, and each of those paragraphs' points needs to be stated clearly and completely in an initial topic sentence.
There are also some new rules to follow here. You must give at least two strong reasons for why your side is correct. And you must, in some way, address counterarguments: likely rebuttals of your points, or strong arguments for the other side.
There are many different structures you might use to do both of these things, and which structure you choose will depend on the arguments you want to make, as well as the strongest arguments the other side might marshal. Here are some possible structures that have all worked in perfectly scored essays:
Provide three different reasons why your side is right, each with its own paragraph. Address any potential counterarguments or concerns about these reasons, where necessary, within the paragraphs.
Provide two reasons why your side is right, in two paragraphs. In a third paragraph, address and answer the strongest argument or case for the other side.
In a first paragraph, present the strongest case for the other side. Next, in the following two paragraphs, present your reasons for why you believe your side overcomes that case, or objection (this works well if you are taking an unpopular position: a position that most of the authors of the texts you read did not support).

5. Writing Part 1: Paragraphs, Evidence, Analysis
When you go to write, make sure:
Each paragraph has a topic sentence.
Each paragraph supplies evidence to support that topic sentence's argument.
The evidence is analyzed. For more information on any of these points, see Part 2 of this series.
There is one extra thing, though: you have to cite your sources. There are two ways to cite. First, you can simply make a point that one of the readings made, without quoting. Or, you can quote! I suggest that you quote directly at least once. It ensures that you are citing in detail, and you want to be citing and engaging with the arguments in detail. Be sure to put "Source #" or the author name in parentheses after your paraphrase or quote in order to cite the source.
6. Writing Part 2: Sentence by Sentence
Proofread your sentences, in the last few minutes. All the same principles apply (see Part 2 for details).
The Argument Essay: Six Steps
1-2. Managing Your Time + Brainstorming
You have 45 minutes. But this essay should take you a bit less time than the other two, since it gives you no passages to read. Spend 5-7 minutes reading the question and then brainstorming/outlining. Then, spend the rest of the time writing, with some time at the end for proofreading. If you finish this essay before your 45 minutes are up, use your extra time to proofread everything you've written (all three essays).
3-4. Outlining: Thesis and Structure
The same rules for thesis and structure from the Synthesis Essay apply to the Argument Essay. You need to take a clear position on the topic, even if you acknowledge the other side. And you need to provide multiple reasons for that position, while also addressing counterarguments.
The difference, here, comes in the types of reasons you are going to give for your argument. In the Synthesis Essay, you were giving reasons largely supplied from the sources you read. Here, you have to come up with your own reasons and examples for them. In general, your reasons and examples are going to come from a few sources:
Your personal life and experience: you might tell a story from your own life to show why the principle you're defending is true.
Your knowledge of history, literature, or other nonfiction or school subjects: you might use an example of an event from a novel to support the point, or an anecdote from Renaissance history that you learned in school, or a tidbit from the biography of some inspiring person, like MLK or Marie Curie.
Your knowledge of current events: you might be able to supply a reason for your point that refers to some major, hot button issue of current events, like climate change, or Black Lives Matter, or the benefits and downsides of social media.
Your knowledge of other things: Know a lot about music? Or gardening? Or religion? Use examples from those domains.
What you might be gathering is that, in order to answer this essay question well, supplying arguments for general principles like "Money can't buy happiness" or "quitters never win," you need to know about…things. And as a teenager, you've only had so much time to get to know things. So, here's what I advise: in preparation of the exam, make a list of 20 things that you are going to know about. Yes, you can choose common school topics like "The American Revolution" or The Scarlet Letter. But supplement those topics with the academic or political topics that you are actually interested in or passionate about, like the 1980s AIDS epidemic and struggle for LGBQT rights, or ancient Greek military history, or novels by Jane Austen or Toni Morrison, or the biography of an Olympic athlete. Passion speaks! Also, include some important or pivotal anecdotes from your life, especially times when you learned lessons. Once you have your list, make sure you actually know about these things. Know some details: dates, names, precise events, anecdotes, etc. Though you can't predict what your Argument Essay question will be, having detailed knowledge of various topics will certainly help you out.
5. Writing: Paragraphs (Evidence, Analysis)
As with the other essays, you still need topic sentences summarizing each paragraph's argument (a reason for why your position is correct, drawing on some major example from history, culture, or personal life). You still need evidence for your argument (coming from your store of knowledge about…things). And you still need to analyze that evidence and explain why it proves your points, addressing counterarguments where possible.
Only one more tip: when you supply your support, be detailed. Don't refer to some event in your life in vague terms ("at first I found math hard, but then I practiced and got better"). Supply the details ("At first I found math hard, and in the first weeks of the term, I failed a test. Soon, however, I started to practice, drilling problems at my kitchen table every night, and asking my older brother to check over my work. By the end of the semester, I had greatly improved, and earned a B+ on the final exam."). The same goes for historical or literary anecdotes: cite specific dates, names, events. In reading and writing, we call this "the reality effect": an argument or story feels more real and more persuasive, when it includes little, hyper-specific details. "I ate some food," doesn't feel as real as, "Sitting on a bench in a park in West Palm Beach, I ate a banana and seven almonds."
6. Writing: Sentence by Sentence
Proofread, at the end! The same tips from Part 2 apply.
Well, that just about covers the three AP Lang Essays! I have just two parting tips. First, practice, practice, practice. It will not feel easy writing three good essays at this pace the first time you do it (or the second, or the third). It will start to feel ok after many iterations, and that's where you want to be. You don't want your first, or even second time trying this out to be on test day. Second, try to have fun with it. Don't go crazy, but psych yourself into getting into your essays. The readers can feel your enthusiasm. And they like it. Best of luck!
The AP Exams are an opportunity for you to deepen your academic engagement, demonstrate your readiness for college learning, and earn college credit. Our team of PhD candidates, composed of expert tutors like Tess, loves teaching AP material and helping students hone test taking strategies. Looking for customized AP support?