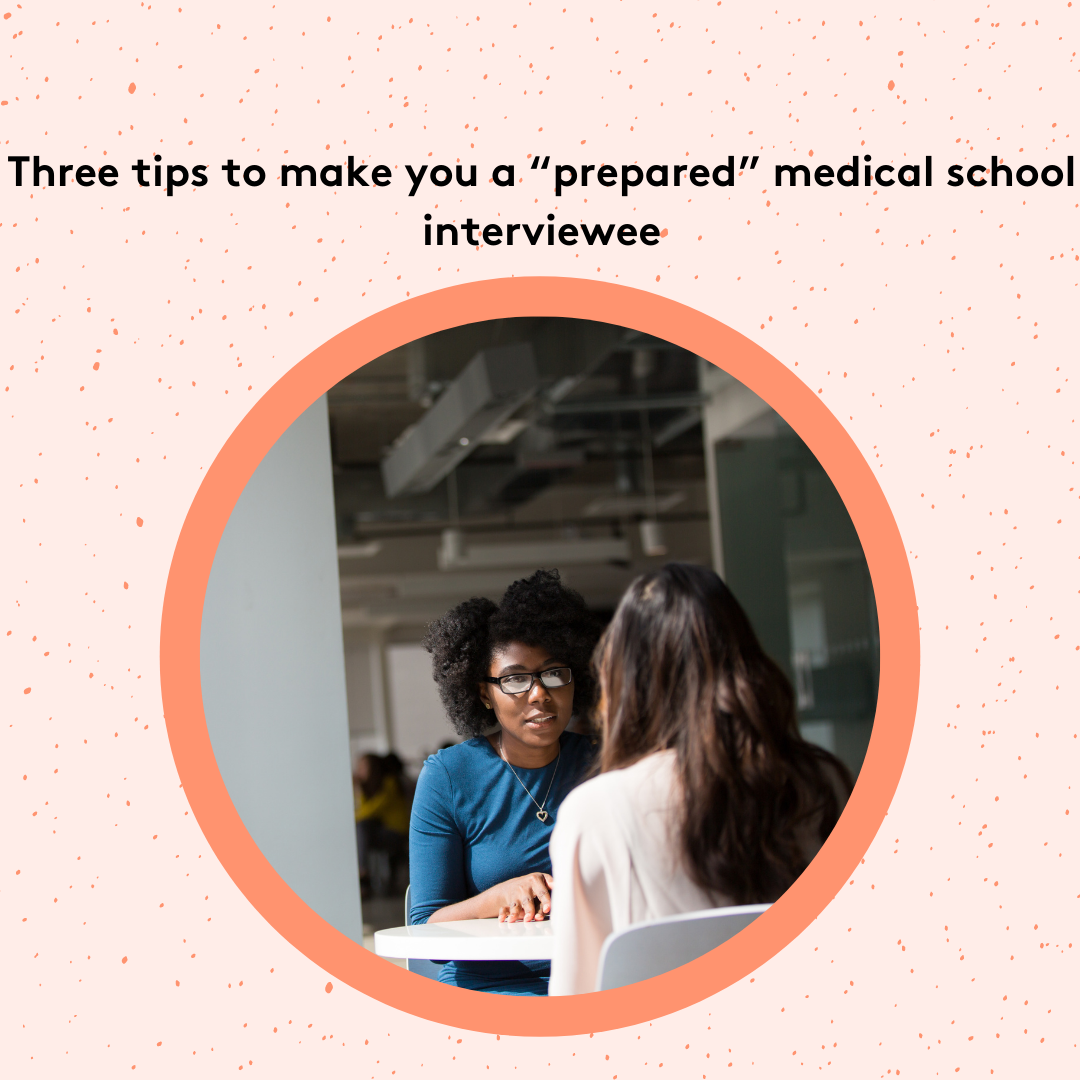 Applying to medical school can be stressful, and many pre-med students worry about interview day in particular. But one of the most common interview mistakes occurs well before the questioning begins: a lack of preparation. Here are some tips to help you hone the content and message that you want to communicate on your interview day so that you are ready for anything!
Know thyself.

Before the interview, be sure to review the application material you submitted so that it is fresh in your mind - you don't want to be caught off guard when asked a question about an activity that you haven't thought about since you submitted your AMCAS several months prior. You may even want to jot down some notes, either physically or mentally, that can be used as talking points during the interview and would add to what is in your physical application. You can also note any accomplishments or activities that have occurred since your application was submitted so that you can bring them up if the opportunity presents itself.

Know the medical school's program.

Set yourself apart from other applicants by having a clear picture about what the medical school has to offer: pre-clinical and clinical structure, extra-curriculars, mentorship resources, research opportunities, etc. For each medical school you interview at, it is worthwhile to research some or all of these topics with a particular goal of connecting what the school has to offer to what you bring to the table. This way, when asked why you want to go to that particular medical school or when discussing one of your passions, you can easily note why you and the medical school are a great fit.

Prepare answers to commonly asked medical school interview questions and practice them.

There are a number of resources that give examples of commonly asked medical school interview questions. Prepare answers to about twenty of these questions and practice them (with a family member or even a stuffed animal) before your interview day so you can be more settled and relaxed when the real deal comes along. While you might not have the exact same questions asked of you, you likely can adapt your prepared anecdotes and remarks to the question being asked. Don't worry about memorizing any response verbatim – having a general sense as to how you will answer certain types of questions will allow you to sound prepared, but not overly rehearsed.
By taking note of these tips, you'll be well on your way to presenting your best, most prepared self at your med school interviews!
Cambridge Coaching has the most qualified team of medical school writing coaches available anywhere. Our team is composed of MD, MD-PhDs, and professional writers because we understand that the best coach is going to help you produce a dazzling AMCAS essay, as well as a suite of supplementary materials that provides a persuasive, integrated argument for why you belong in medical school.
The challenge of the medical school application process isn't just due to the workload, either. It has to do with the sheer competitiveness of the system. You can't take anything for granted; every aspect of your application has to be solid - your GPA, your MCAT, your recommendations, your interviews, your activities, and your personal statement. That's why we go beyond the usual options and offer coaching that covers the entire application, not just your personal statement. While we are happy to work with clients on a single essay or drafts, we find that we achieve the best results with clients who work with us throughout their application process - from the MCAT through to the admissions deadlines.
Applying to medical school in 2020-21? Check out some other helpful blog posts below: