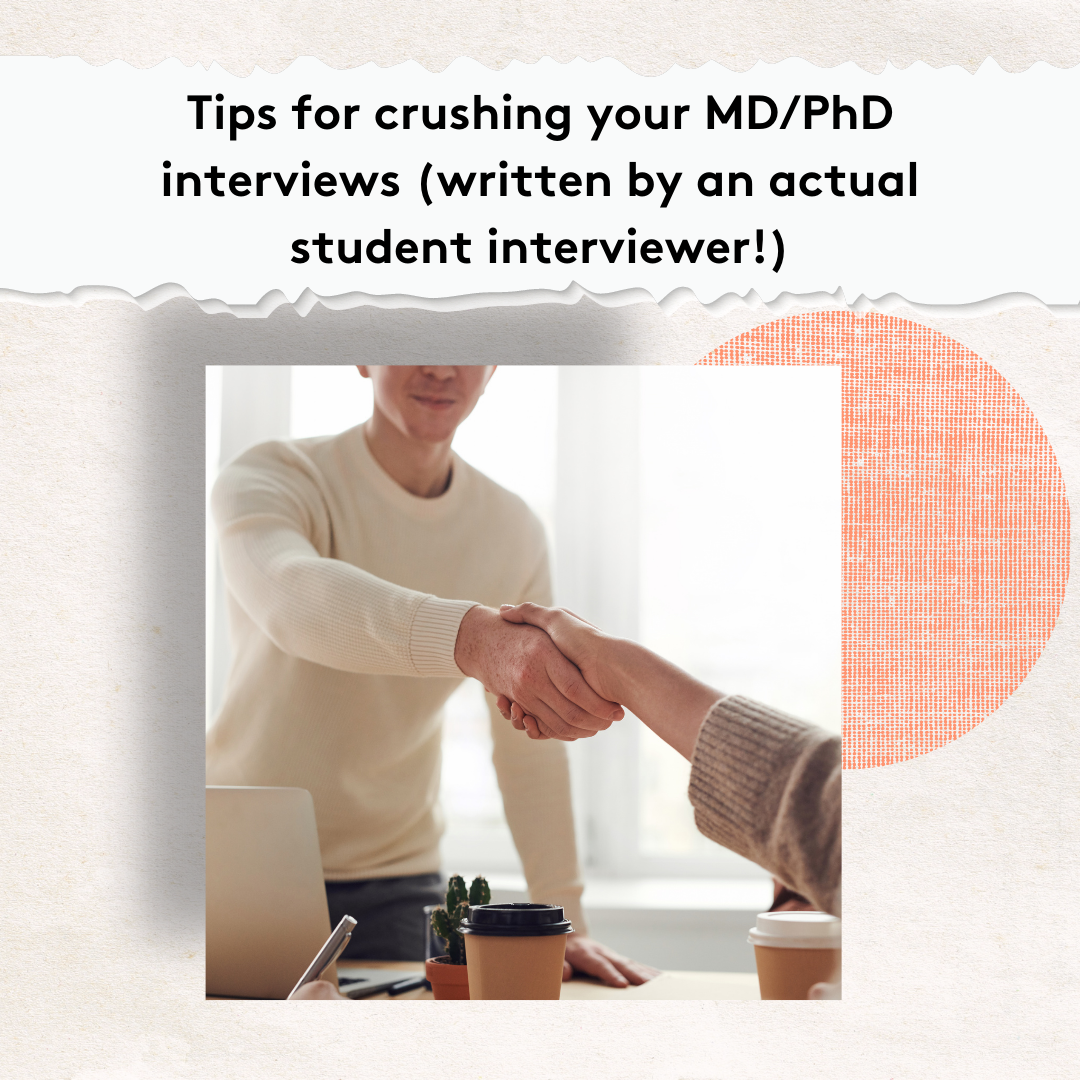 First, congratulations if you have received MD/PhD interview invitations! That's huge. Be proud of yourself and get excited to visit your potential future school and colleagues. As a student interviewer of prospective applicants, here are my suggestions for acing your interviews:
1. Know your research well.
The interview is your chance to shine. I recommend knowing everything that you've worked on and researched inside out and backwards. You want to demonstrate your mastery over the skills and knowledge you've acquired while working on your project. On top of that, be prepared to explain the rationale behind your experiments. One way to handle this is to consider the big picture significance of your work. How may your research impact your field? How may it impact our understanding of biology or medicine? What new advances or treatments may it lead to, and what questions remain unanswered? There's no need to overstate the significance of your work, but it demonstrates maturity to have thought about where your work sits in relation to other scientific research. Since the faculty is looking for future colleagues, this maturity is a welcome quality in a candidate.
It never hurts to brush up on the literature before your interviews. But if you find yourself stumped by a question, the best course of action is to be honest and admit that you do not know.
Note: You will likely be asked about what kind of research you are interested in for the future. It's great if you want to stay in your field, but it's also totally okay to be interested in a different area or open to exploration during your rotations. The faculty understands that your past research experiences do not dictate what you will study in the future. So, my advice here is to just be honest!
2. Have a good reason for wanting to pursue your degree.
Don't let pursuing the MD/PhD become an afterthought – think about why you want to pursue this degree and how you envision integrating the two careers in the future. Be as specific as you can!
3. Demonstrate genuine interest in the school and program.
Do your research on the school, potential faculty of interest, and extracurriculars offered. The more you can see yourself at the school, the more your interviewers will be able to see that too. Make sure you talk about how you will be a part of this community.
4. Make every interview count!
MD/PhD interviews are marathons (just like the program!). You'll be meeting with several faculty members, administrators, and current students. While exhausting, you can use this to your advantage. If you feel like you did not do well in one interview, try to make improvements for the next interview! And don't worry – admissions committees understand that not everyone gets along perfectly. The benefit of having multiple interviews is that it gives you multiple chances to make good impressions.
One last tip: have fun! I know that it can be hard to fully relax, but there will be some down time and informal events with current students. These are great opportunities for finding out what life is truly like as a student in a particular program and city. This is as much your chance to interview a program as it is for them to interview you. Congratulations, and good luck!
Cambridge Coaching has the most qualified team of medical school writing coaches available anywhere. Our team is composed of MD, MD-PhDs, and professional writers because we understand that the best coach is going to help you produce a dazzling AMCAS essay, as well as a suite of supplementary materials that provides a persuasive, integrated argument for why you belong in medical school.
The challenge of the medical school application process isn't just due to the workload, either. It has to do with the sheer competitiveness of the system. You can't take anything for granted; every aspect of your application has to be solid - your GPA, your MCAT, your recommendations, your interviews, your activities, and your personal statement. That's why we go beyond the usual options and offer coaching that covers the entire application, not just your personal statement. While we are happy to work with clients on a single essay or drafts, we find that we achieve the best results with clients who work with us throughout their application process - from the MCAT through to the admissions deadlines.

Applying to medical school this year? Check out some more helpful blog posts below!