The Canadian blogger and free-lance reviewer James Nicoll created the following epigram on the English language: "English doesn't borrow from other languages. English follows other languages down dark alleys, knocks them over and goes through their pockets for loose grammar."
This vivid image of English, although somewhat harsh, is also based on truth. More than in other languages, the evolution English has remained somewhat fluid, allowing for new words to be invented or accepted into the official lexicon. The influence of other languages on English is especially visible in the number of borrowed, or loan, words. Borrowed words are words that are adopted from one language into another with little or no alteration. (The word epigram itself was originally a Latin word, composed of Greek roots: epi for "upon/in addition" and gramma.)
In fact, Dictionary.com suggests that about eighty percent of the words in the English dictionary derive from words of non-English origin. The following chart breaks down the most common origins of words that make up the English language.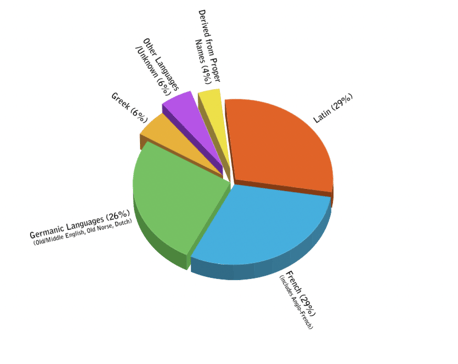 One of the reasons for the lack of uniformity within the English language is that, unlike Romance languages, for example, English-speaking countries have never had a formally recognized national academy to monitor the words that enter and exit the language. According to a BBC article, the practice of borrowing words into English has continued even in the last several decades, with words borrowed from languages like Japanese (izakaya, a bar food), Hindi (tarka dal, an Indian lentil-based dish), and Italian (affogato, a coffee-based drink with gelato) that have now been incorporated into the official English dictionaries.
The majority of words borrowed into English across diverse time periods have French and Latin roots.
Below are some words that we commonly use in English perhaps without realizing that they are not actually English at all. (In certain cases, the correct spelling in the respective foreign language has been modified to adapt to English spelling or pronunciation conventions).
From the French:
café, garage, cliché, ballet, champagne, déja vu, clique, résumé, government, person, very (from old French verai to mean "true")
From the Italian:
piano, alto, soprano, tempo, fresco, motto, studio, zucchini, umbrella, balcony, regatta
From the Spanish:
ranch, stampede, canyon, tornado, alligator, mosquito, patio, breeze, burrito, tequila
Fun fact: many of the states in the United States are named after Spanish words, including Arizona (from Spanish for "little spring"), California (a fictional island from a 16th century Spanish novel), Montana (Spanish for "mountain") and Nevada ("snowy").
From Arabic:
alcohol (from old Arabic "al-kuhul" meaning eyeliner, so named for the chemical process required to produce both this make-up powder and subsequently, alcohol); average, lemon, tariff, zero
From Old Norse:
they/their/them, sky, leg, skin, slaughter