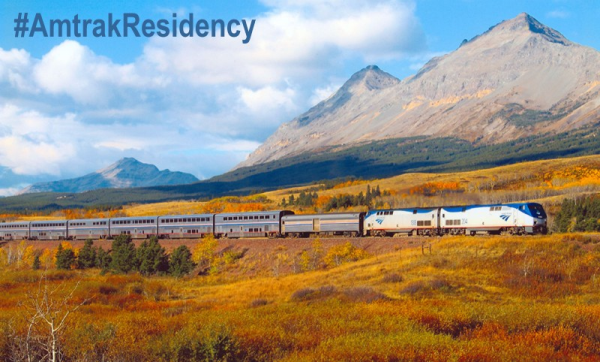 Not like getting the new Amtrak Writer's Residency is our life's dream or anything.
Today I would like to offer some tips for expository writing – namely, how crafting an essay is like planning an ambitious journey. Stay with me here. I would like to share the ways that I approach and experience traveling, and hope that some of you may relate to and find these to be keys to success as well.
Recently, I took a two-month trip clear around the world, and if there was one thing I learned, it was the crucial importance of planning ahead. With any trip, there is a good amount of outlining to do, but for a two-mouth haul from Boston to Bulgaria, the details could have buried me if I hadn't made a proper scaffold for my plans. I start with the bigger picture items: where will I stay, and for how long? What's my plan for meals? Who will I travel with, and what main activities can fit in the days that I've blocked out for each spot? These "bones" structure the time I will be in a given country or city. Similarly, though there are hacks to writing that don't recommend starting with an outline (as in the case of blank page intimidation, where a writing tutor may tell you to just start writing aimlessly to get over it), having even the slightest, faintest idea of what kind of content will be in your entire piece can help settle you into the task. Who knows, "opinion about pencils" for topic 3 could turn into rhetoric you would never have dreamed could come out of your brain.
Secondly, I don't recommend nomadic traveling for an extended period of time. I learned this lesson the hard way as I took trains, buses, and hiking paths through Switzerland. My home was either on my back, in a tent, stored in the rail luggage area as I spent the day in the city, or on a train beating me to my next stop as I hiked over a mountain to get to the next site of stay. Home may be where the heart is, but really, your heart wants your home to stay put. In writing, you want to come back to your central argument, your home base. Exploratory asides and developed argument points are great ways for your writing to spread its wings, but it needs to come back inside at the end of the day. Otherwise, you risk the feeling of homeless writing and losing the interest of your reader (or the points from your grader).
Finally, as a parting idea, let's talk about the role of adventure and discovery here. We travel in part to see new lands, speak new languages, and be poked and prodded by uncomfortable yet exhilarating circumstances. I dare you to do the same in your writing – explore new topics or ideas you haven't dealt with before. Use your writing as a weapon to tackle foreign concepts, your sentences as fleece-lined windbreakers in the storm. Fight to write, and let your imagination take you to stranger waters!