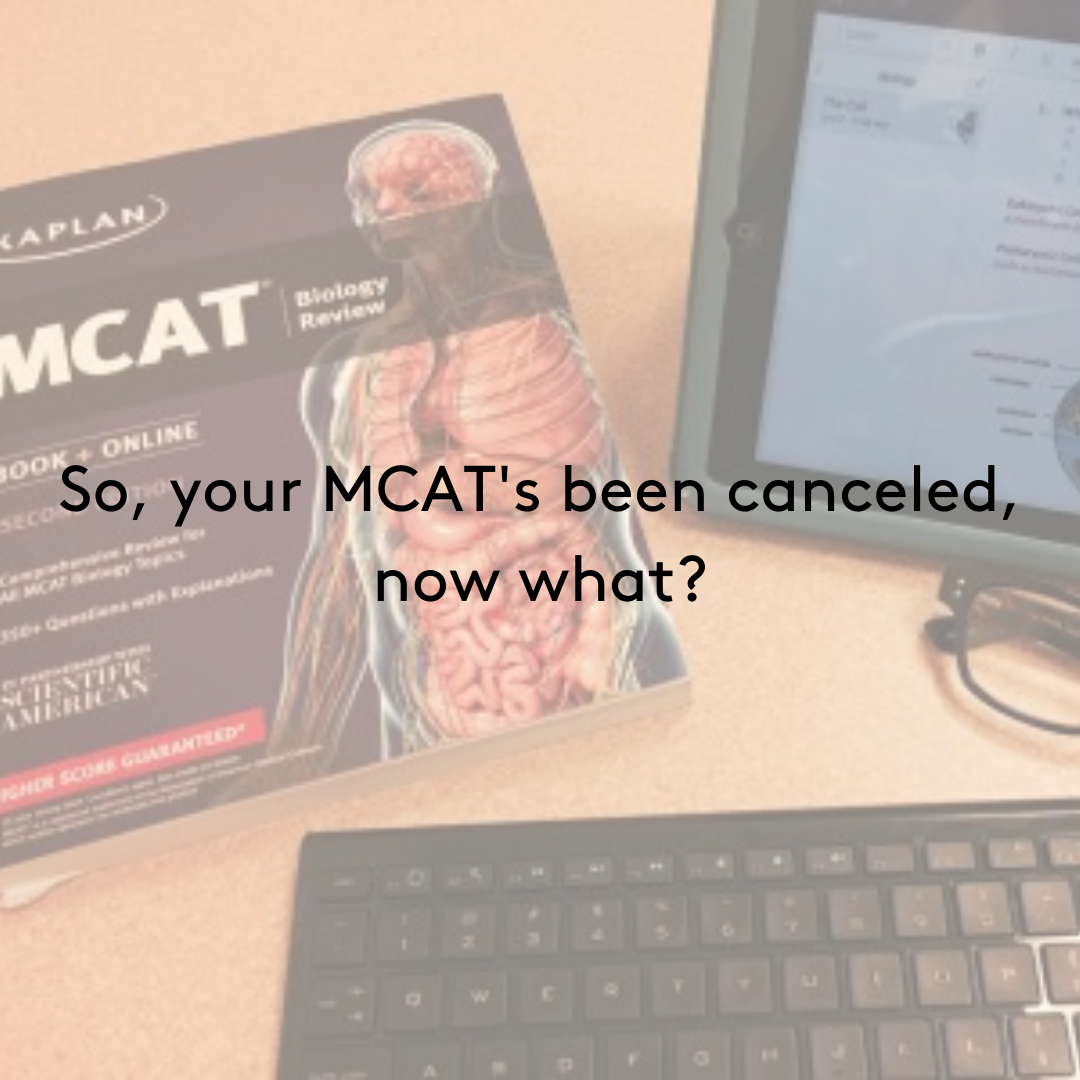 We've been fielding questions from many of you about how to cope with the changing circumstances around the MCAT and this year's medical school admissions cycle.
The current facts are that all MCAT tests before April 16 are canceled, and pending rescheduling. Subsequent dates are still slated to happen for the time being, and AAMC is waiving fees for those who need to reschedule through the end of May. AAMC has not made official announcements about moving the AMCAS submission date for this year, but our understanding is that they are considering revising their usual timeline. We will keep you abreast of developments as we learn about them.
In the meantime, here are the recurring questions folks have asked us today and our best answers at this time:
1. I have been studying so hard, and now I don't have a test date. What should I do?
This is an unbelievable bummer and the best analogy we've come up with is sports. The NBA season was suspended, but our guess is that those players are maintaining their fitness and ready to come back at the earliest possible moment. A similar logic applies to the MCAT and the whole med school admissions process. While the test dates are currently suspended, there's no reason to get out of MCAT shape. Furthermore, don't try to get information that doesn't exist yet; just stay focused on your ultimate goal. Remember that medical school admissions was always going to be a long, challenging, and unpredictable path. Think of this as one more (very big) bump on this journey.
2. Okay, so are there modifications I should make to my study plan?
Clearly, if you're running a marathon next week, you approach your training program a little bit differently than if you're running it in, say, 12 weeks. Likewise, you may want to make some small modifications to your MCAT study plan based on a deferred test date.
Maintain a manageable daily study cadence that does not make you crazy.Dosing your MCAT studying is always important, but now more than ever it's crucial you don't burn out. Take a deep breath and think about how many daily hours will allow you to keep your brain MCAT-ready without adding to the anxiety of these uncertain times.
Space out your full-length practice tests. If there is any silver lining to this terrible situation, it's that you have more time to review and focus on areas of weakness. The smartest thing to do with your practice tests is to fill out a Google question log and reflect on the questions you got wrong or took too long (wrong or long). And, wait for it: you might even think about taking that same test again after you review it. In theory, you should get every question right, but did you? This is an excellent way to highlight persistent content or concept gaps, but most people don't usually have time to do this.
Choose your practice tests wisely. We typically advise students to save the available AAMC tests for the end of their programs. So, if you were planning to test in the next month, you were probably just about to start sitting for those. Currently, we are still recommending that folks hold off on taking those and save them for the end of their program. Once there is resolution on the cancelled MCAT dates, you'll be able to plan for those practice tests, as well. Remember that you can talk to your tutor about the best practice test plan for you.
Finally, prioritize your mental health and endurance. The MCAT is overwhelming in the best of times. Needless to say, it could easily send anyone over the edge now. If you're studying, isolated, and cooped up at home, make sure you spend some amount of time every day doing something that relaxes your mind: meditation, reading, yoga, cooking … whatever activity works for you, now is the time to deploy it consistently. Not incidentally, developing a daily practice of this kind will help you throughout the med school process into your future career as a physician (and, yes, that career will happen!).
3. Are there additional resources I can consult for more information?
Right now, your best bet is to check in with the AAMC coronavirus updates page regularly, and do your best to stay calm. We are advising students against calling AAMC because the hold times are extremely long and the representatives who answer frequently do not yet have answers to the questions you may ask.
If you would like some support and structure right now, or just some live interaction, please reach out to your tutor. If you are not working with us yet, we'd of course be happy to hear from you and discuss a plan that makes sense for you right now. Our admin team is working remotely, but reachable at our main phone number (617.714.5956) and email (info@cambridgecoaching.com).
All of our tutors are available to work with any student with broadband Internet access, no matter where you are.
Online tutoring has some distinct advantages:
Stay at Home:
Students and tutors are able to work across geographies without wasting time commuting. All of our tutors are available online.
A Shared Interface:
Our platform allows students to view and share the same online whiteboard while communicating via an adjacent video Skype window.
Sophisticated Tools:
Our online whiteboard includes all of the functions required to tutor any subject, including sophisticated graphing and drawing functionality for math, and the ability to upload and mark up text-based files for the the humanities.
Stored Lessons:
All of the whiteboards associated with a tutoring session are saved and archived, allowing students to review an organized, archived set of notes whenever they like.
Coaching When You Need it:
Have a question that needs to be answered quickly? Connect with your tutor for as short or as long as you want. Many of our students use online coaching as a supplement for in-person sessions.