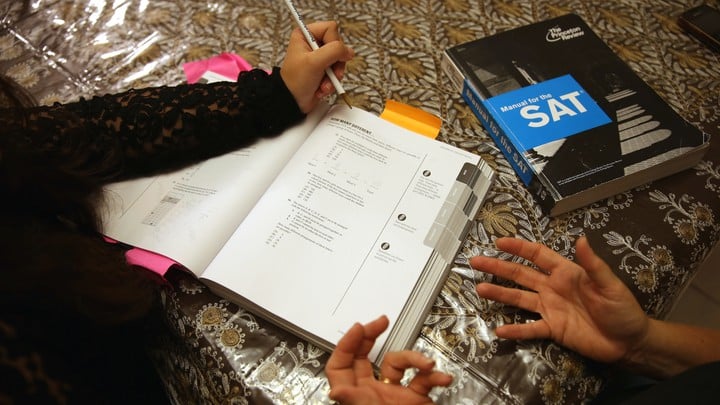 Many students find the verbal sections of standardized exams hard, maybe even impossible. The source of these feelings is typically one of two mindsets: either the student believes that there is an infinite and unmanageable amount of content to cover (grammar rules, vocabulary, etc.); or, my students feel like the test and test makers are "out to get them."
The key to mastering the verbal section of standardized tests starts with shifting your perspective. I see – and teach – that answering verbal questions is a collaborative process between the test-taker and the test, and even between test-taker and the test-makers. Not only does this perspective make for a much more fun and less frustrating experience – the test becomes a puzzle rather than a trap – it also makes it possible to up your chances of getting the answer right without having to memorize anything at all.
To get into this mindset, first remember that a verbal section is all about communication, and you communicate all day every day. When you talk, you're trying to get a point across, and you probably succeed at that most of the time. When you listen, you're trying to understand someone else's point, and I bet you do a pretty good job of that too, even when you don't know one of the words the person used. Communication works because individuals cooperate with each other. The language philosopher Paul Grice described the primary ways we cooperate when we communicate in terms of four maxims, or rules, that we all automatically (generally) abide by:
The maxim of quantity, where one tries to be as informative as one possibly can, and gives as much information as is needed, and no more.
The maxim of quality, where one tries to be truthful, and does not give information that is false or that is not supported by evidence.
The maxim of relation, where one tries to be relevant, and says things that are pertinent to the discussion.
The maxim of manner, when one tries to be as clear, as brief, and as orderly as one can in what one says, and where one avoids obscurity and ambiguity.
Verbal sections abide by these maxims, too – they're trying to be cooperative, and you should take advantage! If you think of them as being out to get you, or as being different from normal communication, you'll be more likely to come up with the wrong answer. So, next time you're reading and answering questions on a passage, for example, imagine you're standing there with two people. As you're reading the passage, imagine that the first one is talking (as the narrator/writer/author/protagonist/etc.), and that you and the second person are listening. Then when you read the response choices, imagine that the second person is saying them, and think about whether you would react with "Dude, what?! That is not

what s/he was saying," or "Yeah, exactly."




So when you're reading a passage, try consciously to do the things you normally do without even thinking about them when you listen to someone. Here are some helpful hints that are easily transferrable from everyday conversation:
1. What is the gist?
Keep thinking about what the person is trying to say. Keep track of the "gist" of what they're saying.
2. Listen for the way the speaker relates to what they're saying.
Pay attention to the valence of what they're saying, meaning: are they generally happy or unhappy about what they're talking about? Are they saying something is a good thing or a bad thing? People usually talk about something because they're either happy or upset about it, and in normal conversation, you're probably very good at figuring out which it is, so be your normal perceptive self as you read a passage.
3. Listen for the important pieces of information
Think of the pieces of information in terms of a hierarchy of importance, and throw out the pieces that don't matter. Whether in a passage or in normal conversation, there's going to be "extra information" that brings what the speaker is saying to life and fills in in the details, but isn't crucial. It's too much to remember all these pieces of information as you go. It weighs you down and it's unnecessary, so don't do it! Read the passage the same way you would listen to a story a friend was telling you, and try to be intuitive about which parts of the story are the main points, and which parts are details that support the main points.
Then, when you're answering, try to find the response that does not sound like a weird thing to take away from what the speaker just said. Imagine expecting that second person to respond with something that doesn't make sense, and imagine monitoring them as you read the responses. In other words, as you read the responses, imagine that second person saying them, and be skeptical. So:
4. Using the above hints, try and throw out an incorrect answer
Try to throw out the response. Think about wanting to get rid of it – like you're going to hit a button that makes that harsh "Eh!" wrong answer noise as soon as you get to a part that's not right.
5. Make your answer choice selection
Look for "bingo!" "correct!" "that's right!" as if that second person almost surprised you by actually getting it right. You might not find it, you might only be left through a process of elimination with an answer that makes you say "Yeah okay, sure," but be on the lookout for one that makes you say "Yes!"
Here's an example passage, responses, and my breakdown of the process in action. Imagine the first person talking:
(From https://collegereadiness.collegeboard.org/sample-questions/reading/1 - this passage is adapted from Edith Wharton, Ethan Frome, originally published in 1911. Mattie Silver is Ethan's household employee.)
Mattie Silver had lived under Ethan's roof for a year, and from early morning till they met at supper he had frequent chances of seeing her; but no moments in her company were comparable to those when, her arm in his, and her light step flying to keep time with his long stride, they walked back through the night to the farm. He had taken to the girl from the first day, when he had driven over to the Flats to meet her, and she had smiled and waved to him from the train, crying out, "You must be Ethan!" as she jumped down with her bundles, while he reflected, looking over her slight person: "She don't look much on housework, but she ain't a fretter, anyhow." But it was not only that the coming to his house of a bit of hopeful young life was like the lighting of a fire on a cold hearth. The girl was more than the bright serviceable creature he had thought her. She had an eye to see and an ear to hear: he could show her things and tell her things, and taste the bliss of feeling that all he imparted left long reverberations and echoes he could wake at will.
It was during their night walks back to the farm that he felt most intensely the sweetness of this communion. He had always been more sensitive than the people about him to the appeal of natural beauty. His unfinished studies had given form to this sensibility and even in his unhappiest moments field and sky spoke to him with a deep and powerful persuasion. But hitherto the emotion had remained in him as a silent ache, veiling with sadness the beauty that evoked it. He did not even know whether any one else in the world felt as he did, or whether he was the sole victim of this mournful privilege. Then he learned that one other spirit had trembled with the same touch of wonder: that at his side, living under his roof and eating his bread, was a creature to whom he could say: "That's Orion down yonder; the big fellow to the right is Aldebaran, and the bunch of little ones—like bees swarming—they're the Pleiades..." or whom he could hold entranced before a ledge of granite thrusting up through the fern while he unrolled the huge panorama of the ice age, and the long dim stretches of succeeding time. The fact that admiration for his learning mingled with Mattie's wonder at what he taught was not the least part of his pleasure. And there were other sensations, less definable but more exquisite, which drew them together with a shock of silent joy: the cold red of sunset behind winter hills, the flight of cloud-flocks over slopes of golden stubble, or the intensely blue shadows of hemlocks on sunlit snow. When she said to him once: "It looks just as if it was painted!" it seemed to Ethan that the art of definition could go no farther, and that words had at last been found to utter his secret soul....
As he stood in the darkness outside the church these memories came back with the poignancy of vanished things. Watching Mattie whirl down the floor from hand to hand he wondered how he could ever have thought that his dull talk interested her. To him, who was never gay but in her presence, her gaiety seemed plain proof of indifference. The face she lifted to her dancers was the same which, when she saw him, always looked like a window that has caught the sunset. He even noticed two or three gestures which, in his fatuity, he had thought she kept for him: a way of throwing her head back when she was amused, as if to taste her laugh before she let it out, and a trick of sinking her lids slowly when anything charmed or moved her.
Now imagine the second person responding, and you're reacting to that second person's responses. I've inserted example reactions in each response.
Over the course of the passage, the main focus of the narrative shifts from the:
A. reservations a character has about a person he has just met to a growing appreciation that character has of the person's worth.
a. reservations…
What reservations? This is about how much this guy likes this woman (and it's A LOT)
b. …a character has about a person he has just met…
What do you mean "just met?" The whole point is that he's reflecting about how great it has been to spend time with this person and that they have all these routines together that make him feel great
c. …to a growing appreciation…
Why would it be growing? He already obviously basically loves her
d. …that character has of the person's worth.
"Worth?" He's not talking about what a stand-up person she is, he's talking about how he's obsessed with her
B. ambivalence a character feels about his sensitive nature to the character's recognition of the advantages of having profound emotions.
a. Ambivalence…
"Ambivalence?" Ha, next. There is nothing ambivalent about how this character feels about anything in this passage
C. intensity of feeling a character has for another person to the character's concern that that intensity is not reciprocated.
a. intensity of feeling a character has…
Yes, sure, except that that intensity definitely doesn't reduce so I don't know where this is going…
b. …for another person…
c. …to the character's concern…
d. …that that intensity is not reciprocated
D. value a character attaches to the wonders of the natural world to a rejection of that sort of beauty in favor of human artistry.
Don't need to read it (okay I did read it, but just in case and real quick, and this passage is definitely not about human artistry)
Standardized test preparation doesn't have to be painful. Whether it's the SSAT/ISEE, ACT, SAT, LSAT, MCAT, GRE, or GMAT, our test prep tutors, like Melanie, can help you keep your cool. We offer tailored tutoring plans, strategic preparation, and a data-driven approach. Work with us in-person in Boston and New York, or online anywhere around the world.
Curious to learn more about standardized test preparation? Take a look at some other blog posts below!
Math 1 Subject Test vs. SAT Math Test
The Standardized Test Super Power