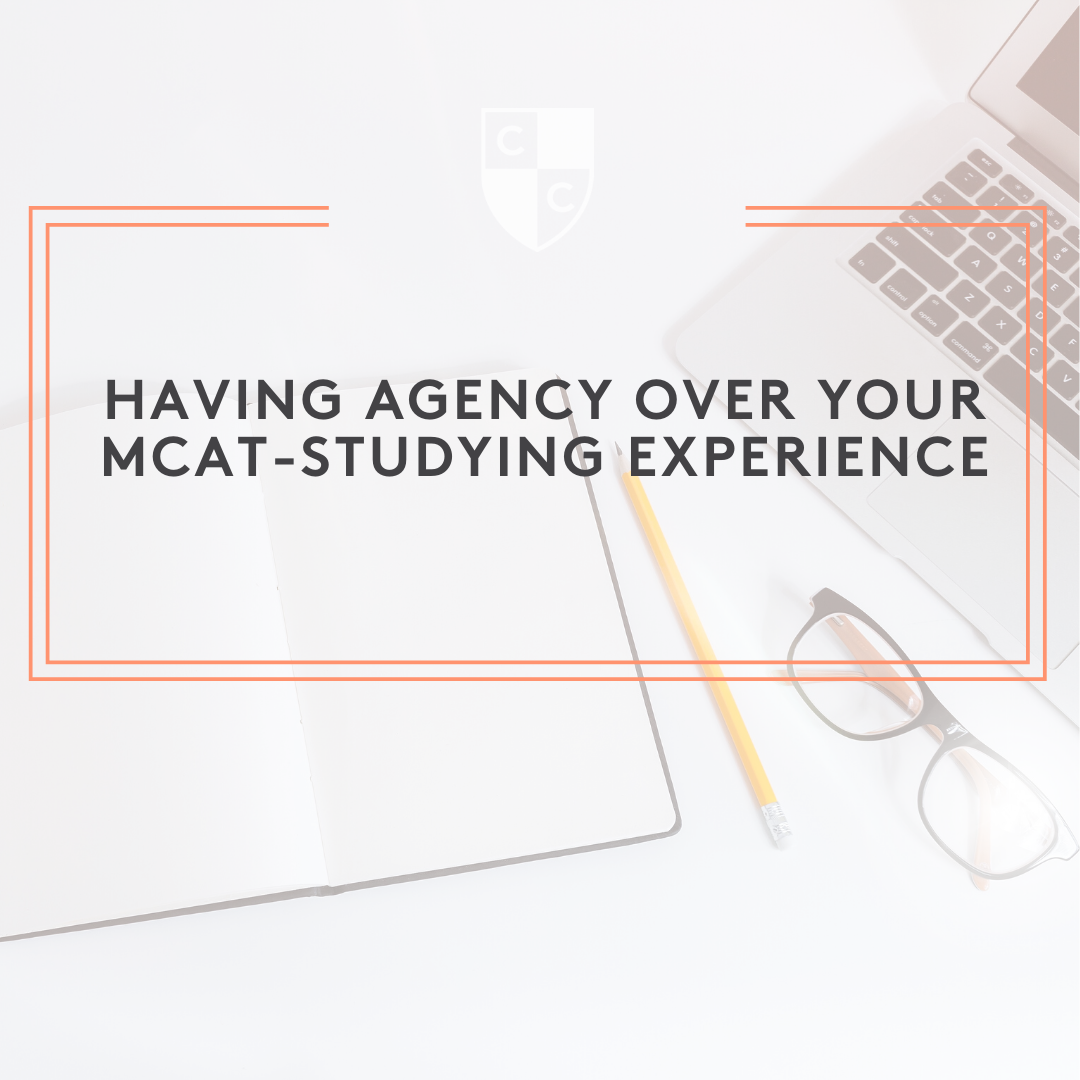 Studying for the MCAT is a daunting task, and we're likely to turn to others for strategies to make it through the experience successfully. People on online forums, students in years ahead of us, mentors, advisors, and friends can all offer meaningful advice. But, sometimes, these suggestions can get scary, especially when people's suggestions differ based on their own preferences or lived experience. We start wondering whom to believe or trust, and making those calls can make an already difficult time even more overwhelming. The following are some thoughts on being intentional about making your study time your own.
1. Managing the big picture
One of the main reasons things can start feeling really daunting during MCAT studying time is the sheer amount of material. It makes it really difficult to feel like we've got all our bases covered or to see where we're headed big-picture-wise. Everyone has a different way of managing this feeling, but thinking about what strategy might make more sense for you can be really useful.
Some of us make specific schedules ahead of time to feel less frazzled, some of us are very overwhelmed by this strategy and prefer a much broader framework for studying that creates more room for day-by-day choices. Some of us prefer revisiting each MCAT section often, while others want to focus on one section intently for a few days before moving on to the next. Whichever method makes sense for you, it is worth sitting with these questions and deciding for yourself the overall organization that makes the most sense for your well-being and methodology.
2. Strategies for avoiding shame spirals…
Speaking of emotional health, MCAT studying has a reputation for taking quite a toll. And, for good reason: it usually demands an enormous amount of energy and resources. This means that it can lend itself to some pretty nasty shame spirals.
If at this point you are wondering what a shame spiral is, I'm referring to the times that the stars align in a strange way and, suddenly, not meeting our own expectation on a practice passage sends us on a tumultuous journey of share for things both related to our studying experience and entirely unrelated. Suddenly, we aren't good enough/smart enough/hard-working enough for this experience. There are certainly structural phenomena that lend themselves to some of us being far more prone to these spirals than others.
It's important to spend some time thinking of strategies for protecting ourselves from these experiences. Are you reassured by being around others who are experiencing the same struggle, or do you instead feel significant anxiety when you hear other people discussing their take on the process you are concurrently in? What people or energy can you surround yourself with in order to help protect you from these shame spirals (e.g. people who will give you tough love, people who are effusive when sharing their belief in you… the answers will be different for everyone).
Think about this also when it comes to selecting a tutor, if that's a route that seems right for you. When looking through people who could be a good fit, think about which of the tutors you are considering seem to create spaces that are consistent with protecting yourself from shame spirals.
3. … and having a system in place for when they happen anyway
Do I seem like I'm contradicting myself yet? Truth is, we can do everything to protect our feelings and still experience some difficult and trying times with this test. In fact, I challenge you to find anyone who hasn't, even among the most intentional and thoughtful people. So, I think it's important to cultivate some kindness towards ourselves for when these moments do happen, and maybe think about some things we might need in those times: people to be around, activities to engage in, or material (music, art, videos…) to interact with to help us when this experience is hurtful. I urge you to spend some time with yourself thinking about what systems you may want to have ready in moments when studying for the MCAT feels really hard.
4. Preserving your personhood during this time
Everyone will have different advice as to how to do this, and that's sometimes scary. "Make sure you work out each day. Make time for the hobbies you love. Hang out with friends often." This advice is incredibly well-intentioned, but it can sometimes make us feel like we must be doing something wrong for not making every minute of our lives fulfill a productive purpose (allocating every minute to studying, working out, social time…). Or, if we are able to engage with these experiences, we might feel guilty for those rare times not being perfectly restorative.
Think about how you can preserve your selfhood during this time. What are the things you engage with that make you feel like yourself? Are there ways to create space for some of those things? Being intentional about these pursuits can be incredibly restorative to you during your studying experience. It's also important to note that it's okay to be kind to yourself on days when you don't feel able to engage with those things. Doing your best is plenty, and balance rarely looks the way we imagine it.
Hopefully, some of this gives you material to mull over throughout your studying process. Notably, there's no such thing as being completely done with this process, and setting kind expectations for ourselves is really important. I'm in medical school now, and I still think about this stuff all the time in trying to organize my life in a way that feels congruent around the hefty demands of medical school.
While a lot of the MCAT experience can feel quite chaotic, being intentional and addressing our individual needs can help us mitigate this feeling and make us feel more at peace in our study time.
The road to medical school is long, and the MCAT is one of its most formidable challenges. You will be relieved to know that what you learned in your premedical courses is actually on the test. But studying for the MCAT is more about taking that knowledge stored way back there in the nooks and crannies of your mind, bringing it to the fore, and then learning to twist and stretch it in the ways the MCAT tests. In reality, studying for the MCAT is no more (or less) difficult than spending late hours on a physics problem set or an entire weekend on an organic chemistry lab report. Just like these other tasks, the MCAT requires endurance and follow-through, but it becomes significantly more manageable when you work with a Cambridge Coaching MCAT tutor to apply a structured, systematic, and strategic approach to your studying.
Anyone can study hard - but the real key to MCAT success is learning to study smart. So, while all forms of MCAT preparation require you to crunch a lot of material, we focus on helping you to make strategic choices about your areas of focus at every step of the game. Each Cambridge Coaching tutor is a highly-skilled manager of your personal study process. He or she will do more than just target your weaknesses - your tutor's goal is to identify the sections where you have the greatest potential for improvement, and teach you to wring every last point from them by creating the roadmap for your studying, and helping you stick to it. Right from the start, your tutor will create a customized syllabus for you, and will then modify that syllabus as needed.
Taking the MCAT in 2020-21? Check out some other helpful blog posts below!:
So, your MCAT's been canceled, now what?
Grad school standardized testing: To re-test or not to re-test?
Spaced repetition and why it's important while studying for the MCAT