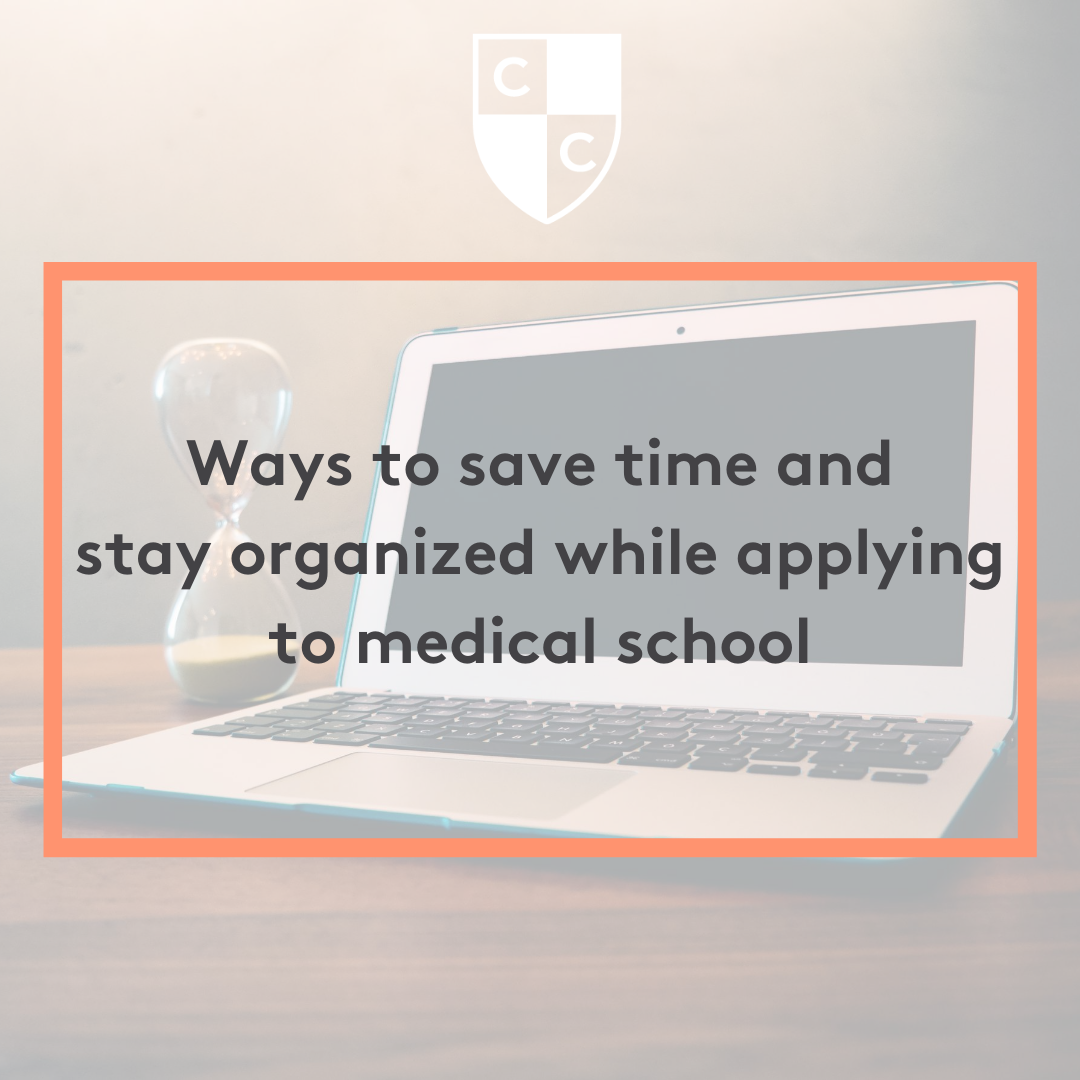 The medical school application process can be a daunting and stressful experience. Gathering your letters of recommendation, requesting transcripts, all while writing your personal statement and preparing for secondaries – undoubtedly, there are a lot of balls in the air. Staying organized while also saving time is essential to the process (and, as an added bonus, can help you stay mentally healthy). Here are three important tips I recommend to anyone who is applying to medical school:
1. Know the timeline
The medical school application cycle has multiple elements, each with its own timeline. Being familiar with the steps and associated deadlines is one thing you can do to help you stay organized.
The first major piece is the AMCAS primary application, which typically opens at the beginning of May in any given application cycle. It can be beneficial for applicants to get started on drafting the different application elements before the application opens in May. Drafting your personal statement, most meaningful experiences, and your other work/activity descriptions is best done as early as possible (ideally, in February or March) so that you don't feel overwhelmed once the application is open.

Secondary applications (which are school-specific supplemental essays) are the next major piece of the application cycle. You should expect to begin receiving these essay prompts as early as July, but this will depend on when you submit your primary application – usually it takes four weeks between submission and verification, and you cannot receive your secondaries until your AMCAS primary is verified. If you have some downtime after you have completed your primary AMCAS application, it can be helpful to start brainstorming ideas for your secondary applications. It is not uncommon for schools to have similar essay prompts between application cycles, so looking at prior years' prompts can help you get thinking early.
The interview process is quite school-specific with some schools sending invites as early as August and some as late as the following spring. Be sure to familiarize yourself with the different types of interviews (group, MMI, and 1:1), and prepare yourself by mock interviewing for each.
2. Flag important emails
Expect to get a ton of emails throughout the application cycle. To stay organized, consider creating a folder solely for communications regarding your application. This can be especially helpful once you begin receiving secondary applications and interview invitations, which you don't want to miss!
Remember, it is best to reply promptly to emails (within 24 hours) that are directed to you. For secondary applications, it is essential that you turn in the essays within two weeks of receipt.
3. Plan to request your letters of recommendation early
Letters of recommendation are another important piece of the application. I recommended brainstorming who you'd like to ask for a letter of recommendation quite early on, even before you start working on the other application materials. This will allow you more time to reach out to professors and mentors, and will give them plenty of time to work on your letters. Each recommender may have different preferences, but it is often helpful to send your recommenders drafts of your application materials once you have them ready. If you have taken some time off since graduating college, it could also be helpful to meet with your recommenders to catch up and update them on what you've been up to!
These three tips can help you stay organized and focused during your application cycle. If you start on your materials early, have a strong sense of your timeline, and have an organizational plan in place for your materials, your application with be stronger for it.
Applying to medical schools is tough. Which makes a certain amount of sense: if it were easy, everyone would do it. It involves a primary application, a round of secondary applications (or supplemental materials), and interviews at schools that are considering your candidacy more closely. The process is arduous largely because it takes, start to finish, at least several months, and because it is very writing-intensive, involving not just your AMCAS personal statement but multiple secondary essays as well. And this is where a lot of applicants get tripped up: after years of stuffing every square inch of your brain with molecules and formulae, it can be a shock to discover that your dreams hinge upon your ability to express with clarity (and maybe a little poetry) why you want to be a doctor.
This is where Cambridge Coaching comes in: we are the most qualified team of medical school writing coaches available anywhere. Our team is composed of MD, MD-PhDs, and professional writers because we understand that the best coach is going to help you produce a dazzling AMCAS essay, as well as a suite of supplementary materials that provides a persuasive, integrated argument for why you belong in medical school.
The challenge of the medical school application process isn't just due to the workload, either. It has to do with the sheer competitiveness of the system. You can't take anything for granted; every aspect of your application has to be solid - your GPA, your MCAT, your recommendations, your interviews, your activities, and your personal statement. That's why we go beyond the usual options and offer coaching that covers the entire application, not just your personal statement. While we are happy to work with clients on a single essay or drafts, we find that we achieve the best results with clients who work with us throughout their application process - from the MCAT through to the admissions deadlines.

Thinking about applying to medical school? Check out some other helpful blog posts below!:
Applying to medical school with a low MCAT score
How to choose the right medical school for you
Tips for creating your medical school application school list